As expected, road to Las Vegas stadium passing was rocky
October 14, 2016 - 11:24 pm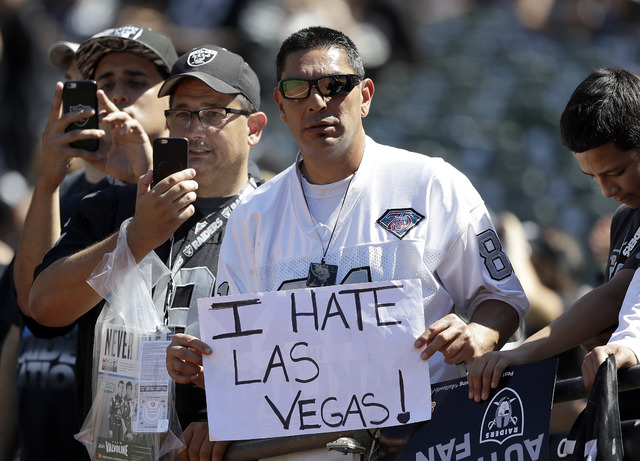 CARSON CITY — In the end, when 28 names in green appeared on a large video screen inside the Nevada Assembly, when the largest public contribution to a stadium project in U.S. history had been approved, one foremost truth stood alone: If the Oakland Raiders indeed make Las Vegas home, the power of coalition paved the way.
It was tedious and messy and bizarre and fascinating and not nearly as transparent a process as many would have you believe, but five days after a special legislative session to consider public financing for a $1.9 billion domed stadium began, Las Vegas stood far closer to landing an NFL franchise than anyone ever imagined possible.
Senate Bill 1 received exactly two-thirds majority support in the Assembly on Friday, meaning a public-private partnership that will be funded in part by $750 million in Clark County hotel room taxes will be signed into law by Gov. Brian Sandoval on Monday in Las Vegas.
He will be joined by Raiders owner Mark Davis.
Yep. That part is very real now.
The bill was earlier passed in the Senate, which agreed to a few Assembly amendments.
The collective force of Las Vegas Sands Corp., and MGM and Wynn and Caesars, along with the labor unions and UNLV, all of whom united in different ways behind legislation for the stadium and convention center improvements.
"It's a historic day, not just for the university but for the whole state," UNLV President Len Jessup said. "There were definitely more ups and downs and drama than a (regular session). This is difficult — $750 million is difficult to wrap your arms around for any project. But as I sold someone earlier, this reminded me of the John F. Kennedy quote — 'We didn't do these things because they're easy but because they're important.' "
He paraphrased words Kennedy gave in a speech on the nation's space efforts, and by the time the Assembly cast 28 votes in favor of SB1, you got the feeling several legislators would have rather been on the moon than watching approval.
This was hardly a nice and tidy process. It felt rushed from the outset. It was rushed, given legislators were asked to understand and vote on a project in a matter of days that was developed over 16 months.
Some even received threats on social media.
Republican leaders obviously weren't completely convinced they had 28 votes Friday, which is why they immediately called the bill to question without discussion. This, not 12 hours after a report from a Nevada Department of Transportation consultant surfaced about the need to accelerate at least $899 million in Las Vegas freeway improvements if the stadium opens by 2019.
A report that was dated Oct. 4, but one made aware to several legislators only after reviewjournal.com posted an article late Thursday.
"I thought something was going on, but it was also supposed to be an open and transparent process, and to actually shut down the ability for us to rise and speak (before voting) was a good example of the whole corrupt nature of this process," Republican Assemblyman Ira Hansen said. "What you just witnessed is why so many people believe Nevada has a corrupt Legislature."
It is an amended bill that helps UNLV more than the original version, given the Rebels now will be represented on an expanded nine-member Stadium Authority Board and its rent for games will be fixed at actual operating costs.
But what assuredly moved this to passage — and for a few Democrats to cross over and some Republicans who were thought to be against the bill to instead vote in favor — was the potential for jobs being created and the possible economic impact through the stadium and an expanded and renovated Las Vegas Convention Center.
Which means labor unions and public comment about putting people back to work had their desired influence.
"To me, this is all about jobs for Southern Nevada," Republican Assemblywoman Jill Dickman of District 31 said. "I felt it was important to support our Southern legislators. They know best what they need. This project will be good for Northern Nevada, as well. Nevada was built by taking risks, and this is just another project that will keep us on the cutting edge of tourism."
So it moves forward into law, this project whose price tag is shared by the family of Las Vegas Sands Corp. Chairman and CEO Sheldon Adelson, the Raiders and the tourism tax.
It was a bumpy ride for five days, but it ultimately delivered this fact: The NFL owners will hold their fall meetings Tuesday and Wednesday in Houston, where Davis is expected to present the stadium plan to the other 31 teams and informally announce his intention to move to Las Vegas, likely for the 2020 season.
The Raiders can't officially apply for relocation until Jan. 15.
"It's great news for Las Vegas, it's great news for Nevada, it's great news for all those workers that are looking forward to jobs," said Andy Abboud, senior vice president of government relations and community development for Las Vegas Sands, which negotiated on behalf of Adelson's family. "It's an exciting day for the Raiders and UNLV. We lived and died four, five, six times the last week. But by the end of the day, the weight of the arguments and the economic opportunity clearly carried the day."
In the end, 28 names went green and history was made Friday.
It wasn't neat and tidy and at times not all that transparent, but who in the world expected it to be?
The Review-Journal is owned by the family of Las Vegas Sands Chairman and CEO Sheldon Adelson.
Ed Graney can be reached at egraney@reviewjournal.com or 702-383-4618. He can be a heard on "Seat and Ed" on Fox Sports 1340 from 2 to 4 p.m. Monday through Friday. On Twitter: @edgraney
RELATED
Nevada Senate passes amended Raiders stadium bill; Sandoval to sign Monday
Oakland Raiders owner Mark Davis praises 'historic day' in Nevada
Here's what people are saying about the Raiders stadium bill passing
Tina Kunzer-Murphy says stadium 'a giant step' for UNLV football