As father recovers, Darger forges on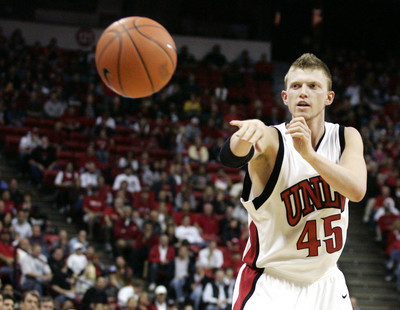 No one had to tell him. He could see it growing on his father's face. He knew something was terribly wrong.
Lumps aren't good.
Joe Darger was about to begin his final season as a UNLV basketball player in late October, about to be a key figure in perhaps leading the Rebels to a third straight NCAA Tournament, about to assume his role as one of five seniors responsible for ensuring the team meet elevated expectations of, well, everyone.
But that's the thing about cancer. It has this awful way of deflecting one's focus.
"It was definitely on my mind a lot," Darger said. "He was going through the process for a few months, and I was definitely worried and scared. I'm real close to him. It puts the 'What if?' questions in your mind. …
"But he's doing better now. It's best he got things checked when he did so it didn't spread."
John Darger had the tumor removed, and a skin graft from his leg was used to cover the affected area. He is in the recovery period now and along with wife Carollee will attend tonight's game against Air Force to help honor their son on Senior Night.
It's anyone's guess as to how many of the Darger clan will show up at the Thomas & Mack Center. There are 17 siblings. Family support has been as much a part of Joe's career as spot-up 3-pointers.
If the Rebels are on the road and you hear a loud section of fans blowing noisemakers and waving red pompoms, you can bet some of the Dargers are in the house. You can bet the one they are cheering knows and appreciates it.
"I've never seen one of them not smiling," UNLV coach Lon Kruger said. "I've never seen one of them not happy or not together. That's what you want families to be. I wish all young people could grow up having the family experience Joe did."
Grounded. It is a description that fits Darger. He seemingly always has owned the capacity at UNLV to adapt more than protest. He never seemed overly reactive.
When reporters began to ask questions about his father's polygamist lifestyle in Utah and UNLV coaches worried how it might affect Darger, the player shrugged his shoulders, stepped forward and spoke about his family and how much it meant to him.
When the Rebels struggled finding any post player capable of offering an influence at either end of the court the past two seasons, Darger accepted the function of undersized center and submitted his 6-foot-7-inch frame for constant abuse.
"Joe is a great kid," Kruger said. "Selfless, team first, mature, understands what life is about and what he is after. Just a great kid.
"As a player, I think he has been as productive as he could have been. I think he's had more advantages offensively playing the spot he has than if he would have been a (small forward) the entire time and had to cover and try to score against really quick, athletic wings. I'm not sure he would have been as comfortable against those kinds of guys.
"He got a lot more shots off playing this role than he would have. Basically, it has been as good as possible for him."
Darger admits to wondering how his career might have differed had he remained at small forward, wonders if he would have developed more of a mid-range game and been more adept at attacking off the dribble. But he doesn't dwell on it. Regret doesn't fit him.
He has, like fellow senior Wink Adams, rode a senior season of ups and downs, of being the difference in winning one night and appearing distracted and off the next. There is no question his father's health diverted Darger's attention at times. How couldn't it?
He has started all 28 games this season while averaging just less than 30 minutes and just more than nine points and four rebounds. He has shot 37 percent on 3s and attempted just 32 free throws. Up and down but always willing to guard the other team's 7-footer and never a word of resentment.
This is what you should remember most about Joe Darger: He played and sacrificed for the letters across the front of his jersey first, last, foremost.
"When I first got here, it seemed like four years was forever looking forward," he said. "Now, it's almost over. (Senior Night) is here. Hard to believe. One more time to come out for the (pregame) fireworks.
"It's a great city to play in and be a member of this team. Great fans. Great teammates. Great coaching staff."
This is what you should remember most about Joe Darger: Low on maintenance, high on teamwork, never one to complain.
Las Vegas Review-Journal sports columnist Ed Graney can be reached at 702-383-4618 or egraney@reviewjournal.com.