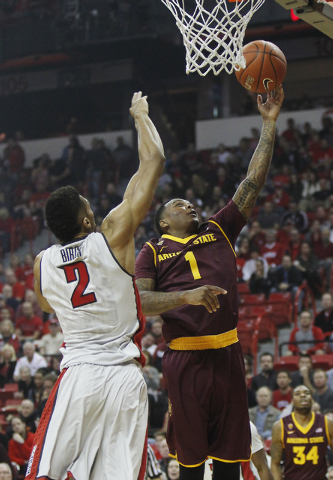 It's not a rebuilding year. It's a waiting game.
UNLV's basketball team isn't young. It's new.
The Rebels were better Tuesday than they were Friday. They were better Friday than last Tuesday. That's the reality for UNLV today, a slow form of progress that will result in early season losses against superior opponents.
Arizona State was one such team that handed the Rebels an 86-80 defeat at the Thomas &Mack Center, an evening when 12,915 in attendance and those watching on television witnessed one of the nation's best players tear the Rebels up in magnificent fashion.
Dave Rice said his UNLV team had a game plan to slow sophomore guard Jahii Carson, but I hope it got lost in translation between tipoff and the last time Carson abused UNLV defenders off the dribble.
If not, the Rebels are even more inadequate at limiting penetration than already assumed, and they've been incompetent at that for some time now.
Carson scored a career-high 40 on 16-for-25 shooting, controlling every inch of pace and tempo and anything else he wanted. He also had seven assists and nearly as many head shakes directed at UNLV players who time and again failed at stopping him.
Rice: "Jahii is an NBA player, a first-round draft pick."
UNLV forward Roscoe Smith: "He's just a good player, man."
UNLV forward Khem Birch: "He killed us."
Enough with the obvious.
The part of UNLV that outrebounded Arizona State 55-48 can win a lot of games this season, because effort and desire and determination can make up for being substandard in other areas like, well, offense.
You can beat people when a player like Smith goes for 18 points and 21 rebounds, his second consecutive game with more than 20 boards; you can build a nice record behind a player such as Birch, who had 11 points, 14 rebounds and eight blocks.
You can't beat Findlay Prep shooting 50 percent from the line.
Four games and two home losses into the season, it's getting frighteningly close to broken record time when it comes to the Rebels and their inability to convert from the line.
They were 15-for-29 for 51.7 percent Tuesday which, amazingly enough, was an improvement from the 50 percent mark UNLV offered coming in.
"We just have to continue shooting them," Smith said. "Get in the gym and shoot them. There's no genie to grant us a wish. We're getting better as a group. We're not the worst free-throw shooting team in the country."
Not the worst.
But dang close.
The Rebels prior to Tuesday were tied for 347th nationally out of 351 teams in free-throw shooting, better only than those giants of giants Morgan State, Austin Peay and New Orleans.
Not the Pelicans. The Privateers.
It's early, but what could be an expected improvement for UNLV over the season?
Ten percent? Fifteen?
That's still awful.
"We can't go 15 of 29 from the line against an opponent like Arizona State and think we're going to find a way to win," Rice said. "We're going to fix things. We'll be fine. We're going to work hard and stay together."
They'll be fine. I'm not sure they will ever be great. They could be very good on nights when guards defend well enough and make enough shots and smart decisions with the ball against zone to complement Smith and Birch inside.
They could be incredibly average when they don't.
They could be dreadful when none of the above happens and they still brick free-throws.
But of the seven players who logged more than 10 minutes for UNLV on Tuesday night, six were juniors or seniors.
Stop. Please.
This isn't a young team. It's not close to being one.
It's a group that has played a ton of basketball, only not with each other. Hence, the learning curve.
The words young and rebuilding are flat excuses for a team that will be better a week from now than it is today and better than that a month later. You don't rebuild in a coach's third season when the coach has often said this is his best team since assuming control of the program.
Effort wasn't an issue Tuesday. The Rebels played hard enough. They wanted it badly enough. They created enough chances to win.
They just weren't good enough on a night one player (Carson) was ridiculously good.
"Our identity after (four games) is that we're a team that plays hard and does a good job on the boards and needs to become more efficient on the offensive end," Rice said. "We have a good basketball team. We're going to shore things up and be ready (Nov. 26 against Illinois)."
That's the next time a slow form of progress will attempt to take a step forward.
Smith is correct. There is no genie in sight.
And yet I bet Barbara Eden could make more than 50 percent from the line.
Las Vegas Review-Journal sports columnist Ed Graney can be reached at egraney@reviewjournal.com or 702-383-4618. He can be heard from 11 a.m. to 2 p.m. Monday through Friday on "Gridlock," ESPN 1100 and 98.9 FM. Follow him on Twitter: @edgraney.