Au revoir, Montreal: Pacioretty ready to shine for Knights
Updated October 3, 2018 - 5:15 pm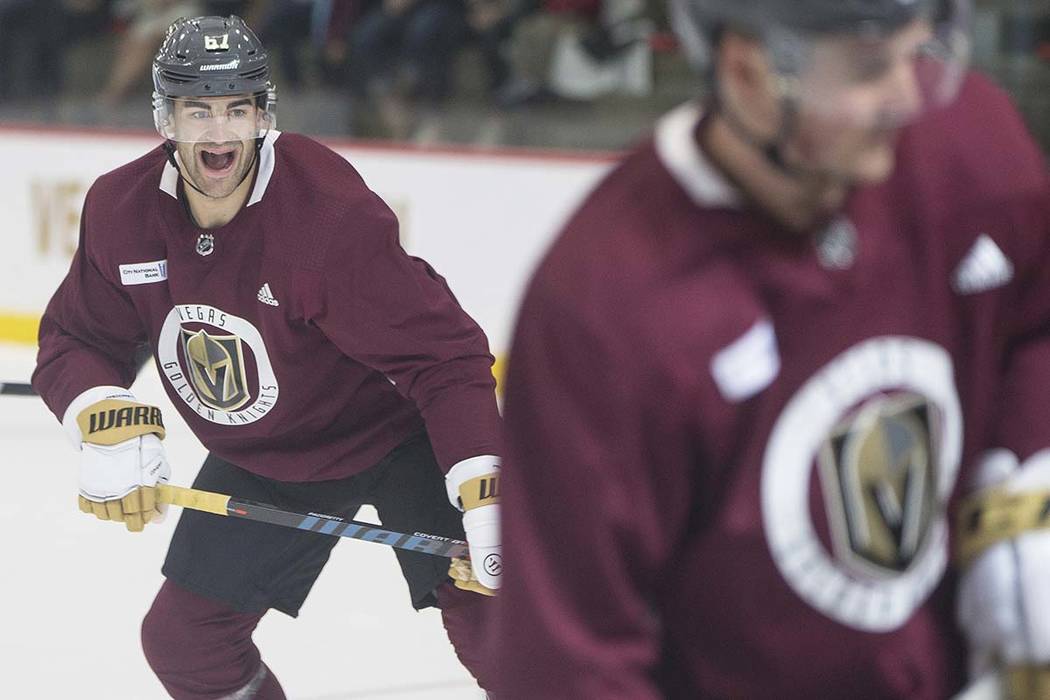 To understand the long and winding and sometimes difficult road Max Pacioretty traveled to get here — star winger on a second line for a Golden Knights team that opens its second season on Thursday night against the Flyers at T-Mobile Arena — you have to remember 1991.
He wasn't yet 3 years old.
It was the year Edmonton Oilers great Mark Messier issued a public trade demand, saying he wanted out if the team wasn't willing to re-sign important players.
So it went that, in one of many cost-cutting moves by management, Edmonton dealt Messier to the New York Rangers.
"If that doesn't happen," Pacioretty said, "I'm probably not here."
He probably never glides across a sheet of ice.
Three years after arriving in New York, Messier would lead the Rangers to their first Stanley Cup title in 54 years, and watching from their home in Connecticut was a father and his 5-year old son, learning the game together, falling in love with it together, creating the sort of inseparable bond that sports have a way of forming.
Soon after, Pacioretty was being fitted for a pair of skates at a local rink and, well, you might guess the rest, but it's still a doozy of a tale.
His parents met while attending different high schools in San Francisco, his mother Ana born and raised in Mexico and his father Ray eventually setting the family back East.
If they had remained on the West Coast, it's fairly certain Pacioretty wouldn't have grown up to be one of the NHL's most consistent goal scorers.
He would have had a better chance shooting at a net on grass than one on ice.
But he didn't and Pacioretty has 30 or more goals in six of his last eight pro hockey seasons, here now after the Knights traded Tomas Tatar, prospect Nick Suzuki and a second-round pick to Montreal for him.
I'm not sure he has stopped smiling since things were finalized last month and he had signed a four-year, $28 million extension with Vegas. Pacioretty's final season in Montreal was beyond forgettable on one of the league's worst teams and himself limited to 64 games and 17 goals while dealing with an injured knee.
Captain of pressure
There was also the weight of a giant C.
Imagine if Derek Jeter had been born and raised in, say, Colombia, and still played for the Yankees, and was still named their captain, with all the pressures of understanding and embracing the championships and Hall of Fame names and history immortalized at Monument Park.
It might be how an American hockey player felt at times as captain of the Canadiens, because if 23 Stanley Cups don't get get you a little tight sometimes, what will?
You can seek advice from some of the all-time Montreal greats — Saku Koivu, Guy Carbonneau, Serge Savard, Yvan Cournoyer — and Pacioretty did.
But nothing prepares you for wearing that specific letter on that particular sweater.
"I absolutely wanted to be (captain)," said Pacioretty, who held the honor his last three seasons in Montreal. "It's never easy, especially there and during a losing season. Staying even keel is the only way to get through it.
"That said, it was tough. Last year was heavy. I was prepared to get through it and bounce back. I'm still prepared to bounce back — it just so happens that I'm in Vegas now — so I hope to bounce back here."
He has a group of new teammates who are certain he will, who believe the chance to merely play on a second line and not feel the glaring pressure of everyone's eyes on him to make a daily difference and return the 29-year-old Pacioretty to his 30-goal form.
This includes the most famous player in the room, who — as a native of Quebec — knows all about the often unfair expectations thrust upon a Canadiens captain.
"When that team wins, I'm sure you're on top of the world," said Knights goalie Marc-Andre Fleury, "and when you lose, you're the worst in the world. It's definitely a tough market to play in. Max is a really good player, has a lot of character. I can't imagine being in his shoes there. But it seems like he's very happy here, very relaxed.
"He smiles a lot."
It's the byproduct of a weight the size of the Mount Royal Cross being lifted from one's shoulders.
Hey, even Mark Messier once needed a change of scenery.
More Golden Knights: Follow all of our Golden Knights coverage online at reviewjournal.com/GoldenKnights and @HockeyinVegas on Twitter.
Contact columnist Ed Graney at egraney@reviewjournal.com or 702-383-4618. He can be heard on "The Press Box," ESPN Radio 100.9 FM and 1100 AM, from 7 a.m. to 10 a.m. Monday through Friday. Follow @edgraney on Twitter.