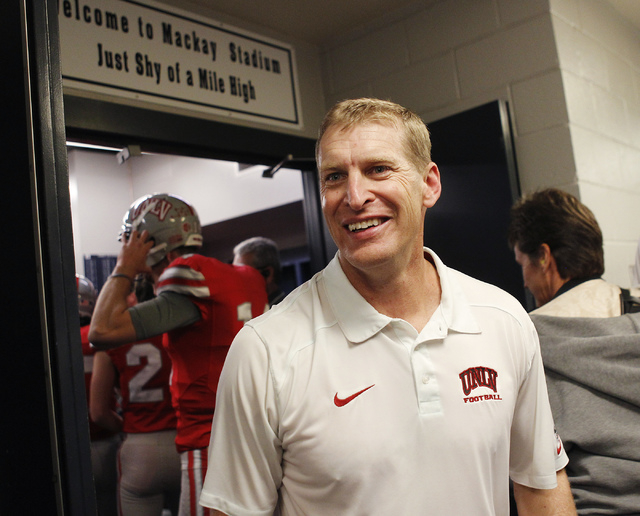 AIR FORCE ACADEMY, Colo.
I don't know if the board is red or green or black or white or yellow. I don't know if UNLV football players write on it with chalk or pencil or Sharpie.
I don't know where it is placed in the team's locker room, if it is a big one or little one or the sort of one you could wheel to one side when coach Bobby Hauck needs to hold an impromptu arm wrestling contest with an offensive lineman he is sure to beat.
I don't know how in the world athletics is going to run now that Gerry Bomotti doesn't have Neal Smatresk to order around.
I know this: That of all the goals UNLV might have scribbled on the board before this season, a major one still is attainable and as much as anything would offer tangible proof of those positive steps the Rebels have made during Hauck's fourth season.
"Everyone knows about it," senior quarterback Caleb Herring said. "There doesn't need to be much said about it. We watch other teams. We're college guys who follow games like anyone else. It's more a fun conversation than a distraction. We all have a sense of urgency to get it done.
"Those on the outside looking in might think beating (UNR) and a 5-5 record are things to hang our hat on, but with two games remaining, there is still a lot out there for us to achieve. That's our only focus. We're all invested in getting it done, and going 5-5 wasn't on our goal board."
This was: the B word.
The Rebels continue their quest to become bowl eligible for the first time since 2000 tonight at the frigid spot that will be Falcon Stadium, where a less-than-capable Air Force team awaits for an ESPNU telecast.
It's cold. It's really cold.
The temperature at kickoff could be in the neighborhood of 15 degrees with accompanying snow showers, and UNLV over the years has responded to such conditions as a mouse might when staring down the eyes of a python at dinner time.
A peculiar but intriguing/unsubstantiated note: UNLV reportedly hasn't won a game in which the temperature was 30 degrees or lower at kickoff since 1984.
Yep. Not since Dell sold its first computer out of a college dorm room and Chrysler introduced America to the minivan.
But this also isn't your typical November for the Rebels, who for the first time in what seems like forever arrived in the month of Thanksgiving with more to play for than pride.
A postseason berth no longer is an unreachable objective, not if UNLV can earn a victory here or against visiting San Diego State on Nov. 30.
If that isn't enough momentum to grind one's way off the mass of chop blocks sure to be thrown at UNLV tonight, what is?
"It's more enjoyable when there is a lot more to play for," Hauck said. "The guys are having a lot more fun. I think in terms of preparation, we've been pretty consistent throughout our years here, letting the big picture always sort itself out at the end of a season. But it becomes a matter of urgency and attention to detail when you're in the running for things this time of year. Human nature dictates that there is more urgency within your team."
If the season's pattern for UNLV holds true — beat only those teams it's better than — the Rebels should have an opportunity to depart with a sixth win. Air Force is 2-8, 0-6 in the Mountain West and has surrendered an average of 45 points in four home losses.
Wyoming came here and scored 56. Utah State put up 52. Notre Dame went for 45.
The Falcons defend our nation far better than opposing offenses.
But while more comfort might be felt from UNLV with any other 2-8 team, this is different. It is Air Force. Triple option. Cut blocks. An attack impossible to simulate in practice, whether you have 12 days to prepare (as the Rebels did) or 12 weeks.
One.
Giant.
Headache.
"They're a pain in the neck by design," Hauck said. "Everything they do is by design to create indecision and slow you down, which it does."
Lose, and this is what UNLV faces to become bowl eligible: the challenge of beating a San Diego State side that likely owns more talent than the Rebels, that should have beaten undefeated Fresno State and then won at San Jose State, two teams than handled UNLV.
"We are after that bowl game (tonight)," UNLV defensive tackle Tyler Gaston said. "Understand that."
It says so on the board. It's a stated goal. Be it written in chalk or pencil or Sharpie.
Las Vegas Review-Journal sports columnist Ed Graney can be reached at egraney@reviewjournal.com or 702-383-4618. He can be heard from 11 a.m. to 2 p.m. Monday through Friday on "Gridlock," ESPN 1100 and 98.9 FM. Follow him on Twitter: @edgraney.