Believe it or not: UNLV in Jan. 1 bowl
December 9, 2013 - 7:33 am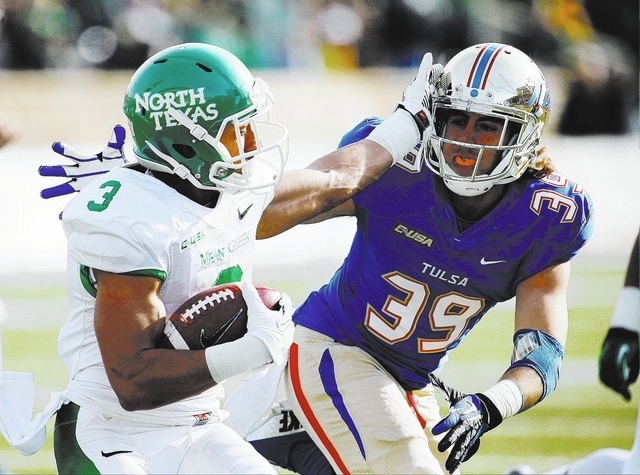 How to define a great day for UNLV football: That some 13 years after the school qualified for its last postseason game, the Rebels on Sunday accepted an invitation to play North Texas in the Heart of Dallas Bowl on New Year's Day.
How to define a great day for mankind: That with such an announcement comes the possibility Neal Smatresk — outgoing president at UNLV and soon-to-be prez at North Texas — will watch the game sitting atop a goal post at Cotton Bowl Stadium with half his face painted red and the other half green.
Now that would be awesome.
And so like My Guy Neal.
He painted his face when UNLV's basketball team played Northern Iowa in an NCAA Tournament game in 2010, but then Ali Farokhmanesh went all Jimmy Chitwood on the Rebels and Smatresk asked someone for a towel to wipe away the disappointment.
Rest assured, there isn't an ounce of dismay around UNLV today.
Four years after he arrived from one of those deep fishing holes in Montana, the ones were he might stand in the middle of a blizzard to cast his line for a trout he most always would release, Bobby Hauck has led UNLV into somewhat uncharted waters.
This is just the fourth time in program history the Rebels will go bowling and the first in nearly three decades they will do so in another state, thanks to a 7-5 record in which Hauck's team won more games than the previous three years combined.
The opponent is also one of college football's feel-good stories of 2013, a program much like UNLV that has rebuilt itself from the ashes of obscurity. North Texas finished third in the West Division of Conference USA and won six of its last seven games.
It seems like a good time, then, to learn a little about the Mean Green:
▶ The University of North Texas is located in Denton, near the Dallas-Fort Worth metroplex between Oklahoma and Texas on Interstate 35. It lies on the southern end of what is commonly referred to as "Tornado Alley," meaning Smatresk could move into his new house one day and be a modern-day Dorothy flying his way to Oz the next. Which I suppose would make Gerry Bomotti the Wicked Financial Witch of the East.
▶ You can drive from the middle of campus to Cotton Bowl Stadium in 50 minutes on a clear day, meaning the Mean Green should have a decided advantage in seats filled. Hauck on a conference call Sunday evening said he hopes North Texas brings all of Denton and any neighboring counties, because if one thing looks better on television than a New Year's Day bowl, it's one with actual people cheering it.
▶ North Texas is coached by 60-year-old Dan McCarney, who was tutored over the years by the likes of Hayden Frye at Iowa and Barry Alvarez at Wisconsin and Urban Meyer at Florida. McCarney was also coach at Iowa State in 2006 when then-UNLV coach Mike Sanford tripped over a TV cable while running back onto the field in Ames like a nutcase to question a call he had no chance of reversing. By the time Sanford was done arguing with no one who would listen, McCarney was likely home in bed.
▶ North Texas appears fairly balanced, averaging 31.5 points, 227 yards passing and 184 yards rushing. It played one team (Georgia) from a major conference this season and lost 45-21, despite being tied with the Bulldogs midway through the third quarter.
Remember the name Tommy Perry. I know nothing about him other than he is the special teams coordinator for North Texas, and the Mean Green have blocked eight kicks this season and have one of the nation's best returners in senior Brelan Chancellor.
Translation: Perry seems to have a better grasp of special teams than his UNLV counterpart.
Speaking of Hauck …
He's fired up. Deservedly so. He said, "The Great State of Texas" more often during Sunday's call than Rick Perry might at a Kiwanis luncheon.
Hauck not only led the Rebels to a bowl in a season that began with more questions about his job status than anything, he has delivered them to one on the year's biggest day for postseason college games.
It has been a long journey since he arrived at UNLV in 2010: "I thought back then we were one of the worst teams in college football," Hauck said.
That's not the case today.
"Who would have ever thought?" Hauck said. "UNLV is playing in a New Year's Day bowl game."
Not much can top that around here, unless you tell me Smatresk is going to be propped up on that goal post with his face painted red and green.
A guy can dream, can't he?
Las Vegas Review-Journal sports columnist Ed Graney can be reached at egraney@reviewjournal.com or 702-383-4618. He can be heard from 11 a.m. to 2 p.m. Monday through Friday on "Gridlock," ESPN 1100 and 98.9 FM. Follow him on Twitter: @edgraney.