Big Ragu, Delaware's finest, carries Villanova to title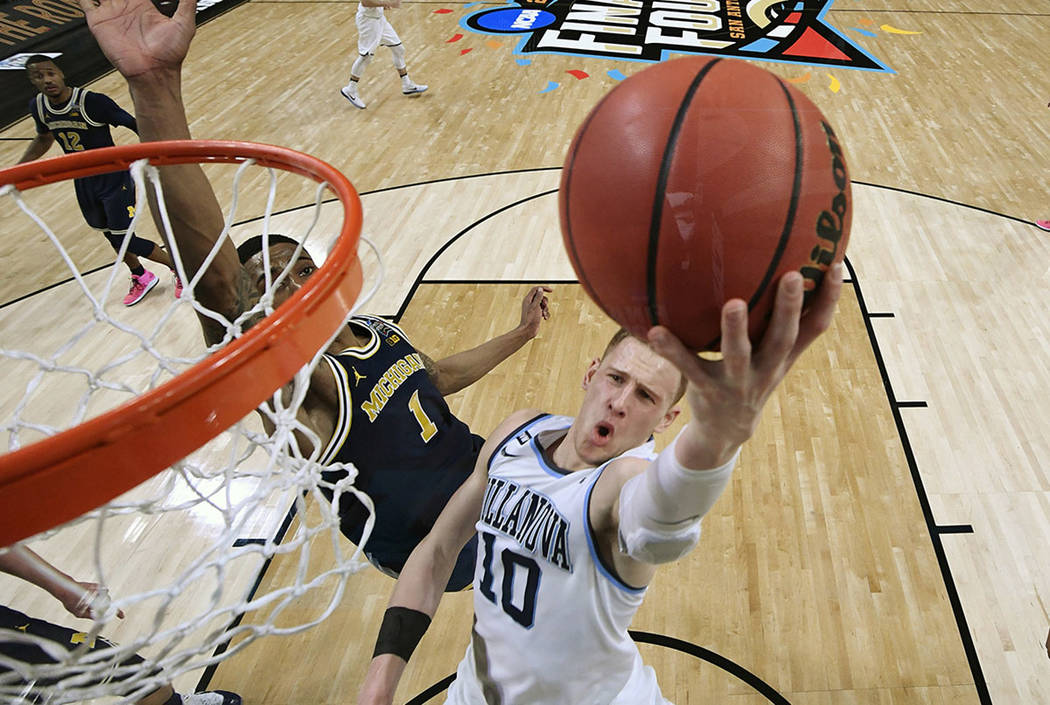 SAN ANTONIO — The word is, many years ago, Delaware produced some pretty darn good rifle shooters. The late Frank Masley was born there. He was big in luge. So was Mike Hall. He was a powerlifter.
It's the best place to file for bankruptcy, if there is such a thing, and you can't beat the chicken, which those from the Peach State tend to eat in some fashion, no matter the meal or time of day.
But basketball has been a different story — not one at all, mostly — and the great people of our first state to ratify the Constitution have for years dreamt of a place on a major hoops stage.
They have one now, because a kid known as Big Ragu had One Shining Moment for the ages Monday night.
Donte DiVincenzo is so Villanova basketball, it's ridiculous, and the Wildcats are national champions for the second time in three years because the redshirt sophomore carried them to a 79-62 victory against Michigan before 67,831 at the Alamodome.
Twenty-eight years to the day of UNLV throttling Duke by 30 to win its championship, by far the best team this season concluded what was one of the most dominant tournament runs since the bracket expanded to 64 teams in 1985.
"Even if we had played our best," said Michigan coach John Beilein, "it would have been hard to win that game with what DiVincenzo did. It was incredible."
Somewhere, Rollie Massimino is smiling like crazy and stirring up a pot of homemade sauce — an Italian kid just won it all for Villanova.
The Wildcats are the first team since North Carolina in 2009 to win all six NCAA games by 12 or more points, and the scariest thing about the championship rout of the Wolverines is this: Other than DiVincenzo, who scored 31 on 10-of-15 shooting and made 5-of-7 on 3s to be named Most Outstanding Player of the Final Four, Villanova didn't play very well.
Seriously.
Most of the Wildcats were pretty average. If you take DiVincenzo away, his teammates shot just 40 percent and were 5-of-20 on 3s. Jalen Brunson, national Player of the Year, was limited to nine points and two assists in 28 minutes while fighting his own game and foul trouble.
"I did not think that I was going to have this kind of night, because every night I come into a game, I just try to bring energy," said DiVincenzo, who is from Wilmington, Delaware. "I just try to defend and rebound. The guys just did a great job of finding me, and I found myself in a rhythm."
His nickname was given by play-by-play broadcaster Gus Johnson, who first dubbed DiVincenzo the Big Ragu after a tip-in winner against Virginia in 2017. Villanova coach Jay Wright has also called him the Michael Jordan of Delaware and, given only 16 folks have been inducted into the state's sports Hall of Fame for basketball and three are referees, you understand the irony in it.
Oh yeah. Almost forgot.
He doesn't even start.
DiVincenzo inherited the role of teammate Mikal Bridges before him, and now Lakers guard Josh Hart before that. It's so Villanova, waiting your time, improving as a player, being coachable, not being obsessed with leaving school early for the pros, and then moving into a starting and sometimes starring spot.
The Wildcats have had one one-and-done player: Tim Thomas in 1997. He watched from the stands Monday.
Villanova does it another way. It has six redshirt players on the current roster.
It develops kids who aren't in such a rush into great players.
"We are who we are," said Wright, the former UNLV assistant who joined Mike Krzyzewski of Duke and Roy Williams of North Carolina as the only active coaches with multiple titles. "I knew we were good, but you don't think we can win this. You get into the mindset, don't screw this up; you've got a really good team here, really good kids. You've got a shot. And on the other side, it's a constant struggle, don't screw this up and then don't be afraid to fail."
They didn't because DiVincenzo wouldn't allow it.
Randy White was a co-MVP of the Super Bowl and went to nine Pro Bowls in 14 seasons with the Cowboys. He was born in Delaware. It's also where the du Pont family is from, but all I know about them is that Steve Carell was fantastic in, "Foxcatcher."
But now, the union's second smallest state, the one most know only as that dot on the map bordering Pennsylvania and Maryland, has some serious basketball lore to claim.
A kid known as Big Ragu delivered in a way few college players can or have on the game's biggest stage.
Make some room in that Hall of Fame for him back home.
You know, if the referees aren't taking up too much space.
Contact columnist Ed Graney at egraney@reviewjournal.com or 702-383-4618. He can be heard on "The Press Box," ESPN Radio 100.9 FM and 1100 AM, from 11 a.m. to 2 p.m. Monday through Friday. Follow @edgraney on Twitter.