Bishop Gorman vs. Liberty is state title matchup with national relevance
December 2, 2016 - 10:31 pm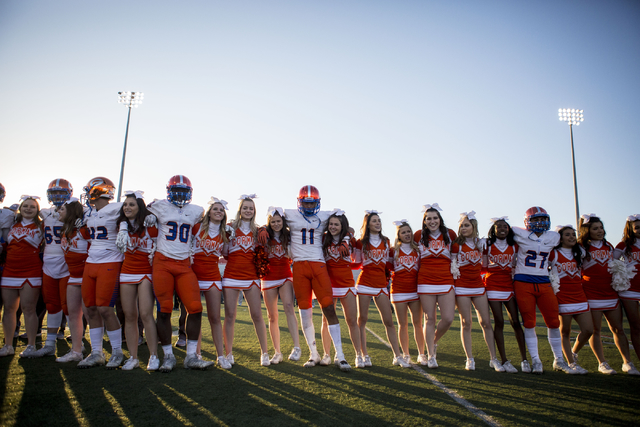 It would be easy to blame the entire reality on television, particularly those four letters (ESPN) that have essentially altered high school football from its intended educational mission into a corporate beast of big business and inflated egos of overhyped teenagers.
But then you remember they have been crowning a mythical national champion since 1897, and as fun as it is to cite the worldwide leader as a reason for all things wrong with sports, Bristol, Connecticut, back then was more about hunting grounds for Native American tribes than glorifying which team might be considered the best across fields of Friday Night Lights in a given season.
It might be true, however, that an ancestor of Chris Berman nicknamed the local chief Crazy Horse of My Dreams.
Bishop Gorman is in line to be named national champion a third straight season, but to earn such a distinction, whatever it really means, the Gaels must beat Liberty at Sam Boyd Stadium on Saturday afternoon and claim an eighth straight Nevada State Championship.
The outcome won't affect national rankings solely for Bishop Gorman and which team both computer and human polls might ultimately label No. 1, but also a Liberty team that spent a majority of the season within the Top 25.
High school football at its elite level is much like what the Little League World Series has become, which is to say professionalizing kids for the sake of sponsorship dollars and TV ratings.
Translation: Morris Buttermaker isn't making out any lineups that include Tanner Boyle at Lamade Stadium any time soon.
The desire to be celebrated also makes prep football teams do crazy and foolish things every now and then, because the allure of rankings and televised games and chasing a national crown can be intoxicating, a fever that coaches and players and parents and administrators alike are susceptible to catching.
It's why you see margins of victory balloon on a weekly basis across the country while better teams push for more points when up big and employ idiotic measures like onside kicks well after an outcome has been decided.
Sportsmanship has, in many instances, been eclipsed by the misguided hunger for acclaim.
"I think being ranked was always a wish or long-range goal for us that seemed unattainable," said Liberty coach Rich Muraco, whose team is 21st nationally this week. "It always seems like the same teams historically are recognized for what they do for an extended period of time, so I suppose it happening this season was more a sign of what we have accomplished over the last five or six years than anything with this particular team.
"Obviously, some take rankings too seriously. It's impossible to determine who is really the best team out of thousands and thousands of schools. But you want your kids to have the best, to play the best, to be afforded the opportunity for accolades and attention that might open more doors for them.
"But trying to be the best in the country can also take away from focusing on being good locally and the best in your state, which it what this should always be about."
It remains a small sample made massive by national publications ranking teams from the time practice begins in August to television cameras showing games of the week, meaning there still exists more examples than not of high school football in its purest form of small towns and bands playing off key and cheerleaders selling 50-50 raffle tickets throughout wooden bleachers.
That's not reality for Bishop Gorman, which this week is ranked second nationally to Santa Ana Mater Dei by USA Today computers and yet No. 1 in its human poll. Tony Sanchez won the school's first mythical title as coach before taking the head job at UNLV, leaving brother Kenny to coach the Gaels to a second championship last year and now trying for a third.
"I don't think it's necessarily a bad thing, but you obviously have to take it all with a grain of salt," Tony Sanchez said. "When you say you're No. 1 in the country, does that mean you are? No, but it means you're really, really close. It's more of a darling award because you showed the most or were on TV the most or had the most hype, so you get it. It's a neat thing for your school, but you don't play everybody, so who knows who the best really is?
"If they pick you in the end, they pick you. If they don't, they don't. I think you celebrate the accomplishment, but you have to keep it in perspective. You have to be careful in saying a national championship or being ranked are the goals, because you don't control the goals."
There was a game played in Detroit on Thanksgiving Day, 1897, between Madison (Wisconsin) High and a New York-based team known as the Gotham Guys.
Madison won 96-0 and was named national champion, proving those who competed without helmets were just as celebrated then as the best teams today except for, well, the part about GEICO sponsoring games on a certain four-letter network.
That, and the fact some guy in Bristol was a big fan of one of Madison's leading players, Bemis Pierce My Heart With Monotonous Languor.
Contact columnist Ed Graney at egraney@reviewjournal.com or 702-383-4618. He can be a heard on "Seat and Ed" on Fox Sports 1340 from 2 p.m. to 4 p.m. Monday through Friday. Follow @edgraney on Twitter.
Complete coverage of high school sports