Blowout loss to Bills paints ugly reality for Raiders
October 29, 2017 - 7:56 pm
Updated October 29, 2017 - 8:16 pm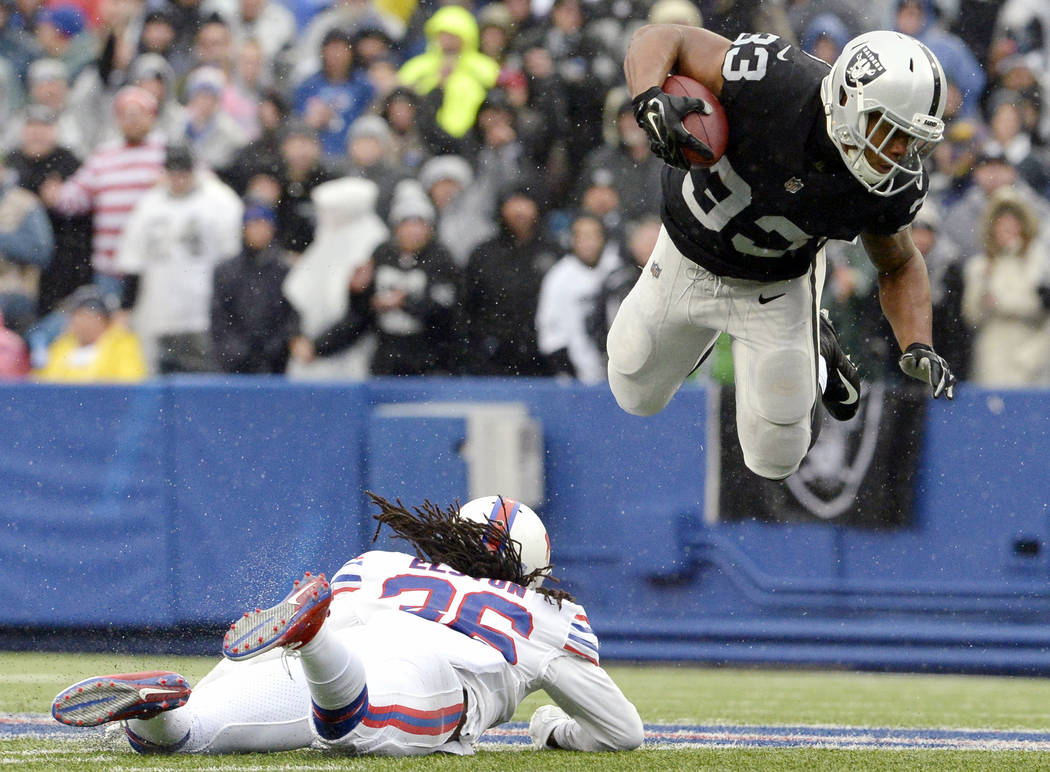 ORCHARD PARK, N.Y. — The Raiders won't make Las Vegas home until 2020, assuming all goes well with the raising of an NFL stadium set to break ground in a few weeks.
But in the immediacy of a losing side going nowhere, perhaps it can request an assist from soon-to-be neighbor David Copperfield.
You can argue a little magic contributed to the end result last season.
You can also believe some paranormal activity might be the only way to save this one.
The two-game road trip that began with a forgettable 34-14 loss to the Bills on Sunday before 69,599 at New Era Field was supposed to tell us what these Raiders really are, whether that is good or bad, legitimate or fraudulent, pretender or contender.
By the time the team boarded its flight to Florida in preparation for next week's game against the Dolphins, all the answers had become pretty clear.
The Raiders just aren't that good, is all.
More than anything, a 3-5 record at the midpoint of a schedule whose remaining games still include some of the season's toughest — against New England in Mexico City, at Kansas City and Philadelphia, home to Dallas — shines a light on how incredibly different and fortunate things were last year.
All the positives that led to a 12-4 record and playoff berth — finishing close games, creating turnovers, challenging defenses vertically — have been for the most part non-existent in 2017.
The Raiders were special last season in the way any team that can possibly find a way to win nine-of-11 games decided by one score and go 5-0 in those decided by three or fewer points can be.
Which is to say they were really good and sometimes really lucky.
But they also made their own breaks, having tied for first in turnover margin at plus-16 and ninth in interceptions with 16.
This season, they are 22nd in margin and haven't intercepted a pass in the first eight games, a first in NFL history.
"Being (3-5) at the midpoint is not what you want, but it is what we have earned," Raiders coach Jack Del Rio said. "We need to get hot in the second half. You get these opportunities to compete and the idea is to prepare as well as possible and lay it on the line and put it all out there and then look at the results. We're at Miami next. That's where it starts."
It's a nice sentiment and what you would expect him to say, but his team's play suggests any plans for a suddenly long winning streak is based on a lot more hope than any real evidence.
It can certainly win at Miami, mostly because the Dolphins are just as flawed.
But the Raiders have rarely resembled the explosive offense most predicted this season, teasing its fans with such big plays and dynamic execution in a 31-30 victory against the Chiefs on Oct. 19.
The Raiders were fun to watch last year. Derek Carr was a deep-ball threat at quarterback every snap.
There is little of that right now.
They have sort of held on defensively each week for as long as inferior skill in the secondary allows, usually breaking more times than not in the final quarter of games. And on days they are minus-4 in turnover margin, as was the case Sunday, finding success is an impossible notion.
It's fair, then, to ask if last year and all those positive breaks were simply a mirage concealing the true identity of who the Raiders really are.
Winning is hard in the NFL.
Winning over and over time is extremely hard.
"No one thought we'd be (3-5), especially with the guys we have and how we work," Carr said. "Where do we go from here? We do the same thing we always do — we work and we grind. Two weeks ago, everyone was done with us and then we were back after (the Kansas City win). We can't get too high or low in this game because the margin is so close.
"Keep working. That's the only way to get out of this. When it falls apart, people start turning on each other. I don't believe we have that. The results are the results, but as long as you stay with the process — recovery, preparing competing — it works. It changed the culture here. We have to get back to that."
I'm not sure they can.
The Raiders haven't been good in consecutive seasons for nearly a decade-and-a-half, and it's not as if the days of 3-13 and 7-9 are forever ago.
Who are they?
Probably not near as good as everyone thought.
Copperfield is great, but even he might not have enough tricks to save this season.
Contact columnist Ed Graney at egraney@reviewjournal.com or 702-383-4618. He can be heard on "The Press Box," ESPN Radio 100.9 FM and 1100 AM, from 11 a.m. to 2 p.m. Monday through Friday. Follow @edgraney on Twitter.