Blue Sox continue Basic High dominance with American Legion World Series win
August 15, 2017 - 11:01 pm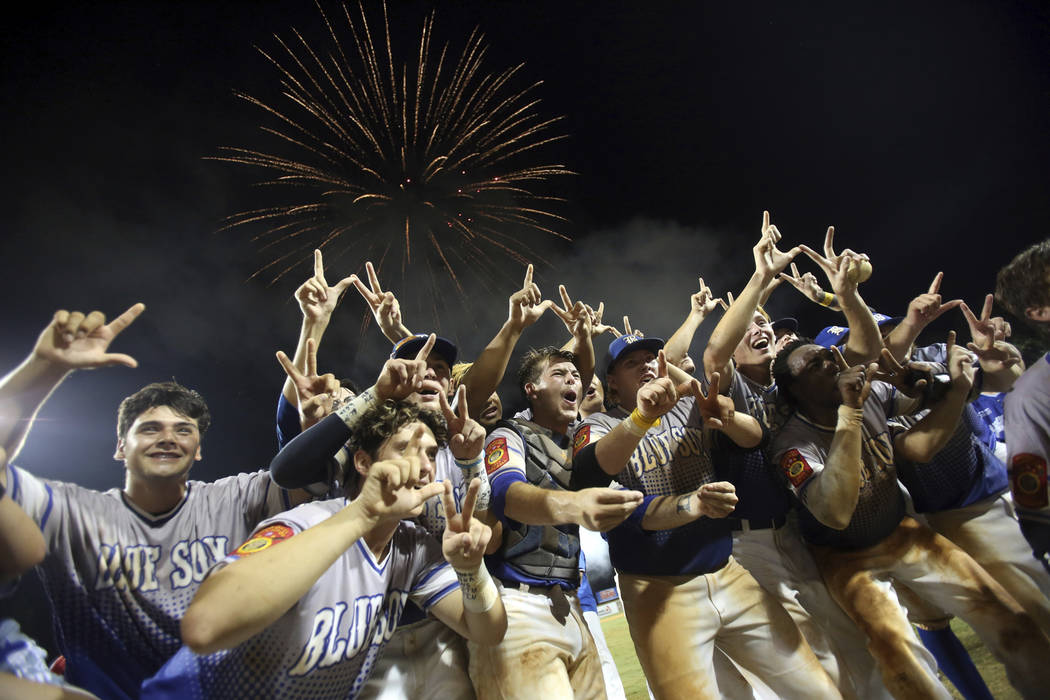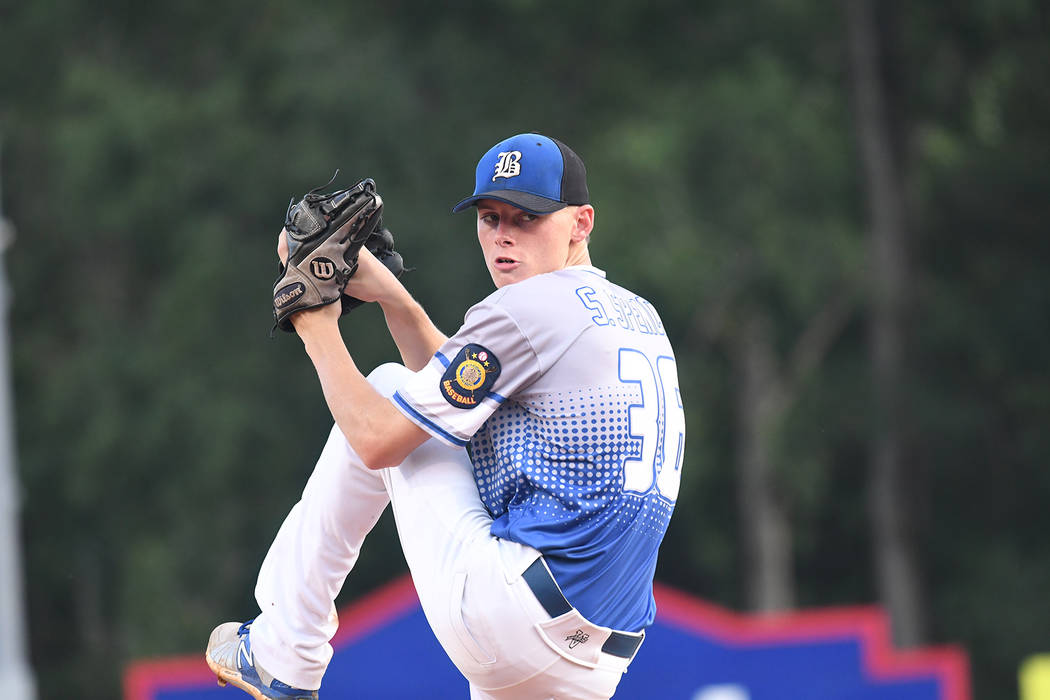 If you consider them all somewhat equal — and who in the world has time to closely examine and evaluate and set odds on thousands of American Legion baseball rosters for 50 states? — the feat accomplished by a team from Henderson is beyond spectacular.
It might not have been a Leicester City-type climb up the mountain to glory, but it was one seriously difficult ascent.
Those who might wonder where the best prep baseball program resides across Nevada right now haven't paid much (any) attention the last few years.
Basic High is a beast.
Two consecutive Class 4A state championships have now been followed with an American Legion World Series title, the result of Basic's summer team having beaten Creighton Prep from Omaha, Nebraska, 2-1 on Tuesday night on Veterans Field at Keeter Stadium in rainy and sticky Shelby, N.C.
The Southern Nevada Blue Sox are mostly a collection of Basic players past and present, coached by Scott Baker, who was an assistant on the state's only other team to have won a World Series.
That group was from Bishop Gorman and called the Southern Nevada Titans in 2008, and to add perspective as to how rare such a moment this is for a Nevada team, consider the World Series has been contested for all but one year since 1926.
"Ever since American Legion began this summer, we said, 'We are going to Shelby. We are going to Shelby,' " said Shane Spencer, a junior at Basic who was masterful in pitching a complete-game three-hitter over seven innings while being named Legion's Player of the Year. "It's just amazing."
So it was that as fireworks exploded across a stormy sky Tuesday, a bunch of young men were drenched in sweat from a typically humid Southern night and yet also in the unconstrained joy for accomplishing something so memorable.
Summer arrives and with it comes the family of ESPN networks pointing their cameras toward Williamsport, Pennsylvania, where the Little League World Series begins anew Thursday with 16 U.S. and International qualifiers competing to win an event that long ago lost any shred of the innocence that once defined its basepaths.
As sponsorship banners flap in a brisk Pennsylvania wind, Little League counts its $80 million in assets, almost $25 million in revenue and $76 million in a TV rights fee contract.
Dollar signs thrive through the wholesome eye black of 12-year olds, when the dark side of the bright lights that shine upon Little League for 11 days each August causes you to wonder if those competing are prepared to handle the attention and admiration cast in their direction.
American Legion is different, and not merely just for the age of players and the fact its World Series isn't defined by baseball, apple pie and a hefty dose of capitalism.
The final on Tuesday was televised by ESPNU, but if there is anything close to a pure pursuit of raising a championship banner within amateur athletics, you can find it in American Legion.
It is a format — having to advance through league and state and regional levels in order to qualify for the eight-team World Series — coated in obscurity before things get underway in Shelby.
It's more institution than league, having been played through a world war, national tragedies, times of both prosperity and discouragement for the country.
"We played with everything we had," Baker told reporters afterward. "This event is extraordinary. I learned really quickly how special this event is, from honoring the troops and everyone who helps us keeps us safe."
Bob Feller played American Legion ball. So did Ted Williams and Stan Musial and Yogi Berra and Bob Gibson and Reggie Jackson and Eddie Mathews and Greg Maddux and countless more Hall of Famers. Seventy-two in all.
And now, for the second time, a team from Nevada stands tallest.
"When you consider how around 4,500 teams start the summer, the staggering odds it is just to make it to Shelby, it's just an incredible achievement," said Nevada commissioner Gary Mouden, who has been involved with American Legion baseball for 60 years. "We're about giving kids the opportunity to continue working themselves up through new levels, getting better in high school and going on to college, and having a good competitive experience over the summer.
"I'm from Lincoln, Nebraska, and our bitter rival was the school that made up the team the (Blue Sox) played in the final. I would have been rooting for the Nevada team regardless, but I wouldn't root for Creighton Prep if they were playing the Russians."
No fake news about that, and there's nothing phony about this: Basic High baseball — in this case, its alter ego known as the Blue Sox — are American Legion World Series champions.
A beast, is right.
Contact columnist Ed Graney at egraney@reviewjournal.com or 702-383-4618. He can be heard on "The Press Box," ESPN Radio 100.9 FM and 1100 AM from 11 a.m. to 2 p.m. Monday through Friday. Follow @edgraney on Twitter.