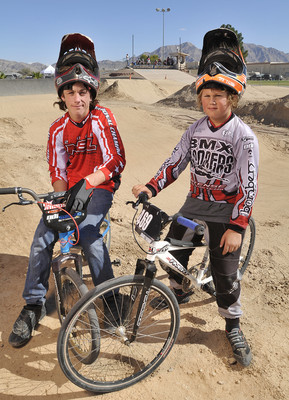 Those were the days. Pedaling the old Schwinn around the neighborhood with friends. Challenging each other's bravery. Wondering who owned the most courage. Guessing who might risk serious injury first. Holding our breath as fearless 10-year-old Greg pumped his legs harder, hit the target, lifted his front tire and landed smoothly along the pavement.
We sat there in awe.
Greg jumped the curb!
These are the days now: You have 5-year-olds wearing motorcycle helmets and protective gear, racing small bikes with tiny wheels at high speeds around banked dirt courses with flat corners and various jumps and obstacles, bunched together alongside other riders and hoping to avoid major collisions that will send one tyke toppling over the next like a collection of life-size dominoes in multi-colored body armor.
BMX. It's quite the rush.
Few sports mix creativity and athleticism and power and guts like the one born in the 1970s at off-road tracks in Southern California, when children on bicycles would mimic their motocross heroes. The rise of BMX popularity since has been a little like that of crude oil the past year. Steady.
"It's a lot less expensive than buying a motorcycle and having to fix that when it breaks down," said John Diaz, commissioner for Silver State BMX. "With BMX, you can just throw your bike into the back of a truck or in the trunk and still see entry fees for races in the $8 to $10 range. It's great exercise for kids. Kids get stronger, and the participation age can range from 4 to whatever age wants to try.
"My biggest concern is always the grassroots level of the sport — how to continue getting more kids involved. Without local racing, you don't have anything."
The Silver State Nationals and Western Regional Championships are Saturday and Sunday at Nellis BMX track, where riders from 5 to 60 will continue feeding a rush that the world learned more about this past summer.
Inclusion as an Olympic sport can do wonders for pushing a discipline such as BMX further into the mainstream, for demonstrating why more and more kids are choosing to walk off Little League and soccer fields and onto a light, quick-handling bike.
The International Olympic Committee for some time hoped to excite a younger generation by offering competition that would play closer to their interests, and BMX in Beijing was a fierce, popular, edgy contest that included crashes in men's and women's races.
Yep. It can be pretty dangerous at times. All bones are at risk.
Linda Bouch considered the threat of injury when her two sons began watching their uncle compete nearly four years ago and became fascinated with the speed and originality of BMX. They had played soccer and basketball, but nothing grabbed them like the rush of that first drop and the race that followed.
Today, Jordan (12) and Dustin (10) are rated experts in their age group.
Mom, 40, even races now.
"She's pretty good," said Jordan, "for an old lady."
Here is what she liked best: That the BMX community was nothing like she and her husband imagined. That it wasn't kids merely hanging out at tracks waiting for trouble to discover them. That many racers lived by a straight-edge doctrine. No drinking. No smoking. No drugs. That like any sport, families gathered and supported and watched out for one another.
That her sons could show up to a race on any given weekend and be competing on the same track as their sport's top professionals.
"You don't see a kid in Pop Warner playing on the same field as Peyton Manning or a Little Leaguer on a Major League field," Linda said. "In BMX, kids are riding alongside those who they look up to and want to be like, pros who get paid doing this. It has greatly improved our children's self-esteem.
"Kids can get hurt off the track just as easily as on it. I was a runner, and my husband played football. But there is nothing as exhilarating as this. It's just a very positive environment for families."
How far does the sport's influence now stretch?
The men's gold medalist in Beijing came from Latvia, which means the same place that offers blue cows and superb opera and winters cold enough to snap limbs has also embraced the world of barturns.
How far does it stretch?
There is an Australian racer who legally changed his name to Kamakazi and as part of his Olympic preparation built a replica of the Beijing course in his backyard for $50,000.
Tell you what — Greg the curb jumper would have never thought of that.
Ed Graney can be reached at 702-383-4618 or egraney@reviewjournal.com.