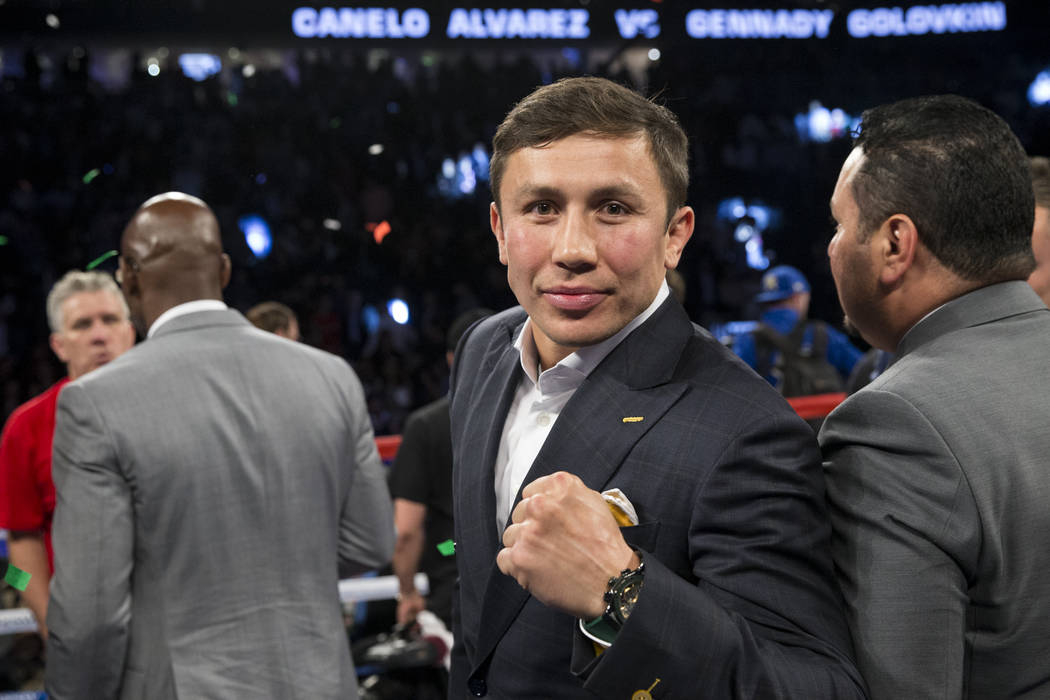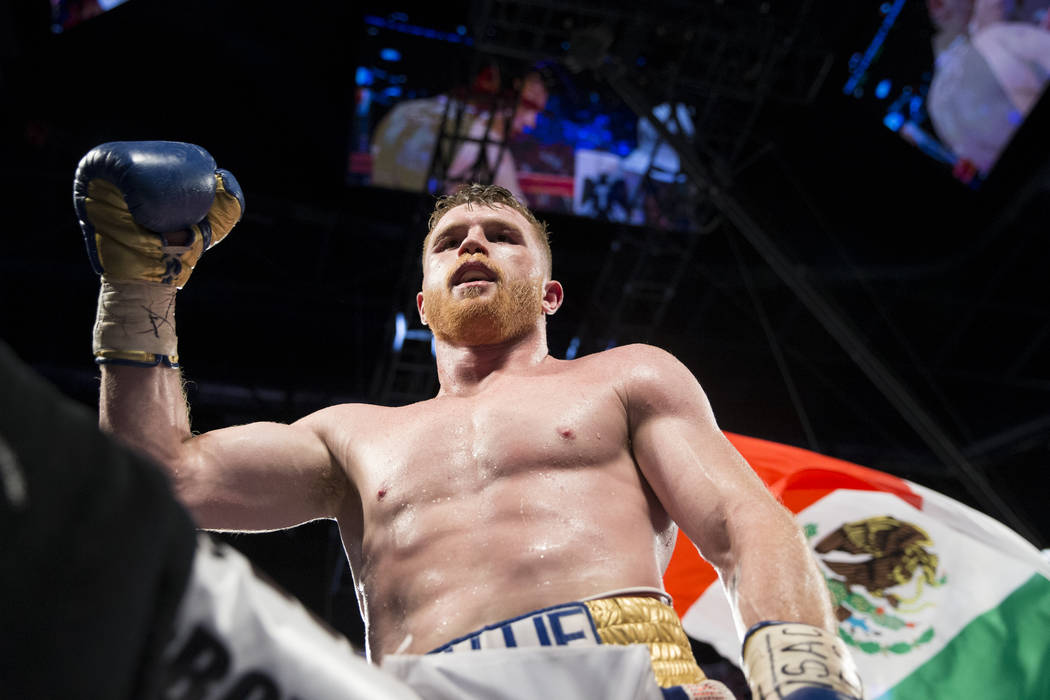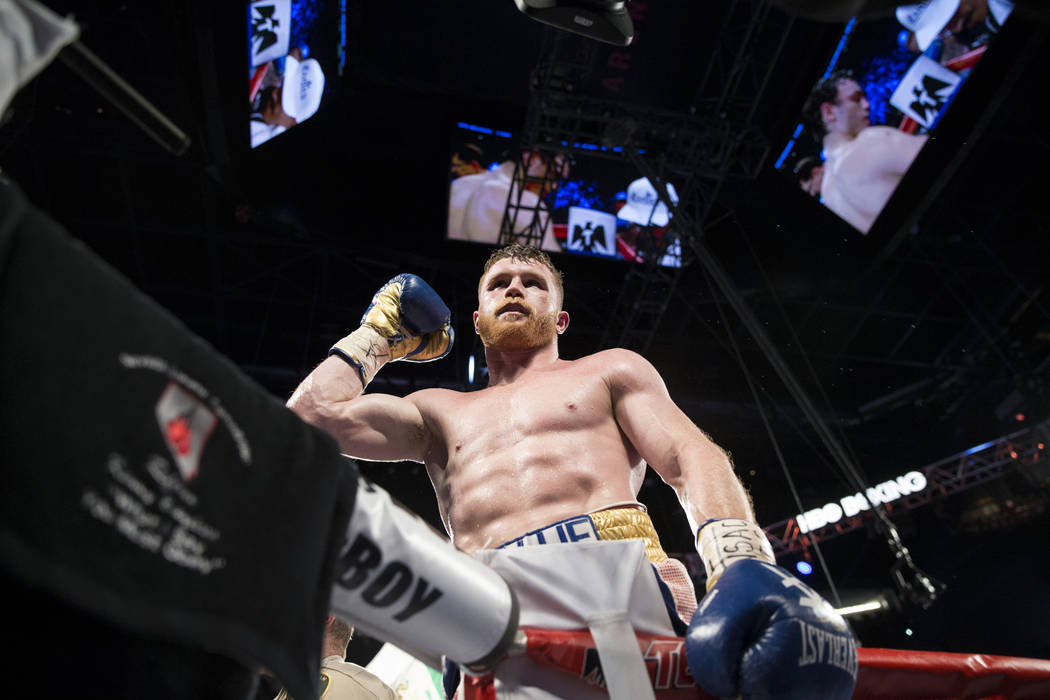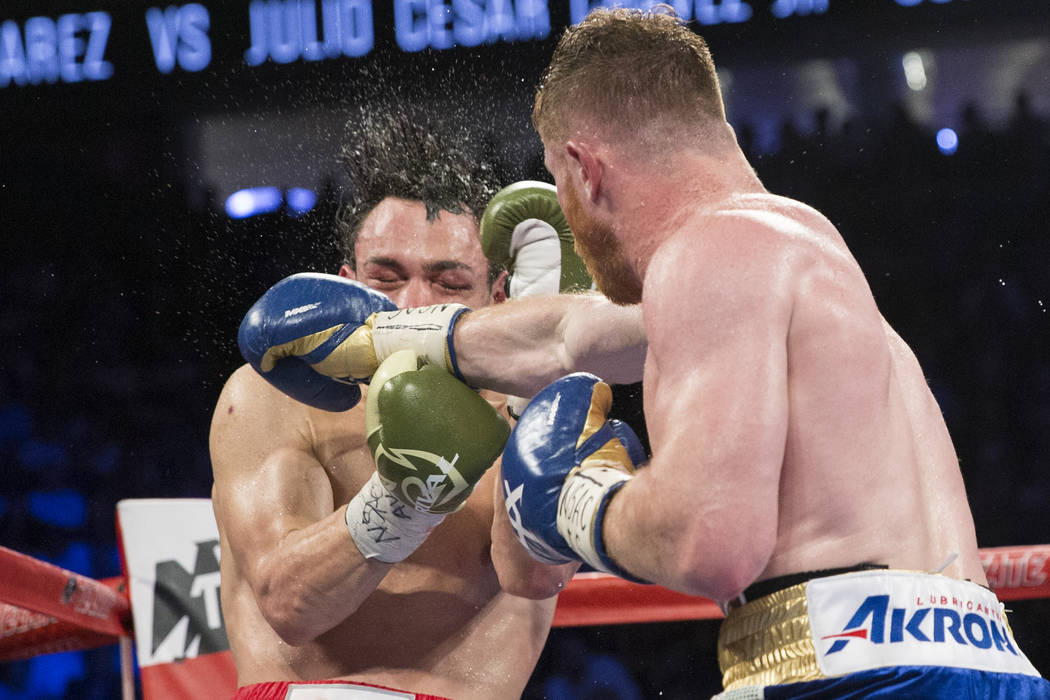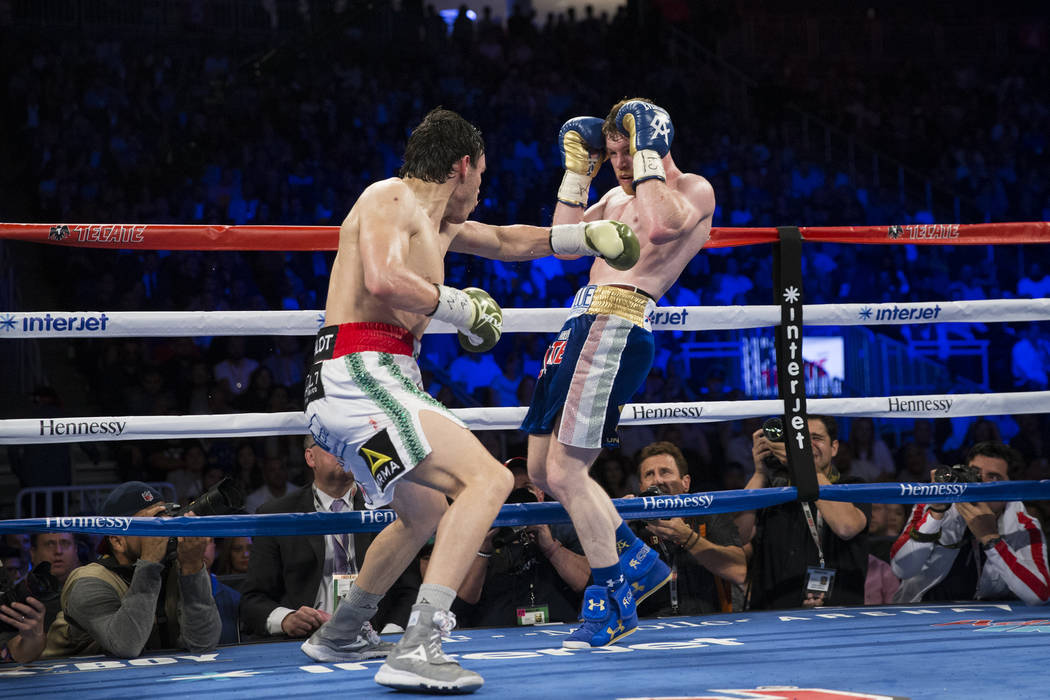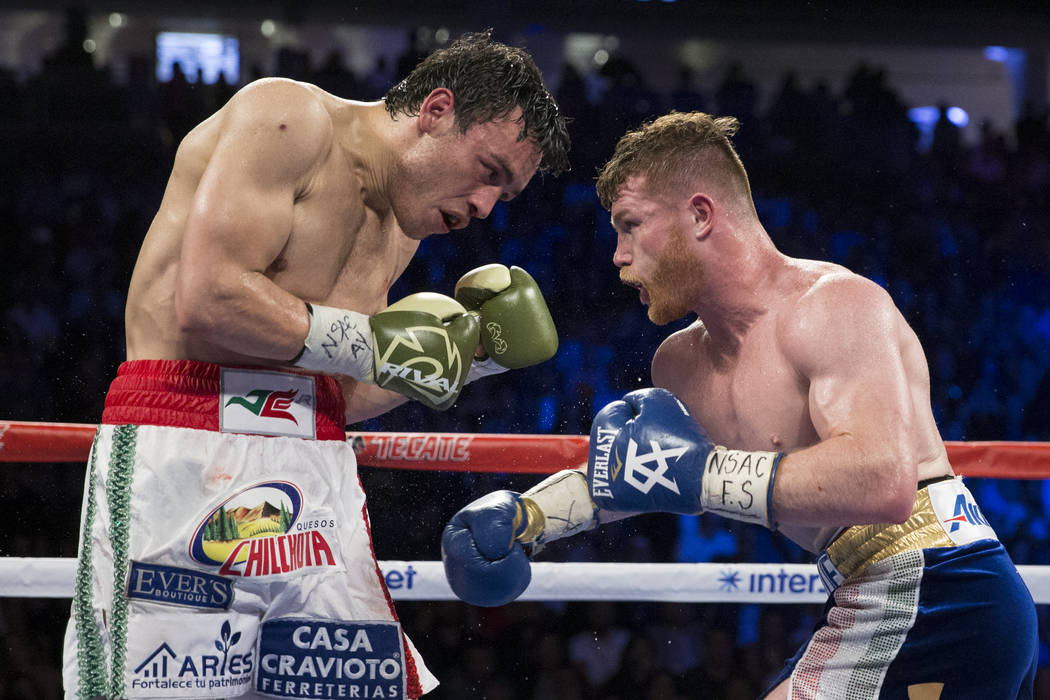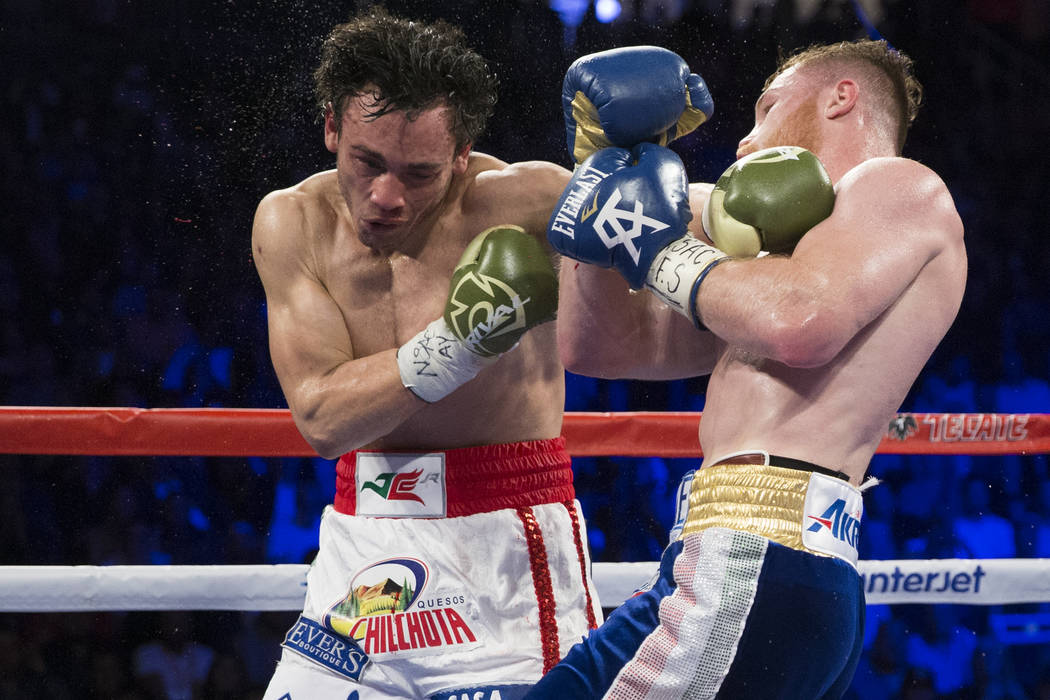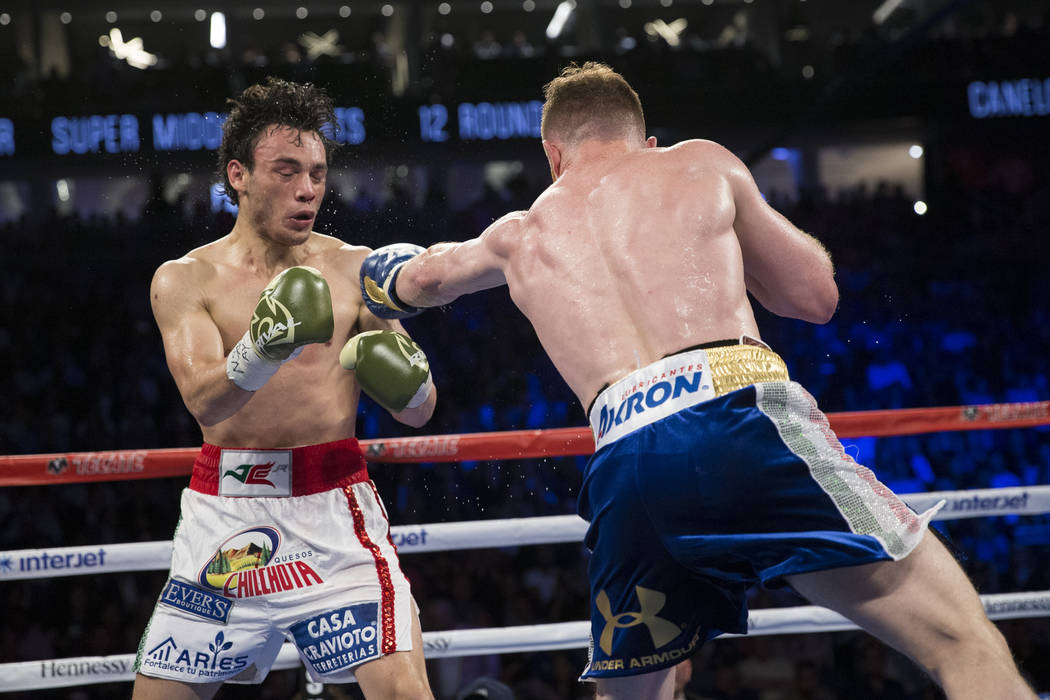 Just wondering: What would they have done with the postfight video announcement and confetti streaming down from the rafters and all the suspense had Saul "Canelo" Alvarez lost to Julio Cesar Chavez Jr. on Saturday night at T-Mobile Arena?
I know.
LOL.
Golden Boy Promotions sure knows how to throw a party when one is needed most, surpassing even the best Cinco De Mayo weekend festivities imaginable by announcing the one fight fans have waited years for is finally official.
Alvarez will meet Gennady Golovkin on Sept. 16.
Yes, he's taking on GGG.
The contract was actually signed last week — how is that for confidence that Chavez didn't stand a stinking chance? — and while a venue wasn't announced Saturday, know that Golden Boy has reserved T-Mobile for that night, which happens to be Mexican Independence Day.
It's true that others rank ahead of Alvarez on most pound-for-pound boxing lists, that names such as Andre Ward and Sergey Kovalev and Terence Crawford are placed higher by those who closely cover and follow the sport.
So, by the way, is GGG.
But for star appeal and charisma and those traits that can still sell millions of pay per views, Alvarez stands above all right now, much like Floyd Mayweather Jr. did for so long while dominating the ring.
That was the good with Floyd.
Now, finally, Alvarez won't repeat the bad and will take on the opponent he has avoided.
It took time getting here, but it won't prove to be the ridiculous wait that was Mayweather against Manny Pacquiao.
"GGG — you are next my friend," Alvarez said. "I've never feared anyone, since I was 16 fighting as a professional. When I was born, fear was gone. I'm very happy, and the rivalry is going to show my skills even more. I've had difficult fights, and it will no doubt be a tough fight. But, I always say, Canelo Alvarez is the best because I fight the best."
I'm fairly certain if Chavez Jr. was named Joe Smith, we wouldn't have seen the ridiculous mismatch that transpired Saturday, when Alvarez embarrassed his Mexican counterpart with a unanimous decision.
It was 120-108 on all three cards.
It was a clinic.
It was laughable.
Alvarez never sat down between rounds. He hit Chavez with jabs and combinations and any other power punch he chose. He made Chavez's head appear like one of those summertime misters in Las Vegas, what with all the spray coming off it from being whacked all evening.
Why in the world did HBO want so badly for people to believe Chavez is a great fighter? He isn't. Don't those announcing realize that once the fight starts, it's acceptable to stop hyping it so as to sell PPVs?
But boos turned to cheers minutes after the decision was announced, when Alvarez confirmed his next opponent would be GGG and the middleweight champion entered the ring to face a Canelo that looked beyond sharp the entire night.
Alvarez said last week he wouldn't fight GGG for the WBC belt, still stinging from when he was forced to vacate the organization's middleweight title last year when asked to defend it against Golovkin and wouldn't at the time, citing a court case he was dealing with in Miami as the reason.
It doesn't really matter.
The fight is what fans want. Belts are secondary.
"I feel very excited," GGG said. "In September, it will be a different style — a big drama show. I'm ready. Canelo looked very good tonight, and 100 percent he is the biggest challenge of my career. Good luck to Canelo in September."
This was Golden Boy Promotions president Eric Gomez on Wednesday: "Our plan is to fight Golovkin in September, but we have to beat Chavez first. If (Canelo is) able to knock out Chavez, that's the fight, and that's the fight (GGG) that should be next, and that's the fight that we want.
"It's just a matter of tying up some loose ends and getting it done. The focus still is, and always been like this for a year now, to fight Golovkin in September."
Well, there wasn't a knockout Saturday, but there might as well have been.
It was a clinic, a joke, really.
But what was a predictable rout from the outset turned tremendous afterward, when the lights were dimmed and a video began to play and confetti streamed down from the rafters.
Canelo-GGG is on, and by the looks of Alvarez at a 164.5 catchweight Saturday, those concerns of how he might handle such size against Golovkin don't appear that massive now.
I'm sure glad Chavez Jr. didn't screw things up by winning Saturday.
Of course, for that to have happened, he would have needed to show up.
And be a whole lot better than HBO wanted you to believe.
Who cares, anyway. We have Canelo-GGG.
Joke time is over.
Contact columnist Ed Graney at egraney@reviewjournal.com or 702-383-4618. He can be heard on "Seat and Ed" on Fox Sports 98.9 FM and 1340 AM from 2 to 4 p.m. Monday through Friday. Follow @edgraney on Twitter.