Brimming with bravado, Ortiz eager for chance to back it up
September 14, 2011 - 11:06 pm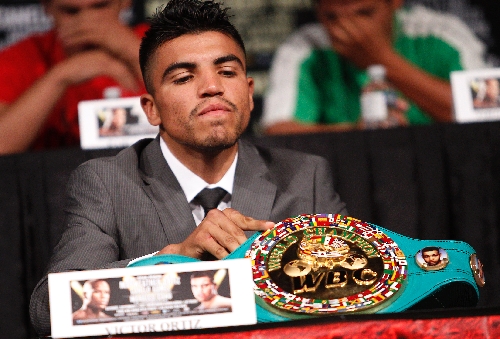 Rolando Arellano jumped in to answer a question aimed at his fighter about being nervous Wednesday, and by the bizarre and yet colorful prose Arellano favors, you get the feeling it wasn't the first time.
"That is what you would do if you were in his situation," Arellano said. "You can't say how he feels. We're not scared.
"Spartans, gather your food, because tomorrow we dine in hell!"
King Leonidas actually said to ready their breakfast and eat hearty, for they would dine in hell that night, but Arellano is the sort of character you don't want to stop once he gets going.
The guy is a winning lottery ticket for those in my business.
He manages Victor Ortiz, a WBC welterweight champion who is one of two things today — a man with enough confidence to fill the MGM Grand Garden Arena and 10 more facilities its size or one masking his nerves with a hefty dose of false bravado.
The answer will come one way or another Saturday evening, when Ortiz engages Floyd Mayweather Jr. in the latter's first fight since May 2010.
It's not the same fighting an unbeaten Mayweather, even for a guy holding a championship belt. The lights are brighter. The moment is bigger. The reality of it has swallowed some great champions, not to mention one of the best songs never to win a Grammy, "There's Only One Ricky Hatton."
"It's a whole different (expletive) world when you stand in against my nephew," said the ever-eloquent trainer, Roger Mayweather.
Ortiz won the welterweight title in April against Andre Berto in a 4,000-seat MGM property in Connecticut. Last year he fought in the 2,300-seat Club Nokia in Los Angeles. He never has been part of a pay-per-view headline bout, never until now been followed by the HBO cameras of "24/7," never made the millions he will off this fight.
He has fought on undercards at Madison Square Garden and Mandalay Bay Events Center and Staples Center, but never once stood across from a better opponent or on a bigger stage than he will Saturday.
"Maybe there will be more people," Ortiz said. "So what? Why does that make it any different?"
He was at a news conference Wednesday charging Floyd Mayweather Jr. with being scared, which was probably the second-silliest comment made over 90 minutes. The first was anything Arellano said.
There is trash talking in boxing, and then there is what Ortiz appeared to be doing when mocking Mayweather and his camp — trying too hard to appear confident.
He is nearly 10 years younger than Mayweather, and bigger and stronger and fitter than the most recent victims of Mayweather's 41-0 record.
But is youth enough of an advantage to overcome such a spotlight, not to mention one of the greatest defensive fighters in history?
"It's a completely different stage," said Oscar De La Hoya, who lost a split decision to Mayweather in 2007 and whose Golden Boy Promotions represent Ortiz. "Either you crumble under the lights or you shine like there is no tomorrow. It's 50-50, and with Victor, especially with what he's gone through in life, what he has experienced, he will use it all as fuel to go out there and do great."
It's a well-told story, Ortiz and his siblings being abandoned by their parents, having to raise his younger brother, going to bed hungry most nights, using boxing to help channel his anger and provide for his family. Big screen-type stuff.
But whether any deep-seated feelings about the past lend themselves to his definite punching power is something only Ortiz knows, as mysterious a thing as which side of that 50-50 proposition he will land upon Saturday.
He promised Mayweather to teach him what it feels like to have a loss on his record, saying it will be nice to do what no one has before, saying he will "Put my hands up and put you on your ass."
Ultra confidence?
False bravado?
We will know soon.
"You have a young man (in Ortiz) who is committed, a young man who is dedicated, a young man who smiles in the face of adversity," Arellano said. "The coaches put him through a lot about the Gates of Hell, and he goes right through them, and when he comes out the other side, he smiles, he laughs, and he is looking forward to entering the ring and taking supremacy of the 147-pound division."
I have no idea what this guy is talking about most of the time, but if the fight is half as entertaining as him, we're in for a memorable night.
And if Victor Ortiz is as good as he says and acts, history is within reach.
Las Vegas Review-Journal sports columnist Ed Graney can be reached at egraney@reviewjournal.com or 702-383-4618. He can be heard from 3 to 5 p.m. Monday and Thursday on "Monsters of the Midday," Fox Sports Radio 920 AM. Follow him on Twitter: @edgraney.