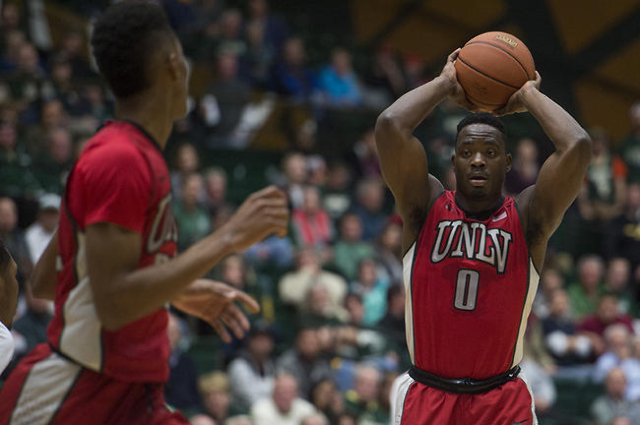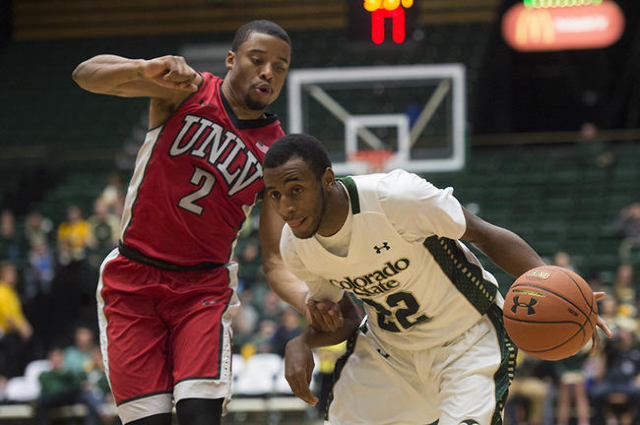 FORT COLLINS, Colo. — In the bowels of a chilly Moby Arena, on a long wooden bench outside his team's locker room Wednesday evening, Ben Carter lowered his head and sobbed. A teammate emerged to try to console him. Then a student manager. None could do so.
In the crossroads that has become a UNLV basketball season sliding in the worst possible direction, the Rebels more than ever collectively need to discover the desire and hunger and heart of their junior leader.
This thing is getting away from them.
It's a broken record that dates years.
UNLV again dropped a Mountain West game it had no business losing, this time to a lesser-talented but supremely coached Colorado State side by a 66-65 final before a sparse 3,341.
Statistics and scoring runs and key moments and silly turnovers can be found elsewhere, because there is a much bigger picture to consider now.
Dave Rice is in his fifth season leading his alma mater's program, and the Rebels haven't really changed all that much when it comes to losing this way.
For whatever reason, they just can't finish.
This time, UNLV led by 10 points with 5:16 remaining and by five with 50 seconds left.
"It's unacceptable," Rice said after a tongue-lashing of his team in the locker room. "It can't keep happening. We have to count on guys to make better plays. Too many mistakes. Too many unforced errors. Too many things that keep happening. Not executing plays. It's absolutely 100 percent unacceptable.
"I'm very upset. I'm pissed off. It's ridiculous. We know what we're supposed to do and don't do it. It can't keep happening. We'll go back and make sure our (voices) are being heard. We have to be tougher. Mental toughness to make physical plays down the stretch to win a college basketball game on the road.
"We took another step back. I'm very pissed, absolutely."
But is his voice being heard? And those of his assistants? Are his players savvy enough and with high enough basketball IQs to understand execution in late-game situations? Are they becoming tight once the clock ticks down in a close game and worrying too much about making a bad play rather than expecting to make a good one?
Do they expect to fail?
Because, well, it keeps happening.
UNLV keeps losing games it shouldn't.
What it also means is that the Rebels have begun league play in what is the worst collection of teams in Mountain West history with an 0-2 record, having also dropped a game at home last week against a Fresno State side they should have beaten.
What it means is the Rebels have 48 hours to discover something, anything within them that might translate to a victory Saturday at Wyoming.
"Everybody on this team wants to win games, everybody," Carter said through broken words and glassy eyes. "Every player, every coach. We play every game to win. Guys aren't losers. Guys don't come to games saying, 'If we lose, oh well.'
"We gave that game away, and a lot of it was on me. I had turnovers, a bad foul at the end. I understand Coach Rice's frustration. He should be frustrated. We're not showing how good we can be, how good we are. Bad decisions on my part, one of many mistakes I made that cost us this game."
He finished with 16 points and 12 rebounds, and it's true his turnover on an in-bounds pass with 47 seconds left and UNLV up three eventually led to a Colorado State score and one-point margin.
It's also true Carter fouled John Gillon with 1.1 seconds remaining in a tie game, but it was either that or allow an uncontested layup at the buzzer.
As it is, Gillion made the second of two free throws and the underdog Rams danced off a winner.
But it's bigger than yet another bad loss, and every UNLV player who slowly walked out of a morgue of a locker room after Rice's outburst would be smart to follow Carter even more now.
No one wants to win more than he does.
It matters to him beyond explanation.
It matters so much, it hurts.
The crossroads of Rice as UNLV's coach are also upon us, and somewhere over the next few days, someone on that staff or in that locker room better discover the answer to what long ago became a bad habit gone wrong in how the Rebels (don't) finish games.
Rice has never needed a victory in the past five years more than he does Saturday in Laramie.
This thing is getting away from them.
In the bowels of a chilly Moby Arena, on a long wooden bench outside his team's locker room Wednesday evening, Ben Carter lowered his head and sobbed.
If only heart made the biggest difference.
He has enough of it for the entire program.
Ed Graney can be reached at egraney@reviewjournal.com or 702-383-4618. He can be a heard on "Seat and Ed" on Fox Sports 1340 from 2 p.m. to 4 p.m. Monday through Friday. On Twitter: @edgraney
Check our GameDay page for full coverage of the UNLV-Colorado State game.