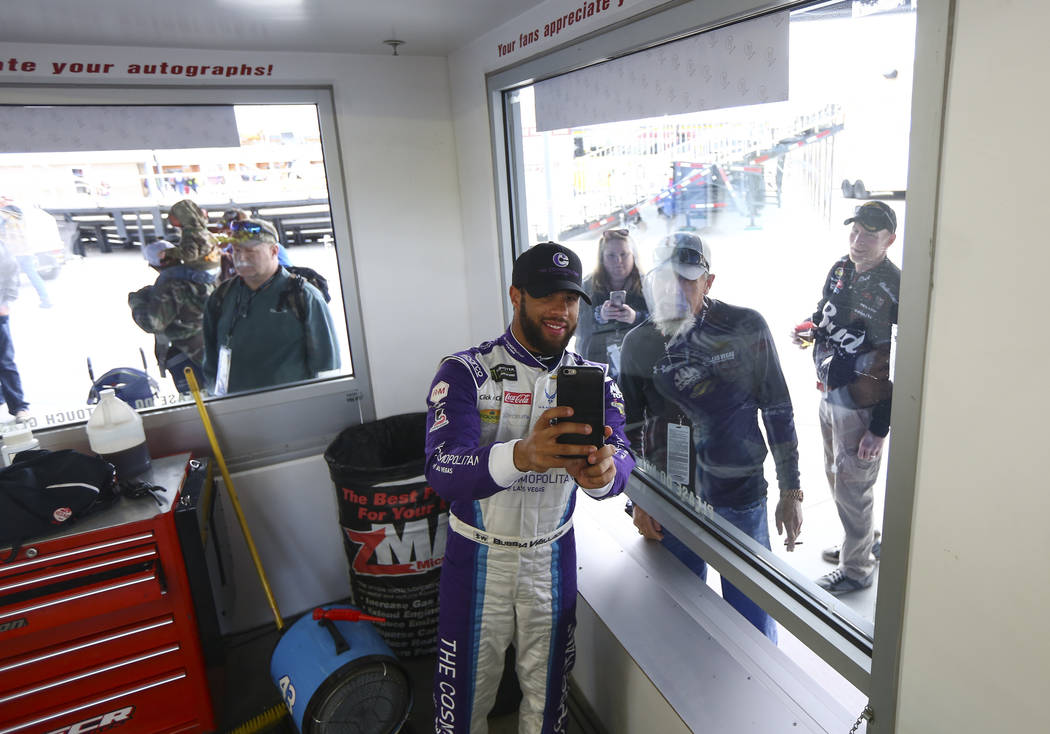 A motorcycle racer once called to thank Wendell Scott. So did a guy who raced boats. So did, of course, those directing stock cars meant to push unearthly speeds around a track.
It always leads back to him, the strength by which diversity found different sports of racing that might not otherwise have embraced it. He always will be the one.
Scott has been gone almost 28 years, and yet when Darrell Wallace Jr. climbs into the No. 43 Chevrolet for Richard Petty Motorsports in the Pennzoil 400 on Sunday at Las Vegas Motor Speedway — yeah, he's rolling with the King's ride — his path to driving such a historic car leads to Daytona Beach in the mid-1950s.
Bubba Wallace is just 24, but being the first full-time African-American driver in the NASCAR Monster Energy Cup series since Scott in 1971 isn't lost on him in terms of the message his rise imparts to so many.
"When we see what Darrell is doing — you call him Bubba, but I call him Darrell — it makes our hearts fill with joy, not only for racing but for a young man who has obviously had to deal with beating the odds and overcoming some adversity," said Frank Scott, Wendell's son. "Dad would be very proud. Things were different for him. Death threats, sabotage, the time someone poisoned him, but he recovered. Needing a warm meal when there was no food available, sleeping in the car because people wouldn't give us a room. It's a lot different now."
When Wallace was second at the Daytona 500 to open this season, the highest finish for a NASCAR Cup Series rookie in history, the platform he now defines soared to a momentous level awash in tears and hugs and happiness.
He didn't win Daytona, but in a way he did, runner-up to Austin Dillon and yet proof that the slow but steady progress NASCAR has made when attempting to alter its face from a mostly white domain is working.
Wallace, who will start 26th Sunday, is the first graduate of the NASCAR Drive for Diversity development program to compete in a national series race, a leading example of the sport's attempt at integrating minority and female drivers into a world whose southern roots once included as many Confederate flags and symbols as it did batches of moonshine.
The flag still flies from tents and RVs at some races, not near as many as once, but present just the same.
Diversity can be a long and difficult objective to uncover.
This is a pinned tweet from Wallace: "There is only 1 driver from an African American background at the top level of our sport..I am the 1. You're not gonna stop hearing about "the black driver" for years. Embrace it, accept it and enjoy the journey."
There is only 1 driver from an African American background at the top level of our sport..I am the 1. You're not gonna stop hearing about "the black driver" for years. Embrace it, accept it and enjoy the journey..

— Darrell Wallace Jr (@BubbaWallace) November 8, 2017
He started like most racers, a go-karter who was then zipping around a Bandolero and Legends racing series at age 9, later trying his hand at some local late model events, and in 2008 became the youngest driver to win at Franklin County Speedway in Virginia.
But perhaps he didn't totally grasp his ability to make a difference until 2013, when Wallace won a Camping World Truck Series race at Martinsville Speedway for Kyle Busch Motorsports, and a crew member told him it had been 50 years since Scott became the first African-American driver to win a Grand National Series race at NASCAR's premier level.
"I didn't know much about (Scott) when I first got into the sport," said Wallace, who sits 14th in points after two races. "But then you fast-forward to now, and understanding the history and having met his family and become close to them is very special. I will always try and represent them the best way I can."
Frank Scott won 391 games in 21 seasons as basketball coach at Laurel Park High, about eight miles from Martinsville in Virginia. He was an educator for 44 years, and yet his fondest memories trace to racing, where he began working his father's pit crew at Daytona when he was 14.
Diversity, he says, is a slippery slope, his recollections including those slow late-night drives over rocky and bumpy fields going from race to race trying to preserve whatever fuel was left because no one would sell his father any, to a current NASCAR he says has made great strides.
"No question, they have improved their brand and image," Scott said. "You can always do more, but having a driver like (Wallace) doing what he is doing is inspiring for the sport."
Contact columnist Ed Graney at egraney@reviewjournal.com or 702-383-4618. He can be heard on "The Press Box," ESPN Radio 100.9 FM and 1100 AM, from 11 a.m. to 2 p.m. Monday through Friday. Follow @edgraney on Twitter.
Race day
Who: NASCAR Monster Energy Cup
What: Pennzoil 400
When: 12:30 p.m. Sunday
Where: Las Vegas Motor Speedway
TV/Radio: KVVU-5; KBAD-AM (920)
Pole: Ryan Blaney
Favorite: Kevin Harvick, 5-1