Bungling college basketball referees need adult supervision
February 23, 2016 - 11:52 pm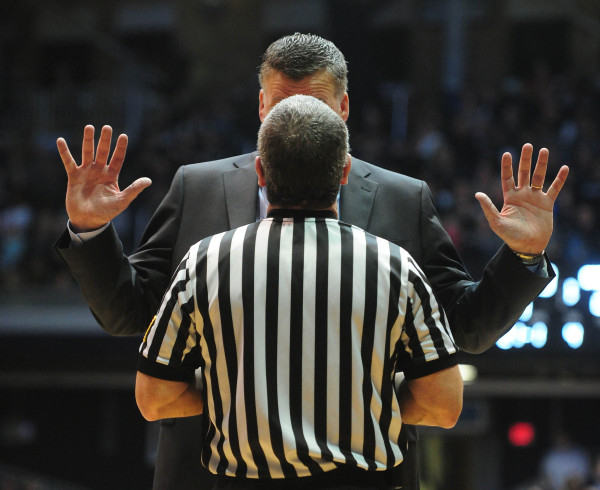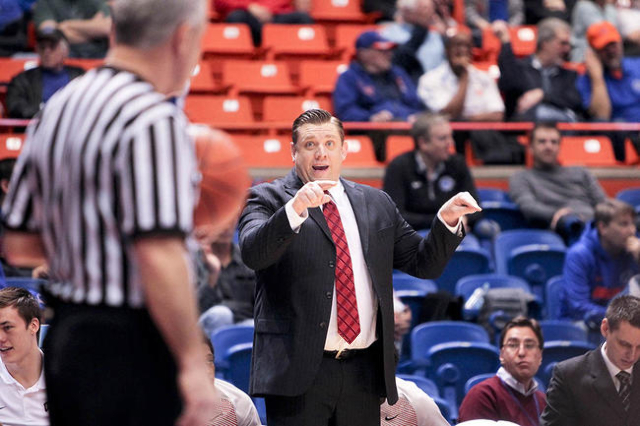 The organization's annual revenue tops $1 billion — now you know why those March Madness sweatshirts cost you a week's pay— so I don't feel sorry for saying the NCAA needs to find a few pennies in the coffers to dramatically improve college basketball.
It can fix this.
It at least can control it.
That always has been the case.
We might be witnessing the worst college season for officiating in history, and that's saying more than a mouthful about those blowing whistles. But rare is the night in which games don't include questionable calls, no calls, clock errors, interpretation errors, miscues of all types.
That, and a few bizarre statements by the Mountain West explaining such blunders.
The solution to improve such shoddy work remains identical to decades ago, but until the NCAA feels it necessary to spend the time and money and manpower in gaining oversight of officials, you will continue waking up the dog while screaming at your TV late into the night.
These guys, of course, work too much.
I'm not blaming it on those calling games. As independent contractors who can make as much as $3,000 a night in a Power 5 Conference, I get the whole make-as-much-as-you-can premise.
The most in-demand officials can make $120,000 to $150,000 over six months. It's true: Guys such as Dave Hall and John Higgins and others are cashing some pretty hefty checks for all the heckling they endure from fans.
But the more time officials spend on airplanes, jetting from one side of the coast to the next, from this conference to that one, from a game in Los Angeles one night and in Norman, Oklahoma, the next and Las Vegas the next, the more controversy will find its way into action on the court.
"I give (officials) a lot of credit, because I have no idea how they do it just with the travel schedule alone," UNLV interim coach Todd Simon said. "Obviously, they're passionate about it and enjoy doing it, otherwise they wouldn't work so often. It can't be easy going city to city every night and then putting in all the miles going up and down the court.
"Those guys don't get subs, and then dealing with (coaches) chewing in their ear all game, it's a situation where you better be mentally tough and physically able to do it."
That's the thing: They shouldn't be allowed to do it as much, or at least at places so spread out across the country.
How can it ever be considered healthy for the game (not to mention the guy officiating it) when he has to cross six states to work on two consecutive nights?
Here's the problem: With no oversight and chief authority to hire, train and schedule officials, it would take all conferences agreeing to those few changes that might dramatically improve the quality of calls.
Good luck with that.
Example: What if there was a way to treat officials like their own pod system of the NCAA Tournament bracket, in which you would schedule referees to work games only within the geographical area of the country they live?
The way things are now, elite officials are offered assignments throughout the best leagues, and there isn't any way (or apparent desire) to stop them from limiting how many games they work in different regions over the course of a season.
It's also about money, of course. As it stands, conferences aren't on the hook for things such as health care and other benefits, which they would be responsible for if the NCAA had oversight of officials.
So there is always that.
There is always the almighty bottom line.
"You have guys doing over 100 games a season," said Marc Ratner, vice president for the Ultimate Fighting Championship and longtime Commissioner of Officials for prep sports in Southern Nevada, who also works with college crews. "Conferences hire who they want. But you go into locker rooms, and officials are getting massages and electro treatments and are then rushing to another flight to work the following night.
"I know. I've rushed many of them to the airport."
It's true that officials are evaluated nightly, that their work is judged and dissected and that those consistently found to be making errors can be removed from a league's rotation. But it rarely happens. Higgins has a better chance at being voted Most Popular Referee among fans than being docked games.
The good news is, there are those within the NCAA who support the idea of gaining oversight, and it's true many leagues have partnered with at least one other conference to coordinate officiating assignments in their part of the country.
There were 32 coordinators of officials in 2010. That number has been cut in half today. It's a start, but the entire issue still comes down to this: The NCAA needs to embrace a certain financial commitment to improve what the game now offers in terms of its officiating.
It needs to have control over the entire process. The investment would be more than worth it for the long-term health of college basketball.
And if the price tag is too high, just charge $10 more for those March Madness sweatshirts.
— Ed Graney can be reached at egraney@reviewjournal.com or 702-383-4618. He can be a heard on "Seat and Ed" on Fox Sports 1340 from 2 p.m. to 4 p.m. Monday through Friday. On Twitter: @edgraney