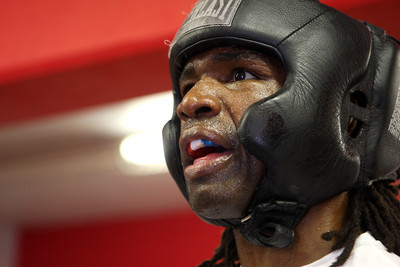 You figure it is happening today in gyms across Las Vegas and beyond. A multitude of over-30 hopefuls are lumbering on treadmills and pumping arms and legs on elliptical trainers and tirelessly trying to execute that deep backbend in yoga class and crunching stomachs on the chance a one-pack miraculously might appear.
You figure they all are thinking the same thing: Damn that Chris Byrd.
Exercise and eating healthier. Yeah, like we haven't heard that before. Every nutritionist worth his weekly meal planner just became a fan of the 37-year-old fighter who went from an undersized fat heavyweight champion to a ripped light heavyweight intent on ending his career in a body shaped more for the cover of Men's Health than Bon Appetit, who has shed nearly 37 pounds since late November by the most simple and yet logical measures: Run more, eat less.
It's enough to despise a guy.
Byrd puts his new look to the test tonight against Shaun George at Cox Pavilion in a 175-pound bout that will prove whether one really can come home to a range of weight last seen 15 years ago and still dominate.
He was always out of place as a heavyweight, always trying to be something his natural build suggested was wrong, which makes Byrd's two world titles that much more remarkable.
Remember: He won a silver medal as a 165-pound middleweight in Barcelona at the 1992 Olympics, arrived home in Michigan to cheers and adoration, managed just a few nothing fights under shady promoters and was cutting grass for his brother's lawn company a year later.
"My medal was tarnished as far as who would even remember me," he said. "I was hot one minute and then it was like, 'Who?' Sometimes, people would come out of their homes when I was cutting their grass and say, 'I was at the airport when you got back from the Olympics.' I felt embarrassed.
"I had a wife and baby. I needed to survive. So I just went to heavyweight, where guys I knew I could beat were making money. I started eating and didn't stop."
Problem: He was still small for the division, and no one really wanted to fight the quicker, more elusive guy with love handles. It's good to outweigh your opponent by 30 or 40 pounds (or, as Jameel McCline did, by 56) only if you can catch him.
Byrd was told after George Foreman recaptured the title in 1994 by knocking out Michael Moorer that the man known for making one heck of a grill submitted two lists to television executives. One included all the opponents a 45-year-old champ would consider fighting. The other was one he wouldn't: Chris Byrd.
"I was the Ebola virus," he said. "No one wanted me. I was like Avery Johnson against Shaq."
It became so frustrating that the Las Vegan took out an ad in the Review-Journal (we still accept those, by the way) in 1999 during the title fight week of Evander Holyfield-Lennox Lewis, daring the heavyweights to give him a shot.
Those shots eventually came from Vitali Klitschko and Holyfield, and Byrd won WBO and IBF belts. He held at least one title between 2002 and 2006, all the time puzzled why more promoters and fans and fellow boxers never truly embraced the David-vs.-Goliath theme his fights usually offered.
But then David got older, and time stole some of that quickness, and he no longer could run from the monsters. He started to stand and get hit more. It wasn't good. All those Shaqs began pounding him.
Which is why Byrd is here now, two weight classes down after technical-knockout losses to Wladimir Klitschko in 2006 and Alexander Povetkin in November. It is a lightweight division whose stars (Joe Calzaghe, Roy Jones Jr., Antonio Tarver, Bernard Hopkins and Glen Johnson) are all over 36, meaning Byrd feels more at home than ever when it comes to figure and foe. He was never a big puncher, so losing power with weight doesn't seem much of a concern.
"This fight (against George) will tell the tale," said Joe Byrd Sr., the fighter's father and trainer. "It's like you come back years later and wonder if you can still run the 100-yard dash at the same speed you once did. We will see what Chris can do at this weight."
Byrd talks of winning another title, of becoming just the third fighter in history to become heavyweight champion, then own a belt at light heavyweight, of doing something pretty extraordinary for a guy who originally thought of dropping to cruiserweight before he began watching more and more flesh disappear.
"I was at 199, then 195, then 190 pounds. … I was like, 'Man, I could make light heavyweight," Byrd said. "I haven't seen 180 in weeks."
Sure. Go ahead. Rub it in.
Ed Graney can be reached at 383-4618 or egraney@reviewjournal.com.