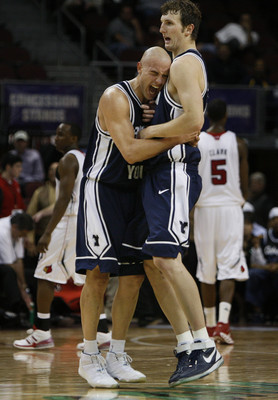 Do you know that saying about how all you need to discover success in life is a healthy dose of confidence and ignorance?
It's Jonathan Tavernari on a basketball court.
Shooters are the place-kickers of football and the closers of baseball. Doubt is not an accepted characteristic. You have to own enough conviction to crave moments of pressure and enough detachment to execute during them. Thinking too much is for guys who can't get it done.
The Tavernari who led Brigham Young on Friday night past its highest-ranked opponent since a gallon of gas cost 24 cents (way back in 1965) is not the player who arrived in Provo as a 3-point specialist prone to as many wild shots as good ones.
The Bishop Gorman graduate is not the same kid who, while earning Mountain West Conference Freshman of the Year honors last season, still offered those moments of untamed decisions, when his shot selection some nights produced as many scratched heads as loud cheers.
He's different for more reasons than a completely shaved noggin and stronger physique.
It's no accident BYU has a place in the Las Vegas Invitational final at the Orleans Arena, having deserved every bit of a 78-76 victory against No. 6 Louisville before a crowd that should have been bigger if not for a misguided ticketing campaign that is as good for locals as more traffic jams along Interstate 15.
It's November. It's ridiculously early. But the Cougars, who are 5-0 and face top-ranked North Carolina tonight at 7:30, have to be considered at least two to three games above any Mountain West opponent today.
They were picked to win the league in October by receiving 15 of 22 first-place votes. Anyone who wouldn't make them a unanimous selection now either hasn't seen them play or lives in Salt Lake City.
BYU has size and athleticism and discipline, and is once again exceptionally prepared. The only thing a depleted Louisville roster had on the Cougars was ranking. BYU won for many reasons, none more significant than this: It's better.
That Tavernari produced a career-high 29 points might not surprise those who watched him lead the state in scoring as a senior. It's how he generated them that is most notable. He has a mid-range game now, a turnaround from 12 to 15 feet that often put a dent in Louisville's zone. He also had seven rebounds and two steals.
He still shot 11 3-pointers and made five, still shot too quickly at times. But if this is the level of improvement BYU coaches can expect over the next few seasons, Tavernari is going to be a massive headache for opponents.
"We wanted him to expand his game (over the summer)," Cougars coach Dave Rose said. "We wanted him to expand his ball-handling and defensive ability and rebounding. … What we try to do as a coach and teammates is get him to take the shots we think are best for him. But there are times …"
When he still takes shots that are as bad as they are bizarre. But it's a trait you accept from a player who desires the ball at the most important times. There are few who truly do.
Tavernari genuinely believes every shot he attempts is good, be it from 3 feet or 30. He can look as lost for some stretches as he does superb in others. It's just too bad more didn't witness all the good he produced Friday.
Promoter Chris Spencer is a nice fellow who needs to re-think his business model for this tournament, because by making fans purchase two days' worth of tickets for prices between $94-$168 (note: face value of Final Four tickets range between $140-$220) instead of offering single-day or even single-game packages, Spencer has essentially priced countless locals out of the event.
Any basketball game involving BYU against a ranked team in Las Vegas with this many empty seats (the turnstile count for the semifinals was 4,590) is absurd. Fans apparently can purchase one-day packages for tonight's games, but that option should have always been available.
Think of all the local BYU fans who missed Tavernari's performance because they had other plans tonight and didn't feel like using half their Christmas budget to watch one game. They missed quite a show.
"I'm a confident player," Tavernari said. "I just have to make sure my shots are within a play and not a bad shot, so Coach doesn't get mad at me."
Coaches never get mad at confidence.
Nervous, maybe. Never mad.
Ed Graney's column is published Sunday, Wednesday, Thursday and Saturday. He can be reached at 383-4618 or egraney@reviewjournal.com.
ED GRANEYMORE COLUMNS