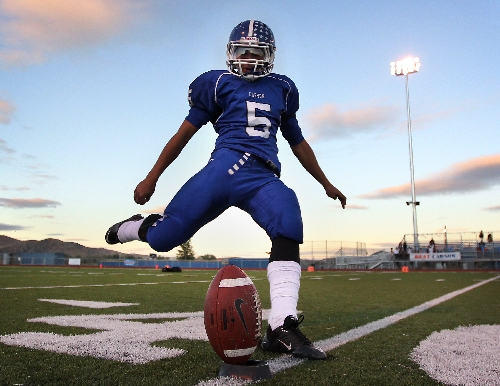 This is the home of a boy with a bionic leg, of a miniature Col. Steve Austin, able to crush pigskins with one mighty follow-through.
If you travel south from Reno on Interstate 395, past all the farmland and famous candy stores and snow-painted mountaintops above Lake Tahoe, you will find the kid who became national news this past week quicker than you can say Janikowski.
There is some serious folklore building around him.
It only got bigger Friday night.
Austin Pacheco is one of those all-round athletes from a small town who everyone knows. He's the best hitter on the Carson High baseball team and has started at strong safety for the football team the past few seasons. He also plays running back and wide receiver and kicks the you-know-what out of the ball.
Last week, his team tied at 24 with Bishop Manogue and 27 seconds remaining, he did something no NFL kicker has in history. He lined up and drilled a 64-yard field goal with as much as 10 yards to spare, no doubt encouraged as he trotted onto the field by that distant voice saying, "Gentleman, we can rebuild him. We have the technology … Austin Pacheco will be that man. Better than he was before. Better … stronger … faster."
On Friday, against his team's longtime rival in Douglas, he did himself one better.
The kid you have heard about on ESPN and across the national news media because of his one booming kick made a 42-yarder with six seconds left to give Carson a 31-29 victory.
That's not all. That's not close to being all.
He made the kick after missing most of the second half with severe leg cramps, after limping onto the field once his team had driven within his range (the parking lot), after responding to being frozen by an opposing timeout by imploring the crowd to cheer even louder.
"This one was far better than (the 64-yarder)," said Pacheco, who UNR began recruiting seriously this week and who undoubtedly will continue to open Division I eyes. "I was in some pretty severe pain. I was just thinking, 'Win the game.'
"It's all so surreal, the past (two weeks). I could never have imagined a senior season like this. I never expected the (64-yarder) to get as much attention as it did. I knew it might get a little, but not this."
I'm not sure what they put in the water up here — although 4,800 feet of elevation certainly helps — but Pacheco's kick last week isn't even a state record. Dirk Borgognone of Reno High made one from 68 in 1985.
The NFL record is 63 and held by Tom Dempsey, Jason Elam and most recently Sebastian Janikowski. The latter both hit theirs aided by the altitude of Denver. Dempsey made his in 1970 with a clubfoot and I still insist his was the most impressive, given he wore a modified shoe to conceal an artificial stump. Try doing that some day.
I loved the fact Pacheco said after the kick last week that he knew it was good as soon as he struck it, because don't we all when trying one from 64? He was aided by a strong wind and kicks off a tee, but if you watch the replay, it would have been good from 70.
It was a bomb.
"At that point, I felt we had nothing to lose," Carson coach Blair Roman said. "Austin would either make it or it would be a touchback and we would go to overtime. I think the most impressive part of the kick wasn't the distance, but the accuracy. He had made four from 55 yards in warm-ups.
"But he still had to get it through the uprights."
He had to do it again Friday, with those knife-in-the-gut leg cramps and a game against his school's bitter rival on the line. When it sailed through from 42, Pacheco turned to the home crowd and raised his arms, trying to balance on what was a burning leg.
Minutes later, he broke down in tears while hugging a few of his fellow senior teammates. Minutes later, his eyes still watered with both exhaustion and joy.
The last prep kicker to make this big a splash helped wrap Season 4 of "Friday Night Lights," when Landry Clarke brought a sense of pride to East Dillon by making a game-winning field goal against the Dillon Panthers.
Yeah. But that was Hollywood. This real-life folklore stuff is so much better.
"Austin! Austin! Austin!"
The crowd chanted here late Friday as its hero limped off the field into a dark and chilly night.
This is why prep sports remain one of our greatest treasures. You just can't make this stuff up.
Las Vegas Review-Journal sports columnist Ed Graney can be reached at egraney@reviewjournal.com or 702-383-4618. He can be heard from 3 to 5 p.m. Tuesday and Thursday on "Monsters of the Midday," Fox Sports Radio 920 AM. Follow him on Twitter: @edgraney
In-depth high school sports coverage