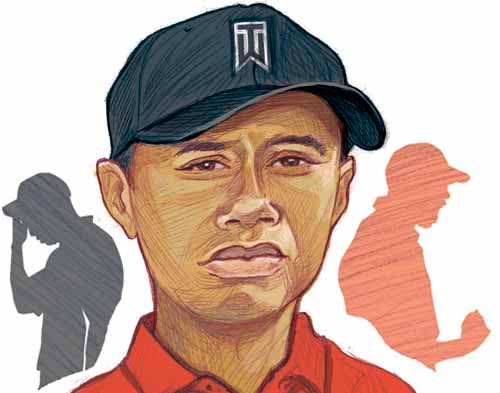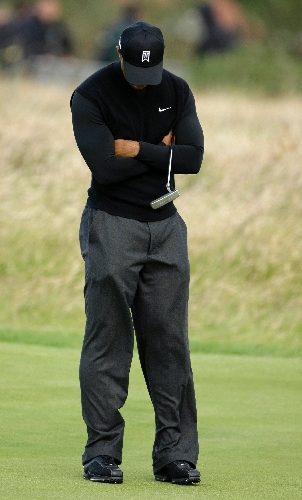 Lou Holtz has this great line about sports predictions some view as preposterous.
"You can say it because you can't prove it."
So I will say it: Tiger Woods will never win another major golf championship.
Proof?
If this were a trial by jury, circumstantial evidence would return a guilty verdict before lunch. The sample size is enough to infer Woods will end his career with the 14 major victories he already has and that the record of 18 by Jack Nicklaus standing is a safer bet than Spain and Italy having a passing interest in a certain soccer match today.
I don't often disagree with my talented colleague Ron Kantowski, whose wit when writing columns is a trait I greatly admire while stumbling daily over my own feeble attempts at cleverness and who is on the short list of people able to identify three redeeming qualities about Albuquerque.
This time is different.
Woods won all of his majors before that Thanksgiving Day car crash in 2009, when we soon after learned his idea of playing through was a night shift of cocktail waitresses. He hasn't been the same since, trying unsuccessfully to climb back atop the golfing world.
He won't be the same player ever again.
Invincibility is a near-impossible trait to earn in sports, and Woods ruined his chance at owning it for years to come when he began wanting more than just the pancake special at a certain Perkins Restaurant in Orlando. His peers will never fear him again. There are better players now. The weekly PGA Tour field is deeper. He is ranked fourth and yet on some days it seems like 40th.
And then there is the small but oh-so-critical part: his game.
It takes incredible skill and much luck to win one major, never mind two touchdowns' worth. Woods won most of his because no one on the planet was a better clutch putter during his remarkable run and no one dominated par-5s with such consistency. He devoured them. He doesn't any more. They humble him.
It's true that Woods has revamped his swing with a new coach before and come back to rule golf, but that was before chaos and scandal and a hefty divorce settlement accompanied his name in headlines.
He isn't as accurate off the tee as before, isn't driving the ball as far, isn't making as many birdies and ranks 125th in putts per round. He is 36 with a list of nagging and sometimes serious injuries longer than letters A-G in his little black book.
He just isn't consistent enough at any phase of his game to easily dismiss the theory that he won't win another major. He always seems to have that one forgettable round in majors now, having not finished among the top 20 in his last three tries. It was rarely like that before. Red shirts on Sunday are now more fashion statement that anything about contending. He is more emotional than stoic today, more frustrated than frightening.
More than anything, I'm not sure he even believes another major is reachable. Seriously.
He spoke this week about chasing Sam Snead's record of 82 wins on the tour, having won this year at Bay Hill and the Memorial to reach 73 wins.
"I was aware of (Snead's record) since (turning pro), but at the time, everyone focused on Jack's record," Woods told reporters. "But as I delved more into the game and was probably in high school, I started understanding Sam's contributions to the game of golf and his consistency. The fact that he won at age 52, when he won Greensboro, and to do it for that long is amazing. Truly amazing."
That's all well and good and I'm sure Woods means every word, but know that before Thanksgiving of 2009, to think he truly cared about any record other than those 18 majors was absurd. Snead's mark back then was a mere bug on the windshield of chasing Jack.
Woods still matters. Mainstream fans still watch golf when he plays and don't when he takes the week off. He can still win tournaments.
Just not a major.
I can't prove it, but I sure would like to present my case to the jury.
I'm guessing Kantowski will push for a change of venue.
I'm thinking Albuquerque.
Las Vegas Review-Journal sports columnist Ed Graney can be reached at egraney@reviewjournal.com or 702-383-4618. He can be heard from 11 a.m. to 2 p.m. Monday through Friday on "Gridlock," ESPN 1100 and 98.9 FM. Follow him on Twitter: @edgraney.