Case for keeping Tony Sanchez as UNLV's football coach in 2019
Updated November 3, 2018 - 4:03 pm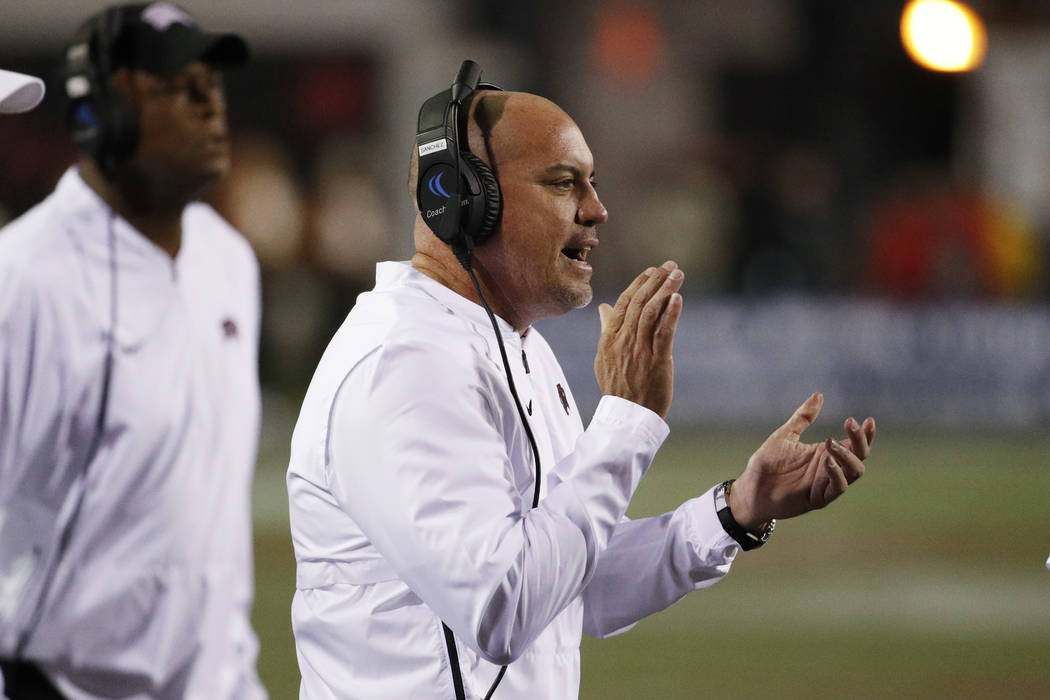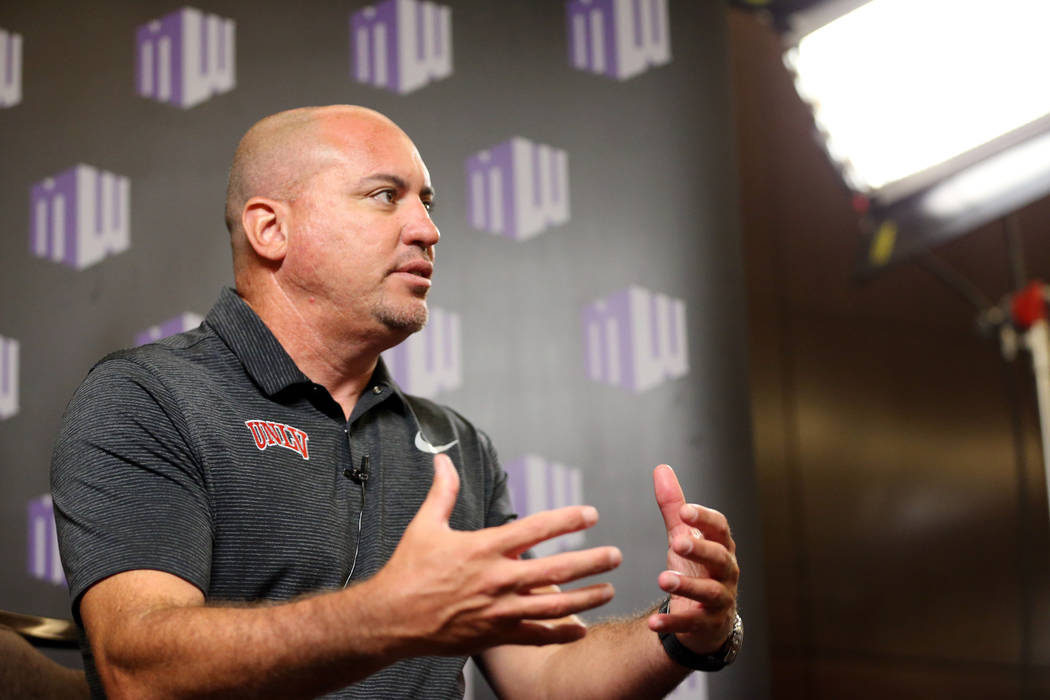 The following was written before UNLV played Fresno State in football Saturday night, before the Rebels either lost a sixth straight game or, like the past two seasons, beat the Bulldogs.
I purposefully approached things this way because the issue at hand is far bigger than one score, one final stretch of four tough games to end a season.
I approached it this way because UNLV's history of losing is both of a systemic and cultural nature.
It's not primarily about a head coach, no matter his name or era in which he led the program.
Thus, the argument for keeping Tony Sanchez beyond 2018 …
The coach
It's not about Sanchez deserving a fifth season. I'm not a fan of the word when it comes to things like our jobs.
I have a friend who is 29, battling the most serious form of brain cancer, is married and has two daughters, ages 2 and 6 months.
She deserves a longer life.
But for Sanchez to warrant continuing at UNLV is an entirely different matter.
He absolutely does.
First, stop with comments about him being a high school coach. It's old. It's lazy. Everyone comes from somewhere.
Mike Sanford. Bobby Hauck.
John Robinson is in the College Football Hall of Fame, won four Rose Bowls and was a NFL head coach.
He had one winning season in six years at UNLV.
What, they all forgot how to coach?
Sanchez's record at UNLV in four-plus seasons is what it is. He has to own it. He didn't hire high school assistants. He hired men who had worked at some of the nation's most powerful programs.
And yet what he has done better than anyone since UNLV began playing football is give the Rebels the absolute best chance at success at the most important of moments.
There is no Fertitta Football Complex without Sanchez, no $10 million donation from the family whose name will adorn the most significant project in program history.
If there is no Sanchez, there is no building.
If there is no building, there is no future.
"Both my brother (Frank) and I feel very strongly that Tony is the right guy for the program and things are way better today than before he got there," said Lorenzo Fertitta. "You have to be patient. Programs at this level need players, coaches and capital, and Tony has raised more money than any coach or athletic director in the history of football there. What that program needs is stability. Let him and his staff settle into the new building and give them a chance to be successful.
"Of course, Tony would like to have more wins, but he has been very effective building the right culture in terms of athletics and academics. If they would fire him, it would be the same old thing from the last 25 to 30 years with no focus from UNLV and without as much money. The program would lose a lot of community support and donors."
It's a pointed statement that UNLV must consider, because this isn't Alabama or Notre Dame with long lines of influential donors wrapping themselves around campus. You can't think in those terms. UNLV isn't a place that can summarily dismiss the idea of a coach warranting a fifth season to work in and recruit to a structure he pretty much built off a significant amount of money from a family the Rebels would be foolish to alienate.
But only a few (one?) will decide.
Final say
We have no idea what Desiree Reed-Francois is thinking and that's how it should be.
She wasn't near a leading candidate to be named athletic director in April 2017, but she walked into the interview, blew the socks off everyone and got the job.
It speaks to her intelligence, presence, confidence.
She's a rising name in the athletic director ranks nationally, but also has a football complex that is still some $6 million short of being completed to its intended state.
"Our goal for the (Fertitta Football Complex) remains the same," Reed-Francois wrote via text Friday. "Build a competitive building that meets our student athletes' needs and as interest increases, we will add additional features to the project."
You wonder if UNLV had made the smart decision of going with the Fertitta-preferred Bentar Development to build the facility — check out the Athletic Center at Bishop Gorman High to understand that level of excellence — if many of these issues would have emerged. I'm thinking not.
The football complex at UNLV will fall short at the same time much of a $5 million commitment from Boyd Gaming will go toward the creation of a Student-Athlete Excellence Center, which will include a renovation of the archaic Lied Athletic Complex.
"They should finish the football complex and fundraising for a building we committed all that money for first," Fertitta said. "Typical UNLV."
It's true, especially at UNLV, you can't tell people who are writing $5 million checks where to put their money if it's not a place they prefer to donate, but it's also obvious fundraising for the football complex has slowed to a snail's pace, if not totally dried up.
Reed-Francois might already believe she could cover those buyout/new salaries which a change in football coaching would demand. Maybe already she's looking. She didn't hire Sanchez. She didn't extend him.
Perhaps the easy decision — if things continue on the field as they have — would be to fire Sanchez, but it's not the right one.
It's a call interim president Marta Meana better have a say in, and realize the potential long-term financial support that could be at risk for not allowing Sanchez a fifth season.
You give him next year and whether he wins and gets things going or suffers another losing season, you either enter the NFL stadium in 2020 with the same coach who has turned things around or a new one and totally clean slate.
"For anyone to say our football program is not in a better position today than when Tony took over is just not being truthful," said Tom Jingoli, member of the university UNLV Board of Trustees. "Tony should be judged not only on wins and losses but the entire health of the program.
"Making a coaching change at this time would send the wrong message not only to our student-athletes, but to all of the donors who have committed to the Fertitta Football Complex."
He's right, of course, and in the world of big-time college football and Power 5 riches, maybe such relationships and the bottom line don't matter as much.
But they do (should) at UNLV.
I'm not big on folks deserving things when it comes to jobs.
But warranting a fifth season?
Absolutely, Tony Sanchez does.
More Rebels: Follow online at reviewjournal.com/Rebels and @RJ_Sportson Twitter.
Contact columnist Ed Graney at egraney@reviewjournal.com or 702-383-4618. He can be heard on "The Press Box," ESPN Radio 100.9 FM and 1100 AM, from 7 a.m. to 10 a.m. Monday through Friday. Follow @edgraney on Twitter.