Champion slays giant and his army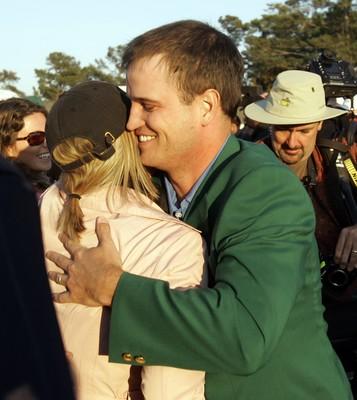 AUGUSTA, Ga. — Slaying the giant of golf in the sport's most treasured tournament isn't just about having more game that particular week. It hasn't been for years. You have to overcome not only the wealthiest and most intimidating swoosh in Nike history but also a championship course playing its toughest in half a century and a devoted gallery and disbelieving media and suspect scoreboard operators and strange happenings that seem to occur whenever Tiger Woods is leading a major on Sunday.
You have to conquer them all, and no one has until now.
Zach Johnson did so at Augusta National, an accomplishment befitting his new green jacket. He thinks it's a size 40-regular. He's not certain, but it sure beats that trophy he was handed by the Hooters girl back in 2002.
"I thought that was the best day of my life," Johnson said. "Chicken wings and everything."
Your new Masters champion wasn't the best player on his high school team in Cedar Rapids, Iowa. He wasn't even the best when competing for that perennial athletic power known as Drake University. He spent four years hacking around minor league tours like the Prairie and Hooters and Nationwide, only able to chase his dream because 10 local businessmen back home offered to support him financially.
He is more Midwest than a cornfield, more humble than a milkman, a 31-year-old husband and father whose parents still have the ceremonial cardboard check from his first pro career victory. He recalls it being for somewhere between $2,500 and $3,000, or a cool $1.32 million less than he received here. He also richly deserves this moment.
No one played better Sunday. No one scored lower. No one was stronger in dealing with the pressures cast by the enormity of Woods' shadow, which has become profoundly different than perhaps any in sports history.
A crowd's roar is different when Woods makes a significant shot in any major. It has a specific strength and energy to it. Other roars raise hairs. Those for Woods move the earth.
They bellowed twice on the back nine and — intentional or not — when those posting scores at each hole waited until Johnson was either ready to hit or was in his downswing before updating Woods' number to the waiting masses.
Assembled media groaned and slapped tables when post-match television interviews were switched from Woods to the actual winner. The first two questions asked of Johnson by reporters afterward were about, yeah, the guy with 12 majors and a really big yacht.
It's not necessarily wrong. It's reality. Woods is why most pay attention. Why everyone watches. He has far exceeded the basic foundation for producing interest in golf, an unparalleled figure in a game based solely on individual accomplishment.
Which makes Johnson's two-stroke win as remarkable as it is astonishing.
"They say the giant has to fall at some point," he said. "I never looked at the scoreboard until the 17th. You know, I may not know where Tiger is, but you can feel him for obvious reasons. I just feel very, very lucky."
You can say he was incredibly fortunate to play two groups ahead of Woods. You can complain about his 1-over-par 289 tying the mark for highest winning score in Masters history. You should know he is indisputably the most surprising winner since Larry Mize 20 years ago.
But this is no fluke for Johnson, not playing the par 5s in 11 under all week and shooting a 3-under 69 Sunday. The only backing in he did was when defending champion Phil Mickelson held open that jacket.
It was on the par-4 17th when Woods had about 121 yards to the pin for his second shot. He thought it came out well from the rough, but it landed in a bunker.
"Honestly," Woods said, "what the hell just happened?"
This did over four dry, cold, windy days: Like that shot, he wasn't good enough to win. Another golfer was. A humble guy from the Midwest who first broke down and cried when hugging his wife and kissing his baby son upon leaving the 18th green, and then several times more over the next hour.
"I'm just Zach Johnson from Cedar Rapids, Iowa," he said when asked to compare himself to the legend of Woods. "That's it. I'm just a normal guy."
He slayed the giant and all other elements that have brought so many golfers to their knees over the years.
He whipped them all.
Here's hoping the Champions Dinner next year includes several plates of chicken wings.
Ed Graney's column is published Wednesday, Thursday, Saturday and Sunday. He can be reached at 383-4618 or egraney@reviewjournal.com.
ED GRANEYMORE COLUMNS