Champions never let down their guard
September 17, 2011 - 11:32 pm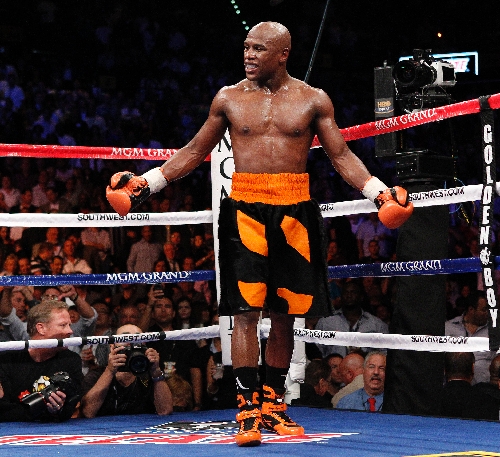 Well, if that mega-fight between Floyd Mayweather Jr. and Manny Pacquiao never comes off, at least we might have this on the horizon:
Mayweather against Larry Merchant.
Can you imagine the "24/7" episodes from both a mansion in Southern Highlands and bingo night at a retirement home?
Can't you see Mayweather tooling around his house with a walker to get under Merchant's skin?
Mayweather remains undefeated at 42-0 because Victor Ortiz forgot one of the central rules of his sport on Saturday night, and no line of questioning from an HBO commentator was going to change that fact.
"I'm going to do you a favor and let you talk to Victor because you never give me a fair shake," Mayweather told the 80-year-old Merchant minutes after a stunning fourth-round knockout. "You don't know shit about boxing. You're a bitch."
Said Merchant: "If I was 50 years younger, I would kick your ass."
If he were 50 years younger, he wouldn't last a minute.
But at least he'd probably keep his hands up, which is more than you can say for Ortiz.
A memo to those who were raining down boos toward Mayweather at the MGM Grand Garden Arena: Your anger was directed at the wrong fighter.
It wasn't a cheap shot. It was a world-class champion teaching a 24-year old kid a hard lesson. Mayweather put Ortiz to the canvas at 2:59 of the fourth round with a left and a right as Ortiz stood with his hands to the side.
It was a smart move by one of the smartest fighters in history.
"In the ring, you have to protect yourself at all times," Mayweather said. "I won the fight."
Inexperience ended the WBC welterweight fight but it was following a familiar pattern we have seen now for years with Mayweather. He was dominating a fighter who entered the ring at 164 pounds to his 150, peppering the face of Ortiz with right hand after right hand. Mayweather is 10 years older than Ortiz and lifetime quicker.
The result is on Ortiz in every way imaginable. His camp had charged Mayweather for being a dirty fighter leading up to Saturday, but then Ortiz began the fourth round craziness with a cowardly head butt that made him look desperate.
There was then a pause as referee Joe Cortez deducted a point from Ortiz and brought the fighters together.
"I called time in," Cortez said. "(Ortiz) needed to keep his guard up. Mayweather did nothing illegal."
Said Ortiz: "I took a break and did exactly what I was told and then, boom, he blindsided me. I'm not a dirty fighter and apologized to Floyd for the (head-butt).
"You can look at this two ways as far as I'm concerned — I came here to entertain the fans and I think they were entertained."
Yeah. OK.
A few things. He wasn't blindsided. Mayweather hit him in the face straight on. Also, I suppose he entertained everyone by getting his tail kicked.
I don't know whether Ortiz is a dirty fighter, but the head-butt was as dirty as you get. His trainer spent pre-fight discussions with Cortez once again complaining about how he felt Mayweather leads with elbows in an unclean manner. That never happened, either.
You can't get distracted at any point of the biggest night of your career. You can't look away for a second or not have supreme focus on the task at hand. Ortiz was every bit a fighter who wasn't prepared for the moment, every bit a guy who is a solid professional but not anywhere near Mayweather's level of skill.
There is no need for a rematch because the fight lasted long enough to confirm what oddsmakers and most everyone not in the Ortiz camp thought all along: Mayweather is far superior the fighter and needs to move on, hopefully to that match against Pacquiao next year.
It would be a shame if that fight never came off, a certain black mark boxing would have to live with for some time. But if the sides can't agree and if the drug tests won't be taken and if next year passes without a meeting, have faith.
Larry Merchant sure comes off as one tough ol' bird.
And you just know those "24/7" producers are already scouting locations at various bird watching and gardening clubs.
Las Vegas Review-Journal sports columnist Ed Graney can be reached at egraney@reviewjournal.com or 702-383-4618. He can be heard from 3 to 5 p.m. Monday and Thursday on "Monsters of the Midday," Fox Sports Radio 920 AM. Follow him on Twitter: @edgraney.