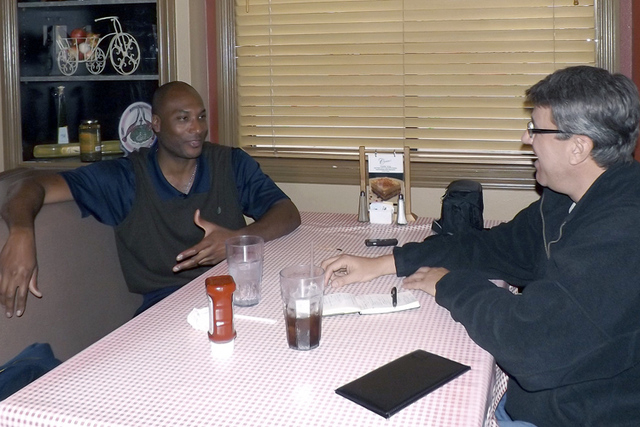 Rob Miech would like to buy a thief dinner.
Is it true that there is nowhere you can be that isn't where you're meant to be?
Miech was meant to write his latest book.
It just occurred 20 years after he thought it might.
The black computer bag was a media gift from the Final Four in 1995 and placed under a table at Pauley Pavilion on the campus of UCLA.
It contained a laptop computer, 15 notebooks filled with quotes, stories and anecdotes, and several of those mini-cassettes that reporters once recorded interviews on before digital gadgets changed the world.
Its contents meant everything to Miech.
"I walked away for two minutes and someone ripped it off," he said. "I walked outside and looked for anyone carrying a black bag. Thank God I didn't find them.
"But now, I would give the person two $20 bills and a hug. They did me a favor, because it's such a better story now with the passage of time and the proper context and perspective. It just wasn't a team that won a title. That was a special team, one that compared to the best of all time at UCLA."
The book is "Eleventh Heaven," the story of Ed O'Bannon and that national championship team from the 1994-95 season, a tale that became reality when a trust between author and athlete that had been forged over more than two decades decided it was the perfect time to put all the memories to paper.
"I took two hours explaining to Ed my vision for the book," Miech said. "When I was finished, he stood up, shook my hand and said, 'I'm in.' "
Miech's first job as a sportswriter out of college was to cover UCLA for the Pasadena Star News. The first story he wrote was about one of the nation's top prep basketball prospects changing his college commitment: O'Bannon had switched from UNLV to UCLA.
Miech would write about the devastating knee injury O'Bannon suffered in a pickup game before his freshman season and be the first to break the story of O'Bannon having a child while in college. He would then chronicle the journey of a veteran player leading his team to a championship in what is often one of college basketball's forgotten eras.
It is a voyage that allows us to glance into the subconscious of O'Bannon the young star, and also now the 42-year old Las Vegas resident and lead plaintiff in a successful class action antitrust lawsuit against the NCAA over the use of images of its former student-athletes for commercial purposes.
A lawsuit whose verdict the NCAA is now appealing.
"The most prominent thing and only thing on his mind with (the lawsuit) was to hopefully change how the NCAA does business," Miech said. "It was that flat. It was that simple. He doesn't have dollar signs in his pupils at all. It was about protecting the future for kids and their rights and their likenesses. This meant a lot to him."
Miech also authored "The Last Natural," about the rise of Bryce Harper and his gamble of graduating high school early, playing a season of baseball at College of Southern Nevada and eventually signing the sport's largest contract for a first-year player as the top pick in the Major League Baseball Draft.
But the research for "Eleventh Heaven," for tracking down those players and coaches from that '94-95 team, was far different than daily trips to CSN baseball practice.
It took him to Japan, where J.R. Henderson, now known as J.R. Sakuragi, was playing a game against former UCLA teammate and O'Bannon's younger brother, Charles. It took him to Bangkok, where Ike Nwankwo runs a youth academy. It took him to Prague and a visit with George Zidek. It took him to countless dots on the globe, including catching up with Jim Harrick, the coach who led that UCLA team.
The book is dedicated to Harrick's late wife, Sally.
"If I was going to tell the entire story as myself and Ed envisioned it, I was going to do it justice and get face-to-face with all those people," Miech said. "(Harrick) is humbled a lot at this point. He is an interesting guy, but at his core, a hell of a coach. He had that team dialed in. He tightened the screws with them some, but mostly let them go and trusted them to follow the game plan.
"I figured that to do the job as it deserved, I needed to answer every question I had about that team, and I had millions. I truly believe that every moment and day of my 27-year career was meant for this book. Hopefully, it reads like that."
It does, all because a thief reached under a table nearly 20 years ago and took something that belonged to another. At the time, Miech was interviewing a UCLA player about the celebration in honor of winning the national championship.
A fellow named Ed O'Bannon.
"Eleventh Heaven," is available on Amazon.com, all e-readers and at local bookstores.
Las Vegas Review-Journal sports columnist Ed Graney can be reached at egraney@reviewjournal.com or 702-383-4618. He can be heard from 11 a.m. to 2 p.m. Monday through Friday on "Gridlock," ESPN 1100 and 98.9 FM. Follow him on Twitter: @edgraney.