Cheating scandal rocks Little League World Series again
February 10, 2015 - 11:21 pm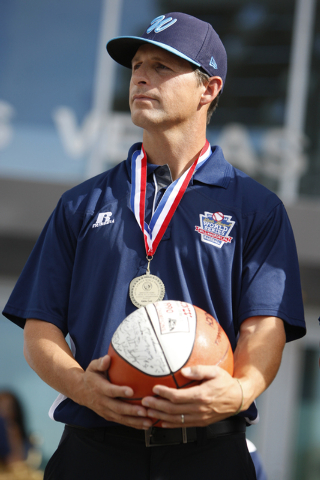 This was Dale Murphy's idea 10 years ago: That in a time when steroids had become as much the face of baseball as any particular team or player or statistical achievement, the former major leaguer wanted to ensure the game's youngest players didn't grow up to mimic the dishonest ways of their boyhood heroes.
That's when those competing at the Little League World Series in Williamsport, Pa., began wearing patches on their uniform sleeves during the 10-day tournament that read "I WON'T CHEAT."
They didn't wear the patch this year.
Talk about your home run of ironies.
Little League International recently reopened its inquiry of Jackie Robinson West and the Great Lakes team that beat Mountain Ridge 7-5 in the U.S. Championship game in August, presented with new information last week that the team from the South Side of Chicago allegedly broke residency rules in order to build a stacked roster.
The charges from several neighboring districts: Those from Jackie Robinson West stole players for the All-Star side that eventually competed under the Great Lakes region in Williamsport.
It seems to have happened again: Adults involved in youth sports always seem to screw up a good thing.
Little League officials gathered Tuesday to discuss possible resolutions to the matter and should have a final decision this week. They would not confirm if the Great Lakes team would be stripped of its title.
Which, if it is found that cheating occurred, is exactly what should happen.
"We didn't start any of this," said Mountain Ridge manager Ashton Cave, whose team was the first from Nevada to advance to the Little League World Series. "This wasn't us going to Little League angry. All of this was brought to us by people in Chicago who believed something had happened.
"From the beginning, I didn't want it ever to appear as if we were sore losers or jealous of something. I keep my mouth shut most of the time on everything. I let most things go. I'm not part of the process. There is a chain of command to follow, and it is Little League's responsibility to investigate. I figured that when they reopened it, something was there.
"But if we are to continue ingraining those values by which Little League exists over and over into young men — the ones about courage, character and loyalty — then we would be hypocrites not to say something now. This has nothing to do with any (U.S. championship) banner.
"If the charges against (Great Lakes) are found to be true, I think the banner should be blank to signify a message to all future teams that there are consequences to your actions. We lost the game, regardless of anything. Leave the banner blank. Send a message."
Once again, as he did for his team's entire run through the All-Star circuit, from the first day of practice until the final out of a 5-0 third-place game loss to Japan in Williamsport, Cave has taken a logical, levelheaded stance.
Mountain Ridge hasn't asked to be named U.S champions or that any banner be shipped to Las Vegas.
It doesn't deserve it, either. It didn't earn the distinction. It lost.
When they took the Heisman Trophy back from Reggie Bush for accepting improper benefits at Southern California, they didn't send it to 2005 runner-up Vince Young. When seven Tour de France titles of Lance Armstrong were vacated for his use of performance-enhancing drugs, those that run the world's most prestigious cycling race chose not to declare a winner from 1999 to 2005. When they erased from the record books any mention of the Fab Five of Michigan basketball, they didn't track down all those beaten opponents and offer a door prize.
Cheating and Little League isn't an original concept. As the game has grown and the World Series has lost much of its innocence amid all the sponsorship banners flapping in a brisk Pennsylvania wind and the $80 million in assets and almost $25 million in revenue and a TV rights fee contract worth $76 million, some just can't help themselves when chasing the spotlight atop such a mountain's worth of capitalism.
There was the championship team from the Philippines in 1992, when all of its members were found to be too old or using the identities of other children or shipped in from outside the area of eligible residence. There was the saga of Danny Almonte in 2001. And don't even get us started on the whole Chinese Taipei scandal, when for years it fielded a team of the best players from an entire country and not local communities.
Now, there are the kids from Jackie Robinson West, lauded for being the first all-African-American team to win the U.S. championship and honored at the White House by the president and first lady. There were all sorts of parades and appearances and celebrations.
"Out of anything negative always comes some good," Cave said. "I believe in the process of change and forgiveness, and realize none of us is perfect. We need to be held accountable for our actions, and that message needs to come from the very top of Little League.
"When you play by the rules, good things can happen then, too."
Jackie Robinson West officials have denied violating residency rules or that any of their players were recruited.
Things should become clear, one way or the other, this week.
"I'm glad we didn't lose to a bad team," Mountain Ridge player Josh Zuehlsdorff said shortly after the U.S. championship game. "(Great Lakes) is a very good, talented team that's made to win, like all teams here."
Turns out, Great Lakes might not have been made in the same manner as everyone else.
Someone bring back those sleeve patches about not cheating.
It seems a kindly reminder might be needed.
Las Vegas Review-Journal sports columnist Ed Graney can be reached at egraney@reviewjournal.com or 702-383-4618. He can be heard from 11 a.m. to 2 p.m. Monday through Friday on "Gridlock," ESPN 1100 and 100.9 FM. Follow him on Twitter: @edgraney.