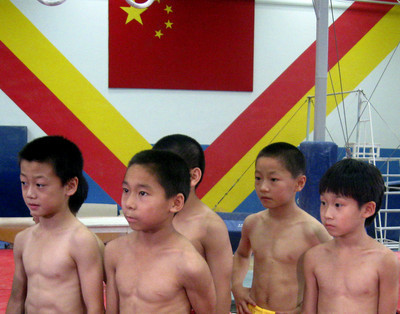 There is a certain race for Olympic supremacy here that has become more foregone conclusion than Jamaican sprinters being faster than your next thought. China might not dive away from these Games owning the most medals, but the United States is going to need six or seven extra basketball teams and a few more in softball to be in the same neighborhood when it comes to the shiny gold ones.
Which is exactly what all those 6-year-olds in underwear are about.
China, for decades, wanted more than anything to rule the sports world every four years, and a talent pool deeper than the Pacific from which to recruit has helped it realize that golden dream. It is a victory born in the humid, dated, unadorned halls of places such as the Shichahai Sports School, where Olympic champions deliver their first serves and make their first flips to glory.
There are 3,000 sports schools across this vast land, but few are in the class of the one along the west bank of this city's Back Lakes section. It is here where more than 600 athletes ranging in age from 6 to 18 eat, sleep, study, learn and otherwise live the sport identified through specific testing as ideal for their predicted size and talent.
It is like a top farm club, where the best of the best advance to a more competitive level and then, perhaps, their sport's national team. Here, the school counts as alumni five gold medalists from Athens in 2004. And among those who learned their sport at Shichahai to shine the past two weeks is gymnastics champion He Kexin.
"After (2004), we prepared for this time," said Shi Fenghua, the school's vice president. "(Not succeeding) is out of the question. No way."
So you walk into a gymnastics hall and watch tiny figures dutifully execute stern coaching orders, the girls being reminded about not leaning forward into back handsprings while the boys (wearing only briefs) improve strength by climbing tall poles and dropping into a sea of foam rocks.
Down the path is a taekwondo gym. Across the courtyard, the world's greatest table tennis nation continues producing top players, as ball after ball is fed from one side to the next, a straight line of pingpong soldiers moving in unison while sweating profusely before stopping only to reload tubs.
Upstairs, volleyball players obediently work through conditioning drills, while climbing another flight takes you to the badminton hall, where shuttlecocks are hit with astonishing force and accuracy. There are tennis courts out back and, in an adjacent basement, several more large gymnasiums, where weightlifters and boxers and those in martial arts are trained.
"I clearly expect (China) to be the dominant force in the Olympic Games for many years to come," U.S. Olympic Committee Chairman Peter Ueberroth said before these Games began. "We're going to do our best. … We're not used to being the underdog."
It's not as if China's ultimate objective (beat everyone) is foreign to ours. We just go about building the monster differently, still not a culture comfortable with 6-year-old Johnny leaving Mom and Dad to live in a sports boarding school.
We steer kids into league and club and travel teams, having them play hundreds of games before their 10th birthday. The Chinese don't put divers into the water for years or allow basketball players to shoot before they can expertly dribble.
We love expression in sport.
The Chinese embrace execution.
They are not sad-looking children by any means. Their days begin at 6:30 a.m. and consist of school, hours of training and more studying. They run and play in the halls. Some munch on ice cream. Others laugh with friends or ride on the back of scooters in trips between buildings.
Two-thirds of those enrolled are on government-paid scholarships, but the others have families who gladly pay their way in hopes of one day cheering an Olympic champion, families that sometimes live as far away as 12 hours by train and visit only on weekends, if then.
But as in the States, the monster will eventually weed out those not as skilled, and they will move on to a university or pursue another field.
"(Over) seven days, maybe I (see my parents) two," said 13-year-old table tennis player Zhou Pengda, who has attended the school for a year. "I just like it. No reason. I just like table tennis and want to play it."
Twenty-four years ago in Los Angeles, the Chinese won their first Olympic gold. At that point, the career scoreboard for standing atop a podium and hearing one's national anthem read: USA 586, China 1.
But revolutions seemingly occur overnight when those seeking a fundamental change in power have enough assets to commit, and is there a better resource for producing great athletes than 1.3 billion people?
It seems not. As of late Wednesday, the scoreboard for gold medals in Beijing read: China 45, USA 27.
And inside the dorm rooms of a sports school down by the lake, tiny figures watch and cheer and dream of living such glory.
Ed Graney can be reached at 383-4618 or egraney@reviewjournal.com.
Slideshow