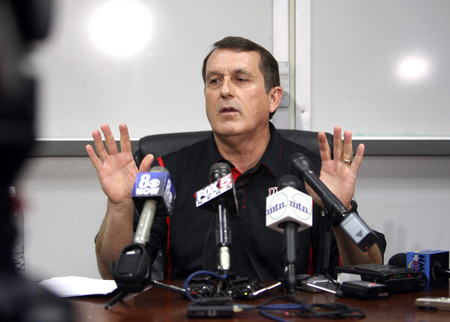 Jim Rogers has the right idea. If you want to be any good in today's Bowl Championship Series landscape of college football, you buy the chicken first and then hope it can produce the golden egg.
"If you are going to build a winning program — and I think there are legitimate questions whether this town has any interest in doing so — you have to make the investment," said Rogers, the former state university system chancellor. "What we have done is pay just enough to assure whoever the coach is would be a failure.
"The system here in terms of football has been Death Valley for years. It is a career-ender for head coaches. You have to find a way to pay people a lot of money and assure them you will stand behind them."
There is great risk involved, which UNLV today must take when searching for a new coach.
It's the only way to have a chance at being any good.
Mike Sanford failed in his pursuit to build the Rebels into a winner for many reasons. Most of the players he recruited weren't skilled enough and neither was the technique and instruction Sanford and his staff offered.
In discussing his firing on Monday, Sanford spent nearly all of 27 minutes talking about a lack of support from the community and university while also continuously citing poor facilities as reasons for the Rebels not winning.
Not once did he take direct blame for UNLV going 15-43 under his watch. He apparently doesn't believe coaching was an issue at all, which would be funny if it wasn't so preposterous.
This just in: Bad locker rooms didn't allow 63 points to UNR this season or directly produce one road conference win in five years.
Shamelessly searching for scapegoats aside, Sanford's view holds some truth in the big picture. UNLV's facilities are not on par with the Mountain West Conference's best programs and Sanford was the second-lowest paid coach in the league at around $420,000. His coordinators made between $140,000 and $170,000, although I would argue that was too much given some of the results we witnessed.
If money can't buy happiness, it at least has a chance at buying you more than 15 wins over five seasons.
It doesn't guarantee league titles or bowl berths or Top 25 rankings, but it can extend a program the opportunity to compete.
The pool of candidates for UNLV's next head coach could include names from all sorts of levels — head coaches from lower conferences than the Mountain West, assistant coaches from higher ones, NFL assistants with college experience.
But whomever a new athletic director identifies as the person who will inherit a program that last saw a winning season in 2000, he and his top assistants must be paid on a competitive level with the best conference teams.
The reward: You finally discover the head coach who can hire a competent staff, recruit enough talent and win consistently.
The risk: You hire another bad head coach who can't pay good people, continue to lose and waste millions of dollars.
It's a frightening scenario in such poor economic times. It costs $7 million annually to run UNLV football and the program in recent years has lost an average of $3 million per year.
But it is like Rogers says — does UNLV want to be relevant in football?
If so, it has to pay for it.
"There are two sports that can make money in collegiate athletics — football and men's basketball," UNLV president Neal Smatresk said. "I believe the community support is there for us to have a healthy (football program) and not continue to lose, which if we did could have long-range implications on other athletic programs.
"At some point, we have to be confident we can do better, that we can generate more donors and ticket revenue and in some wonderful future, a BCS bid that would really be the pot of gold at the end of a rainbow. I realize the last hope would be distant from where we are today, but I think we can reach the first two objectives with people in this city who will step forward and be supportive. Already, a number have expressed interest in doing so."
Where to generate the funds?
Smatresk has obviously already reached out to athletic department boosters with deep pockets in order to gauge interest in helping to finance hiring a new coach.
Also, a BCS bowl game for TCU would earn each conference school several hundred thousand dollars, which could be used for paying football salaries.
San Diego State in 2005 hired Oklahoma assistant Chuck Long and signed him to a five-year contract worth $700,000 annually while also paying each of his coordinators more than $200,000 per year. These are numbers similar to what UNLV will likely offer during its search.
Three years later, however, San Diego State officials had raised just more than $1 million in private money to help buy out the final two years of Long's contract. The coach had gone 9-27.
Again, there is risk.
But it's one UNLV must take.
If not, why have football at all?
Las Vegas Review-Journal sports columnist Ed Graney can be reached at egraney@reviewjournal.com or 702-383-4618. He also can be heard weeknights from 11 p.m. to 1 a.m. on "The Sports Scribes" on KDWN-AM (720) and www.kdwn.com.
Watch the video