Coach used leverage with UNLV perfectly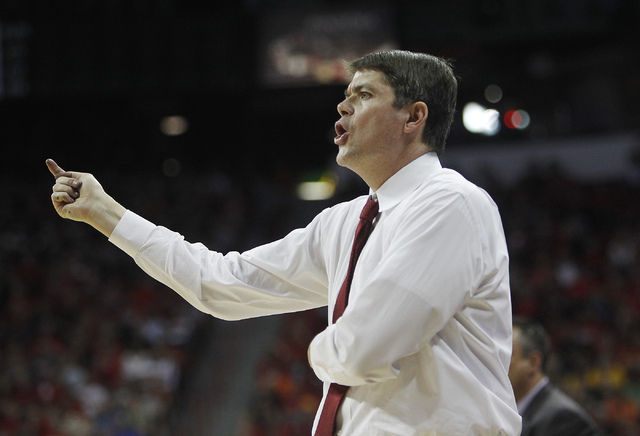 ANAHEIM, Calif.
It has been said that fair play doesn't pertain in bargaining. What matters is leverage.
In a 24-hour span, we witnessed firsthand just how much that means to those who coach college basketball and those who must determine how valuable an asset they are.
Dave Rice isn't going anywhere, having received a two-year contract extension from UNLV on Saturday that will include financial incentives for his players succeeding on the court and in the classroom.
Just recently, he had requested such a show of faith from the Rebels and was denied.
Then came the offer.
Then came the leverage.
South Florida reportedly made it known to Rice that he could become its new coach at the tune of six years and a reported $1.3 million annually, probably not a job he ever really wanted given his close ties to Las Vegas and the fact his contacts in the south would be minimal at best.
He would have been starting from scratch in every conceivable manner. Other than long-term security (read: money), it made no sense that he would consider such a jump.
But it was all he needed to force UNLV's hand.
Leon Rice pulled off a similar deal this week. The Boise State coach returned all five starters and was picked third in the Mountain West this past season, expected to challenge for another NCAA Tournament bid. Instead, the Broncos finished tied for fifth and missed the postseason.
He then interviewed for the head coaching position at Washington State, a Pac-12 job that has become nearly impossible to succeed at, but instead chose to stay at Boise State.
For it, he received a six-figure raise.
Leverage. It's a beautiful thing.
Dave Rice's team also missed the postseason with a side picked second in conference and one that included two McDonald's All-Americans. It lost seven regular-season games at home. It lost twice to UNR.
But it's also a very real part of sports at all levels and, really, any other business. One side playing the other for more job security is hardly limited to college athletics.
It's part of the game.
Happens in every walk of life.
In UNLV, you have an interim president (Don Snyder) and first-year athletics director (Tina Kunzer-Murphy), neither with much experience in the matter of negotiating the sort of dilemma Rice's situation presented.
In these matters, then, the fear of the unknown often takes precedent in the minds of those deciding whether to extend a coach or call his bluff and wish him the best in, say, Tampa, Fla.
The fear, mostly, of who would come next.
UNLV doesn't pay its basketball coach the going rate compared to most national programs. Never has. So when you are debating how to respond to Rice's offer from South Florida, you have to, as Snyder and Kunzer-Murphy had to, consider the following: How much, really, would the Board of Regents agree to pay even the highest-of-profile coach? How much would selected boosters chip in on the side depending on whose name you brought them should a national search commence?
By extending Rice, the Rebels for now secure an important trait in the college game: stability on the bench. Of those teams that advanced to this year's Sweet 16, 11 were led by head coaches who have been at their schools a minimum of five years. Six of them have been at their respective schools for 11 or more years. That means something at this time of year.
Anyone at UNLV who says those making this decision weren't concerned about what would happen to Rice's nationally ranked recruiting class had he left is lying. They should have been. Players make a program, and had Rice bolted, so too would have many of those prized recruits set to arrive in the fall.
The contract's buyout. It isn't something. It's everything.
It will change now that Rice is signed for five years instead of three, given the buyout is his base salary (reportedly in the $300,000 range) times the years remaining on his deal if he were fired or opted to depart for another job. It's not an unmanageable number for UNLV in either case. Three years. Five. Ten. None of it matters if you can afford the buyout should you need to.
The fact Rice needs to win more next season doesn't change with any of this, and you would think that with those incoming recruits, and if key returners like forward Khem Birch opt to remain in school, the Rebels have every chance to contend for a Mountain West title and return to the NCAAs.
Rice made for an interesting candidate from the South Florida side of things. There are connections to Rice that also have direct lines of communication with the Texas search firm looking for the next USF coach and to athletics director Mark Harlan that hint at why the school would reach out at all, but I don't for a second believe Rice would have taken the job if UNLV ultimately acquiesced to his requests.
It did and for it, he is locked up for five years.
UNLV has put its faith in him to make the correct hires for assistant coach openings on his staff, become tougher with his players, create a culture of discipline and accountability, and win at a level that in Las Vegas is expected, which is to say deep into March.
This is, in the end, what leverage buys you — more security and money.
But also more pressure.
Higher expectations.
A smaller margin for error.
Leverage wins you the immediate battle. It's entirely up to Dave Rice if he also wins the long-term one.
As for this week, he played what is an age-old game to perfection.
Las Vegas Review-Journal sports columnist Ed Graney can be reached at egraney@reviewjournal.com or 702-383-4618. He can be heard from 11 a.m. to 2 p.m. Monday through Friday on "Gridlock," ESPN 1100 and 98.9 FM. Follow him on Twitter: @edgraney.