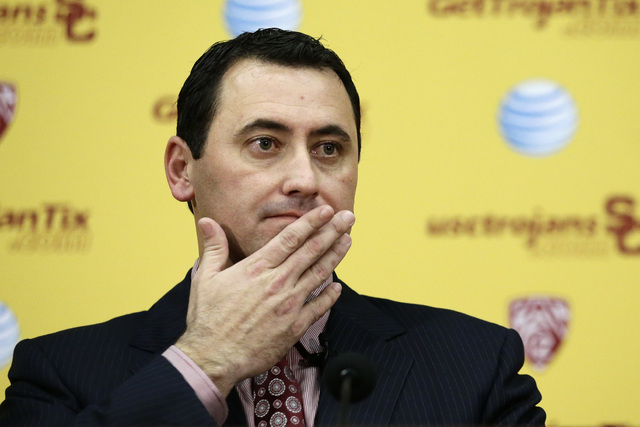 This is how the tweet from Troy Williams read:
"Don't ever commit cus of a coach. Faker than a 3 dollar bill."
Williams was upset. He is a quarterback at Washington who was responding to the news his coach, Steve Sarkisian, had accepted an identical position on Monday at Southern California.
Williams was venting, as players do in these times.
He was emotional.
He was pretty much spot-on.
Not necessarily about the fake part. Few outside Sarkisian would have any idea about that. He's the one who looks in the mirror each morning. He's the one who truly knows.
But as the coaching carousel spun again at major programs this week — Sarkisian going from Seattle to Los Angeles, interim Southern California coach Ed Orgeron going from Los Angeles to the nearest corner with his blanket — a long-standing truth about college athletics again rose to the surface.
It's never, ever, about the players.
Coaches are such a predictable lot. This isn't to say they should be denied opportunities of advancement or professional moves they believe will better their careers and the lives of their family.
It's the American way. Get yours. Few wouldn't embrace such an ideal if handed it.
It would be easier to accept, though, if they didn't spend so much time talking about commitment to players, to a program, to those young men they recruited for so long and whose homes they sat in and whose parents they promised to look after their children.
Because at no time, you can be certain, did Sarkisian tell Williams or any other player at Washington that he would be there for him … until a better offer came along.
The stupidity of these matters continues to be a black mark against the NCAA, given a coach such as Sarkisian can leave his team in the middle of the night with no penalty while those players at Washington, devoted to him and his message, must apply for a transfer waiver in order not to sit out a year of competition.
It's a joke, really, protected by the ridiculous assertion that the majority of recruits make college choices based on factors other than coaches and systems and opportunities for playing time.
They don't.
Funny. I have a bigger problem with what Orgeron did than Sarkisian, who interviewed for a job and accepted it.
The timing wasn't great, but when is it ever in these cases?
Orgeron received the news he wouldn't be given the head coaching job on a full-time basis and immediately resigned, walking away from those players he talked so lovingly about the past month and choosing not to coach them in a bowl game.
I'm not sure what gave Orgeron the idea he was the best candidate for such a high-profile job as USC — his only other head-coaching experience was a disastrous 10-25 stint at Mississippi, including a 3-21 mark in Southeastern Conference play — but he obviously believed going 6-2 with the Trojans since taking over for the sham that was Lane Kiffin earned him the right.
It didn't, so Orgeron packed up his toys and went home, leaving offensive coordinator Clay Helton to lead the Trojans into their postseason game, possibly here against a Mountain West opponent in the Royal Purple Las Vegas Bowl.
Orgeron was angry and bitter. I get that. He often told people that Southern California was his dream job, the only one he had wanted since a young age, his mecca of sorts when it came to where he wanted to make the biggest difference in coaching.
But if your ultimate goal is to again be a head coach, what sort of impression do you give potential employers by bolting from your players, who already had seen a head coach in Kiffin fired this season, weeks before their bowl game?
Orgeron took to Twitter himself, posting that God built us to last and that he loved the Trojan nation. He ended his remarks with the school's fight song mantra of "Fight On!"
He didn't stick around to fight it out with his players in a bowl game, and Sarkisian didn't stick around Seattle once that call from Los Angeles came, and I suppose that's just a part of the world in which college coaches exist.
Fine. Dandy.
But stop with the concept about players mattering when these decisions are made.
They never have.
And that's the real sham(e) of it.
Las Vegas Review-Journal sports columnist Ed Graney can be reached at egraney@reviewjournal.com or 702-383-4618. He can be heard from 11 a.m. to 2 p.m. Monday through Friday on "Gridlock," ESPN 1100 and 98.9 FM. Follow him on Twitter: @edgraney.