Column: UNLV AD won't be more than puppet
October 6, 2013 - 1:32 pm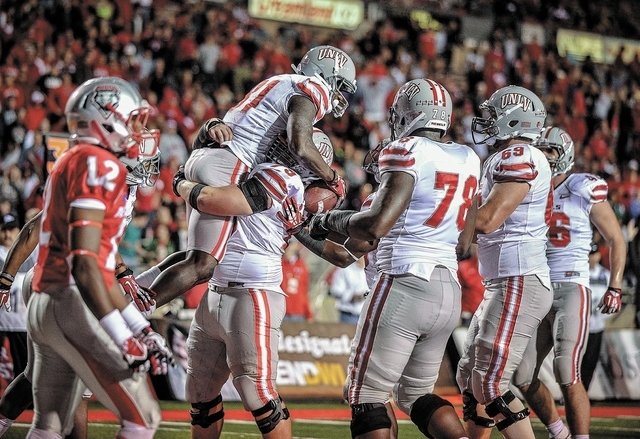 It was an hour or so before UNLV played New Mexico in football on Sept. 28 in Albuquerque, and Tina Kunzer-Murphy was strolling along the turf at University Stadium.
She was snapping pictures. One of this, one of that, one impressive sight to the next.
An indoor practice facility for Bob Davie's team sat beyond one end zone. Above the other, like some LED monstrosity shooting from the ground, was a $1.5 million scoreboard that stretched 32 feet high and 80 feet wide.
The funds for it were awarded by the state legislature and approved by the governor, because New Mexico athletics are the darling of their state, and the fact another Division I-A program in New Mexico State exists not 225 miles away doesn't hide the truth that it's the Lobos who are financially supported most when it comes to sports.
Even their football program, which has been as dreadful in recent seasons as another Mountain West side searching for success.
Which brings us to the ongoing search for an athletic director at UNLV.
The days and weeks and months pass, and it appears more and more likely Kunzer-Murphy will be extended an offer to remove from her title an interim tag and run athletics for the foreseeable future.
I don't doubt her passion for all that is scarlet and gray, nor her desire to build as many programs into nationally recognized ones as possible. She loves UNLV. That's not the problem.
This is: It doesn't matter who the athletic director is if those running things don't embrace the idea of funding football in a way comparable to others within the conference and beyond.
Pick someone. Kunzer-Murphy. Randy Spetman, the former Florida State athletic director. John Johnson of Washington State. Chris Peterson of Arkansas Little-Rock. Duane Bailey of Seton Hall.
Larry. Moe. Curly.
It doesn't matter. The person will become a figurehead, a caretaker, a puppet to those above him or her who have remained insistent in their stance about how much football will be funded at a university and state level, which is the same thing no matter how you break down numbers.
UNLV either can be a local, regional or national player in the most important sport.
It absolutely can't be a national one with its current level of support.
It's a tough road. Football can generate revenue in only so many ways, and two — gate receipts and booster donations/fundraising — become tougher and tougher to collect when your program has offered three winning seasons since 1992 and none since 2000.
There is the potential for television dollars, but not as much over the next 20 years as teams in better conferences with much fatter network contracts.
Neal Smatresk also is a university president who is on record saying he won't put any additional state funds toward athletics, a position you have to believe has more to do with his fears of faculty unrest and salary issues at UNLV than any personal vendetta against football.
There also is the long overdue and yet highly sensitive case of reseating the Thomas &Mack Center for men's basketball, an exercise that could produce great revenue for football and yet, as a friend said recently, "Might just cause World War III with those long-standing ticket-holders sure to be affected."
There is the case of raising student fees for athletics, which UNLV has failed miserably at building a base for such support. The idea around raising fees always should be a gradual one, over time, small increases that don't overly tax those paying them. You don't go for the entire pot of gold at once.
But consider: How is it that UNLV earns between $2.5 million and $3 million annually in student fees allocated toward athletics and conference rival San Diego State earns near $12 million? Think of that disparity and how much such additional funds could help Rebels football.
Jim Livengood knew all this before being fired as athletic director. He knew the different ways to raise money and that Smatresk and university vice president/man-with-the-checkbook Gerry Bomotti disagreed on how best to do so, including pursuing those needed student fees, of which both apparently have been scared out of their minds to advance deep into the process for potential approval.
Livengood believed that Las Vegas was full of incredibly giving people who are invested in UNLV. He believed athletics should be as they are at places such as New Mexico, that with the amount of resources and recruiting advantages here, there never should be a question as to which of the state's Division I-A programs should be financially supported most at a legislative and university level.
He was right. Spot on.
But that's not how it is, which is why it doesn't matter who ultimately sits in the athletic director's chair.
There are talks that UNLV has decided to erect a new scoreboard at Sam Boyd Stadium, one that will cost in the neighborhood of $400,000. It's not the impressive LED monstrosity of Albuquerque, but it's a start. I don't know where the Rebels discovered such funds — here's to thinking Bomotti was on vacation when they did — but such a positive move needs to be made on countless more fronts.
If not, the only thing the next figurehead, caretaker, puppet of an athletic director will be doing is taking pictures of what others have and UNLV doesn't.
That's the truth of it.
That's the part no one talks about or wants to admit.
Las Vegas Review-Journal sports columnist Ed Graney can be reached at egraney@reviewjournal.com or 702-383-4618. He can be heard from 11 a.m. to 2 p.m. Monday through Friday on "Gridlock," ESPN 1100 and 98.9 FM. Follow him on Twitter: @edgraney.