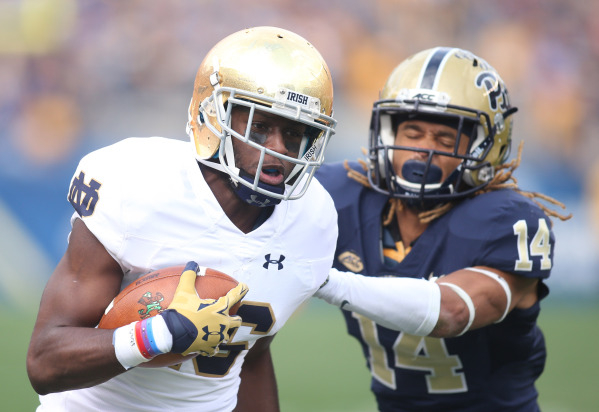 For the first time since the College Football Playoff rankings became a weekly occurrence to be debated and dissected, a concept that dates decades has shown its face among the top four teams: The power of Notre Dame, and how strong it could ultimately prove.
A year ago, the Fighting Irish were a win against Florida State away from cracking the top four in rankings during the regular season, but a loss was followed by four more over the next five games and Notre Dame never sniffed any playoff interest.
But this is a new season and that part changed Tuesday, when Notre Dame was ranked fourth by the selection committee and would qualify for the semifinals should they be held today. In the second of six rankings, the committee ranked a top four of Clemson, Alabama, Ohio State and Notre Dame.
"It's Notre Dame," ESPN analyst Kirk Herbstreit said. "It's a polarizing school, a polarizing team because of who they are. If Notre Dame wins out, based on what they have already done, that will leave the Pac-12 and Big 12 on the outside looking in.
"If Notre Dame wins out, they're not going to be left out of the top four."
I need to change my routine or diet or sleep patterns or something. For the second straight week, I actually agree with a lot of what Herbstreit says.
You can't disregard the global influence and amount of money Notre Dame would generate any playoff scenario, and should the Irish finish 11-1 with a Top 12 schedule and win what at this point would be an elimination game at No. 7 Stanford on Nov. 28, they're going to reach the semifinals.
The Pac-12 at that point would likely be out of any playoff, as would a Big 12 that hasn't yet received much respect from the committee. Baylor remains the league's highest ranked team at No. 6, but if you assume the top three and the survivor of Notre Dame-Stanford wins out, you could be looking at a second consecutive year with no Big 12 team in the mix.
"It's early in the process and we understand our schedule is really back-loaded," said Baylor coach Art Briles, whose team still plays No. 12 Oklahoma, No. 8 Oklahoma State and No. 15 Texas Christian. "We're going to have a chance to make some noise and we're going to have to work for that noise. But we're a tough out."
Other reactions to Tuesday's rankings:
* As the highest rated team from the Group of Five, Navy at No. 20 could have a trickle down effect on the Las Vegas Bowl. Should the Midshipmen continue to win and need a victory against Army the week following the final rankings being released to secure a New Year's Six bowl berth, Las Vegas officials could select Brigham Young for their game instead of waiting to see if a Mountain West team would be available.
* Iowa and its 9-0 record and two wins against Top 25 teams received some mad respect from the committee, jumping from No. 9 to No. 5. Should the Hawkeyes win out against Minnesota, Purdue and Nebraska, and advance to the Big Ten championship game, they could potentially stand a victory against defending champion Ohio State away from making the playoff.
* Props to the American Athletic Conference, King of the Group of Five conferences with four teams (Navy, Memphis, Temple and Houston) ranked this week.
Ed Graney can be reached at egraney@reviewjournal.com or 702-383-4618. He can be a heard on "Seat and Ed" on Fox Sports 1340 from 2 p.m. to 4 p.m. Monday through Friday. On Twitter: @edgraney