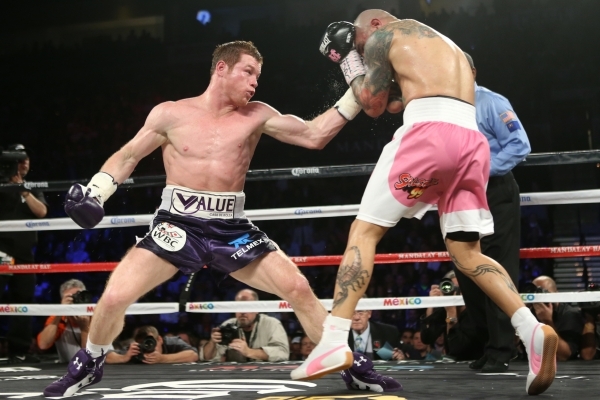 This wasn't like the fable. The old lion might have given up a good 15 pounds to his opponent, and his limbs might not have been as they once were, but he wasn't gasping on the ground about to expire. He fought in a most beautiful manner.
But even the boxing skills of Miguel Cotto weren't enough.
The young lion was too good.
Six months after millions of people who opened their wallets only to feel cheated by the spectacle that was Floyd Mayweather Jr. against Manny Pacquiao, boxing on Saturday night just might have won back a few of those disenchanted souls.
Canelo Alvarez is your new WBC middleweight champion after he scored a unanimous decision over Cotto at Mandalay Bay Events Center, where the scores of three judges favored the younger fighter far more than what appeared to transpire over 12 rounds.
The scorecards read 119-109, 118-110 and 117-11.
It didn't seem like it.
"We thought it was much closer," said Hall of Famer Freddie Roach, trainer to Cotto. "It was a competitive fight. Miguel's defense was unbelievable all night long."
Said Cotto upon hearing the scores: "Wow."
Rounds seemed incredibly difficult to score. Both fighters were active. Both were aggressive when opportunity arose. Both came to fight from the opening bell.
There were rounds — specifically the eighth — that were more exciting than anything Mayweather-Pacquiao gave us their entire fight.
Oscar De La Hoya predicted on Wednesday what would transpire from Cotto-Alvarez, when the president of Golden Boy Promotions said that when you have such a build-up as this — two professional fighters, no trash talking, a businesslike approach — it's inevitable that the two will produce much action.
That they will fight as two caged animals set free.
That there is nothing like controlled emotion allowed to explode.
Boxing needed this. Golden Boy really needed this. Alvarez is the company's star, its cash cow, its hope to lead the way toward a resurrection of what has become a stable depleted of many championship-caliber talents.
Cotto boxed his way through 12 rounds, but when you are 35 and a decade older than the bigger, stronger guy standing opposite of you, making much of an impact becomes tougher and tougher as the rounds pass.
He just couldn't hurt Alvarez, couldn't move him much, really, in a contest fought at a catch-weight of 155 pounds.
"I have a lot of respect for Miguel," Alvarez said. "He is a great champion and a great fighter. We knew going into this fight that it would be a difficult journey, but I feel that I was the faster and stronger fighter. I wasn't hurt by his punches.
"I want to thank my trainers; they are like my family and the best people I know, and I couldn't have done this without them. I was fully prepared for what Cotto was going to do in the ring, whether that was take a defense stance or be the aggressor."
Cotto threw 145 more punches than Alvarez but connected on just 21 percent compared to 32 percent for the winner. Cotto threw 374 jabs and landed just 54 of them.
He couldn't penetrate the young lion's den of defense.
This is why belts don't matter, why Cotto in refusing to pay the extortion, er, WBC sanctioning fee of $300,000 and having his title stripped from him before the fight, made the right decision.
Boxing continues to wander aimlessly through a forest of different sanctioning bodies and multiple champions in weight classes, having not figured out yet that all the paying public wants is good fights.
This one qualified.
So too would Alvarez next opposing Gennady Golovkin, the unified WBA (Super), IBF, WBC (interim) and IBO middleweight champion.
Do you see what I'm saying about all these silly sanctioning bodies?
"I'm not afraid of any fighter," Alvarez said. "(Golovkin) is a great fighter, and he is my friend. I have respect for him, but if we do fight, it's going to be at my weight class. I'm the champion; I don't have to do what he wants."
When it was over Saturday and the final bell sounded, the old lion and young lion embraced each other and held each other's face in their hands. What was as professional and classy a promotion as you could ask for from a championship fight ended in much the same way.
The old lion gave it his best shot, and in the process boxing gave its fans one a heck of a fight.
And no one watching cared a damn about any belt.
Ed Graney can be reached at egraney@reviewjournal.com or 702-383-4618. He can be a heard on "Seat and Ed" on Fox Sports 1340 from 2 p.m. to 4 p.m. Monday through Friday. On Twitter: @edgraney.