Controversy in boxing? That's not a surprise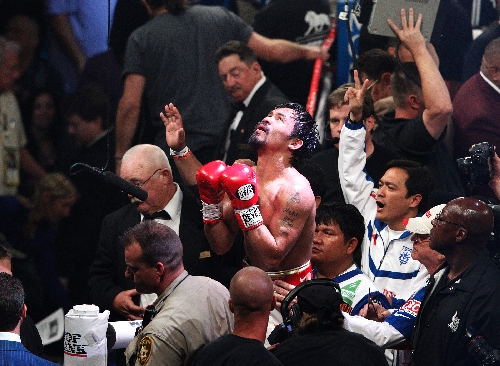 I don't know why anyone is surprised. It's like waking up on Dec. 25 and wondering where all those presents came from, like a wife reacting with shock that flowers arrive on Feb. 14.
Boxing and ridiculous decisions by those who judge it have become more common than the Yankees spending money.
It's so old, so predictable, so unbelievably laughable.
Who are these people anyway?
I suppose someone really wants to see a rematch between Manny Pacquiao and Timothy Bradley, because to even begin searching for a sensible reason for what happened Saturday night at the MGM Grand Garden would be a useless exercise.
Bradley was declared the winner by split decision in the WBO welterweight title bout that some in his own corner apparently had him losing eight rounds to four, that experienced, knowledgeable boxing writers up and down press row had scores anywhere from 119-109 to
117-111 for Pacquiao.
119-109!
"This is (bleeping) nuts," Top Rank CEO Bob Arum said. "Something like this kills boxing. The (judges) don't know what they're watching. I stand to make millions of dollars with a rematch, but these old (bleeps) don't know what the hell they're looking at anymore.
"This is unbelievable. It was 10-2 in rounds (for Pacquiao), at least (Bradley's corner) had it 8-4 for Pacquiao. Right after the fight, Bradley said he did his best but couldn't get to Manny."
Bradley sung a different tune afterward, saying his corner told him that if he won the final round, he would win the fight.
Which, if so, means those advising him were as delusional as those judging the fight.
Pacquiao landed 34 percent of his overall punches to 19 percent for Bradley. Pacquiao connected on 24 percent of his jabs to 11 percent for Bradley. Pacquiao landed 39 percent of his power punches to 28 percent for Bradley.
Pacquiao landed more punches in 10 of the 12 rounds.
The sham: Bradley won a split decision.
The truth: Pacquiao got screwed.
"He never hurt me," Pacquiao said. "I have no problem with the rematch. I will get ready for it."
Did he feel he won?
"No doubt."
Do you want to know why mixed martial arts has flown above boxing in popularity across the nation?
Yes, it's true organizations like the Ultimate Fighting Championship offer the best matchups – if Pacquiao and Floyd Mayweather Jr. were part of it, they would have met in the Octagon years ago – but even more so, it's about robberies like this.
It's because judges like CJ Ross and Duane Ford are so clueless in their profession, so out of touch with the sport they are charged with judging, that the public pays good money to watch and becomes completely disenchanted with what occurs.
You can't believe what you can't trust.
You can't trust boxing when things like this happen.
Ross and Ford each scored the fight 115-113 for Bradley. Not even a third judge, Jerry Roth, is totally excused from scoring it 115-113 for Pacquiao.
Bradley won the first round. He might have won the 10th and 12th. In no way did he win as many as Ross and Ford suggest.
He went from attacking to surviving. He was hit with far more lefts than he or his corner would acknowledge afterward.
He didn't win the fight, didn't come close.
"Manny hurt me a few times," Bradley said.
Ya think?
What this does is guarantee the two will again fight on Nov. 10 here and whatever chance of that Pacquiao-Mayweather fight occurring this year is officially dead.
What it also does is put all leverage for the latter matchup in Mayweather's corner. He again can ask for more of the purse than Pacquiao and now do so with a legitimate tone.
Mayweather reportedly wasn't able to watch the fight while serving his jail sentence. He has no access at this point to a television or computer or telephone, but you can bet he somehow quickly received word of the outcome.
When he does watch the tape, I can't believe he won't also agree that Pacquiao clearly won the fight.
Because unlike the bozos who judge it, and the Nevada State Athletic Commission, which continues to allow these things to go on, Mayweather knows boxing.
At night's end, there was only one question left unanswered: At what point did Don King get involved with the Pacquiao-Bradley fight?
No worries. There has to be another UFC card coming soon, yes?
Watch it. Pay for it. Line the pockets of Dana White even more.
You'll be able to trust it far more than this stupidity.
Las Vegas Review-Journal sports columnist Ed Graney can be reached at egraney@reviewjournal.com or 702-383-4618. He can be heard from 11 a.m. to 2 p.m. Monday through Friday on "Gridlock," ESPN 1100 and 98.9 FM. Follow him on Twitter: @edgraney.