Corrales' greatest gift lives on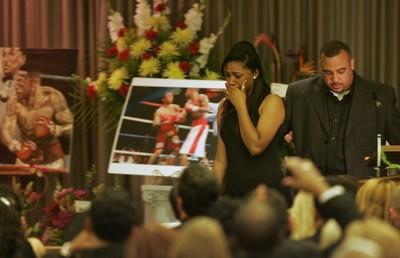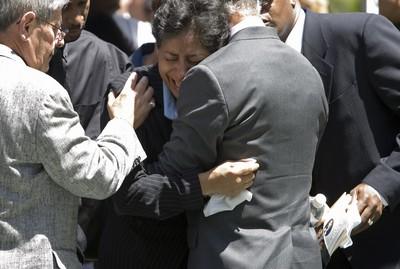 It often comes back to the children, doesn't it?
To the emotional and genuine and tearful words of a teenage girl talking to her father while he lay peacefully several feet away, his brown suit the same shade as the coffin that will be lowered into the ground to allow his body eternal stillness.
To the child asking him if he is OK, if he remembers all the special times they shared, if he can forgive her for any failures, if he knew how much she loved him and that she would trade places with him in an instant if she could.
To the kind of rambling, touching, heartbreaking thoughts only death creates.
Diego Corrales was like all of us. Flawed. But when the final prayer had been recited Tuesday and the final song sung and the final remembrance described and the final second having passed to see his face one last time before the casket slowly closed, it was obvious for what he should be most remembered.
The man loved his children unconditionally and they him. He received life's greatest gift.
Boxing gave him a profession. His children gave him a spirit.
"He was a doting father in that it was borderline disgusting in a very good way," said Joe Goossen, Corrales' trainer. "He could switch off that boxing persona once he got out of the gym better than anyone I have seen. He loved life. He would laugh at anything. He was a bright light in the middle of a dark room. He was a guy you wanted to be around in a business with a lot of guys you don't want to be around.
"That's why so many people are pissed off. They're sad and pissed."
They are angry because 29 years old is far too soon to leave a wife, five children and another due shortly. They are livid someone who enjoyed life this much was gone that fast. They mourn both of the revealing images just outside the mortuary doors.
One is a painting, a simple portrayal of a man whose dancing eyes and broad smile suggests he hasn't a concern in the world. The other is a photograph, an intense depiction of a man whose cold stare and stern expression suggests he wants to kill whoever sits in the opposite corner.
One is of the person outside the ring. The other is of the warrior inside it.
"Diego wasn't a perfect man," the fighter's manager, James Prince, told an overflow gathering at Palm Mortuary. "Diego wasn't an excellent man. Diego was a good man. Diego was a humble man."
It has been said that people who live deeply never fear dying. In this way, Corrales existed with a bottomless hunger for excitement, his final rush ending in death when he was thrown from his motorcycle and flew into that Mercedes-Benz sedan just over a week ago. The motorcycle he was directing at high and dangerous speeds with a revoked license for an earlier drunken driving conviction. The motorcycle he probably wasn't prepared to handle yet.
"He was reckless outside and inside the ring," said Gary Shaw, the fighter's promoter. "That was Diego. I was shocked he was dead, but not by how he died."
You can try and dress up sorrow. You can attempt to disguise unfathomable grief. You can surround the brown casket with red roses and white carnations, through which you can lay white and gold sashes with intimate messages from an inconsolable wife and children.
Rest in peace, Daddy … Forever our champion … My loving husband, may you rest in peace …
You can remember the boxing triumphs by placing eight championship belts close to where the owner lies in wake. You can play a video tribute to the departed, a continuous flow of snapshots of Corrales giving his newborn a bottle or dressing up as a cowboy or pirate or holding aloft one of his prized catches while fishing. Of him wearing a Santa hat. Or standing next to Ronald McDonald. Or one after another of him with his family. His three daughters and two sons. His wife, who is carrying a boy to be named Diego Chico Corrales Jr. Smiling. Corrales was smiling in every shot.
You can listen as one pastor compares him to David of the Old Testament, to a warrior of another time. You can understand when a reverend says that while the name Chico means small, it was an enormous heart that truly defined Corrales. You can hear about that incredible fight with Jose Luis Castillo over and over and over again, about that night two years ago when Corrales was floored twice in the 10th only to knock out Castillo later that same round.
But nothing better defines a person than his own words.
They came at the end of the service Tuesday. A white screen was lowered, lights were dimmed and a machine was turned on, and there was Diego Corrales, smile and all while being interviewed. He was being asked about death, about how he wanted to be remembered as a fighter and a person.
"As a fighter, as one of the baddest SOBs who ever lived," he said. "As a person, the only people who matter are my kids and how they see me. Until the day comes when they drop me into that ground, the only people it all should have affected are my kids and my wife."
Then the screen went blank and he was gone again, a flawed man who in such a short life received its greatest gift.
Ed Graney's column is published Wednesday, Thursday, Saturday and Sunday. He can be reached at 383-4618 or egraney@reviewjournal.com.
ED GRANEYMORE COLUMNS