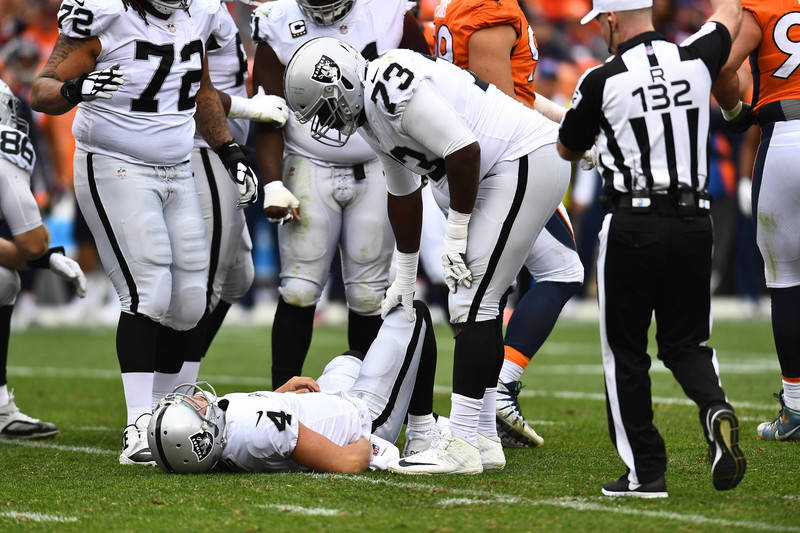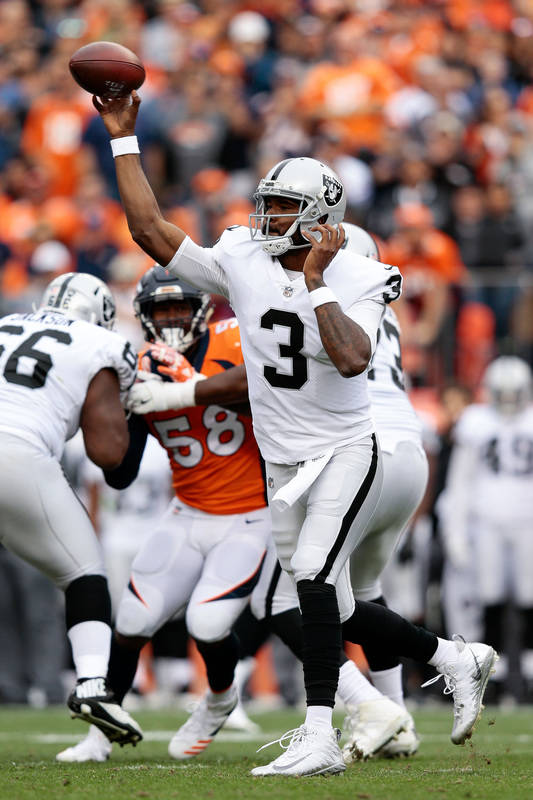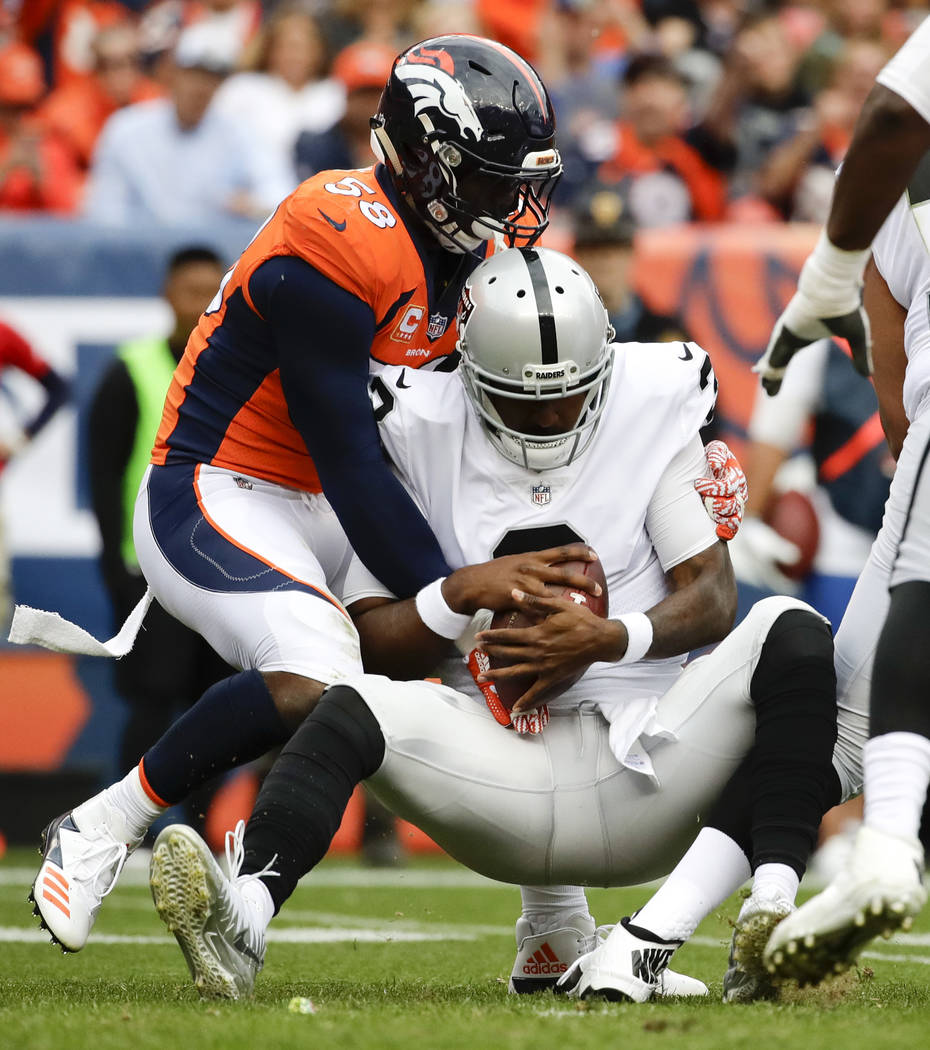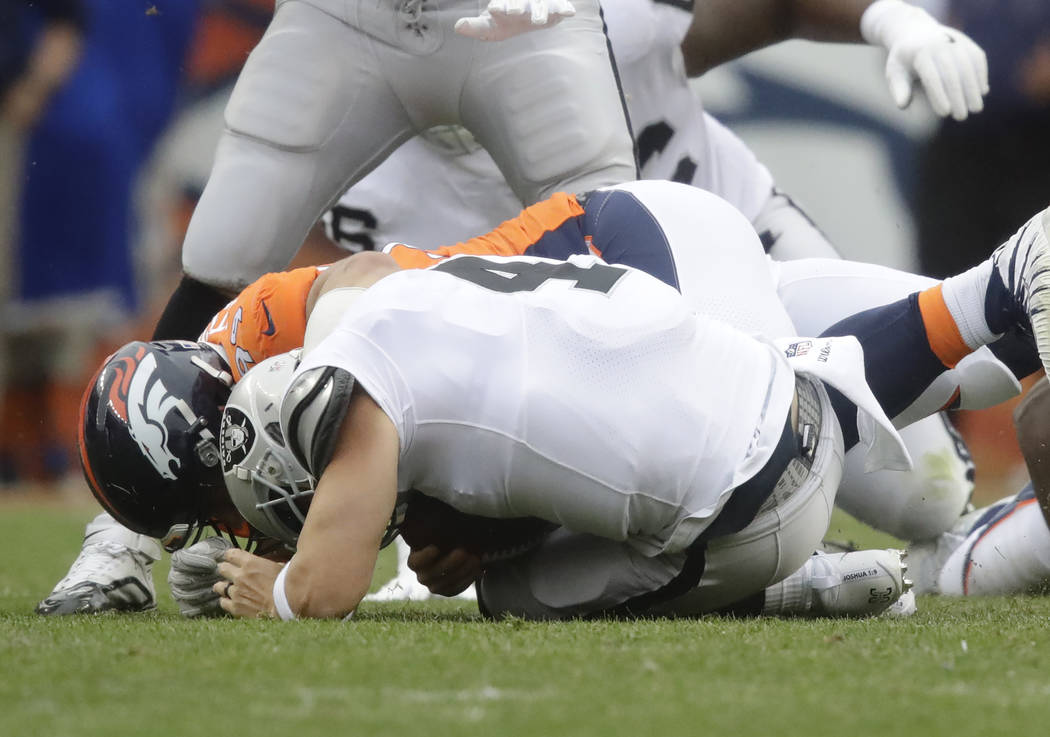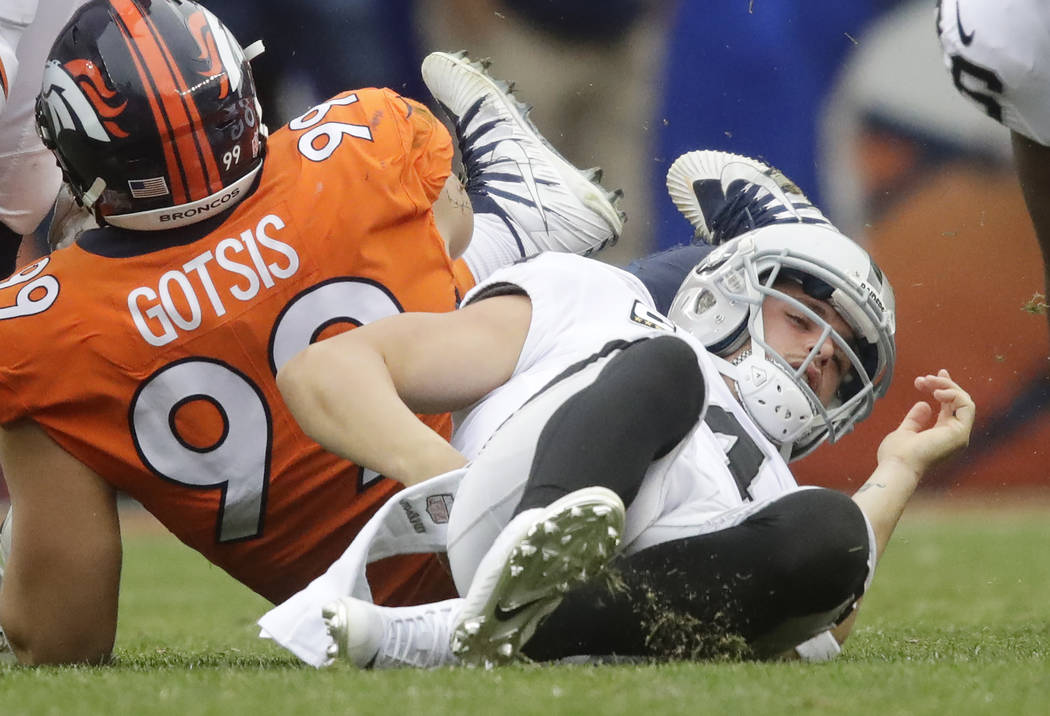 Like with most everything in sports, numbers have come to define the Raiders.
And those digits sure would look more promising with a win Sunday.
The team that just a month ago was a popular Super Bowl pick at local sports books suddenly finds itself in an uncertain position regarding early playoff chatter, and three home games in the next 11 days could either brighten such prospects or altogether terminate them.
When do things get serious regarding the postseason after just a quarter of the schedule?
When you're 2-2 and your franchise quarterback has an injured back.
"I think every home game is a big home game," Raiders cornerback TJ Carrie said. "The theory that our coaches preach is, if you win your home games and steal a couple on the road, that gets you normally to the place you want to be. We've got to make sure we take care of our house."
The critical string of matchups at the Oakland Alameda Coliseum begins against a Ravens side that's also 2-2 but has been outscored 70-16 in the past two weeks.
If you think the Raiders have issues offensively, you haven't seen Joe Flacco lately.
The veteran quarterback is arguably struggling through one of the more ineffective stretches of his career, the Ravens having not scored in the first half in losses to the Jaguars and Steelers while only producing points on three of the past 25 possessions led by Flacco.
He already has thrown six interceptions this season.
His quarterback rating is 65.
He's not very good right now.
Baltimore is followed to Oakland by the team Los Angeles neither supports or wants, a Chargers side that will enter Sunday's game at the Giants 0-4.
From there, the worst of the AFC West is followed by the NFL's best to this point, when Kansas City meets the Raiders for a Thursday night game Oct. 19.
Three games.
Eleven days.
All kinds of significant.
"The thing is, you try not to think about it, because you want to take it one game at a time," Oakland tackle Donald Penn said. "But it is kind of in the back of the mind, like, 'Hey, these three are good because they're at home.'
"It is a good three-week stretch. It is very important for us, especially after these last two weeks, back being at home in front of your home crowd, being in the stadium and facility and not having to travel.
"These three weeks are going to be important, but we're focused on Baltimore right now. If we come out strong, it will be very good for us to pick up that momentum. We need some."
He indirectly refers to consecutive losses at Washington and Denver, games in which the Raiders didn't come close to moving the ball consistently enough to depart with any road success.
Now, they are faced with the diagnosis of a transverse process fracture to the back of quarterback Derek Carr, suffered against the Broncos and in turn thrusting backup EJ Manuel into the lineup.
I fell a few classes short of my medical degree, meaning all of them, but it seems entirely preposterous that Carr is listed as questionable for Sunday, a week after his spine got all twisted up and he moved around the visiting locker room in Denver like a geriatric patient searching for his walker.
The fact he participated in practice this past week probably says more about Carr's chances of returning against the Chargers than taking any snaps against Baltimore.
But who knows, really.
It's all a blur with these things.
After the loss to Denver, coach Jack Del Rio said his starting quarterback had back spasms, meaning he apparently didn't take any medical classes, either, or was just doing a fine job exhibiting that league-mandated statute about supreme paranoia when asked about injuries.
It was probably the latter.
"No one likes losing, especially (with) the expectations we have for ourselves," defensive end James Cowser said. "I think this homestand, this home game (Sunday), is going to be big."
They all are now.
Consider: Since the 1990 season, teams that began 4-2 have made the playoffs almost 63 percent of the time.
Teams that start 3-3 make it 38 percent of the time.
Teams that start 2-4 … just over 8.5 percent.
To extend even further, only 15 teams that have fallen three games under .500 in Week 5 or later made the postseason.
I never totally believed that numbers don't lie, but those particular ones are pretty revealing regarding how much an NFL team is allowed to struggle to begin a season and risk missing out.
For the Raiders, it pretty much means one thing these next 11 days: Just hold home serve, baby.
Contact columnist Ed Graney at egraney@reviewjournal.com or 702-383-4618. He can be heard on "The Press Box," ESPN Radio 100.9 FM and 1100 AM from 11 a.m. to 2 p.m. Monday through Friday. Follow @edgraney on Twitter.
Ravens vs. Raiders
When: 1:05 p.m. Sunday
Where: Oakland Alameda Coliseum, Oakland, Calif.
TV/Radio: KLAS-8; KDWN-AM (720), KCYE-FM (102.7)
Line: Raiders -3; total: 39½