Curious case of James Neal and his future with Golden Knights
January 25, 2018 - 11:23 pm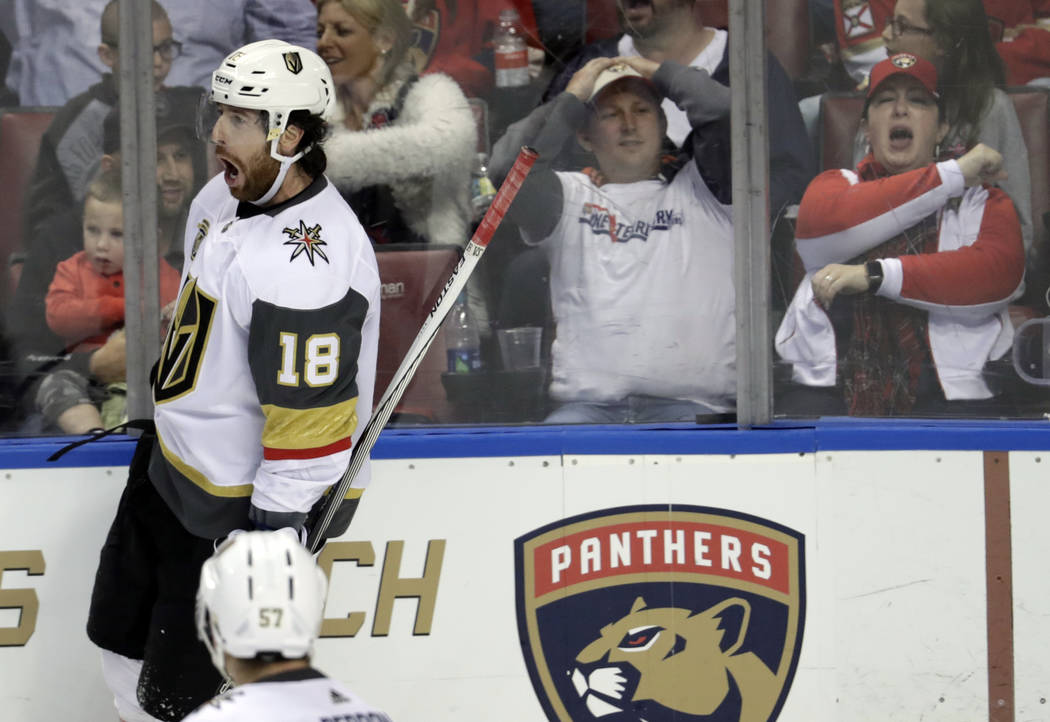 Patrick Morris is a longtime NHL agent, which means he knows about numbers and contracts and percentages of how things might fall for a certain player when it comes to unrestricted free agency.
He also represents James Neal of the Golden Knights.
In October, when most believed Vegas was headed toward a typical losing expansion season, Morris put it at 25 percent Neal would still be with the club at the Feb. 26 trade deadline.
That, as most surmised when Neal was selected in the expansion draft from Nashville, a contender would deal for the veteran about to enter UFA status as a playoff rental.
"But then," Morris said, "the season began."
But then, history happened.
It is a popular debate as the Knights arrive at the All-Star break atop the Western Conference, what might be done in terms of Neal either potentially signing a long-term deal or moved if another franchise offers the sort of enticing haul of draft picks and (possibly) a return player for him.
The easy decision for general manager George McPhee — who never discusses contract negotiations publicly — would be to chase a Stanley Cup with those who led the Knights to such a remarkable season thus far, a run in which Neal has more than delivered on his reputation as a pure scorer.
He will arrive in Tampa an All-Star with 22 goals following a 2-1 loss to the Islanders on Thursday night before 18,184 at T-Mobile Arena, having scored at least 20 in each of his first 10 NHL seasons.
The only other current players to have done so: Alex Ovechkin, Jaromir Jagr, Patrick Kane, Jonathan Toews and Thomas Vanek.
Yeah. Pretty good company.
There is also this: Neal has totaled 44 points (25 goals) in 80 career playoff games.
He's money when it counts most.
But these are rarely easy decisions, and one thing nobody knows — other than perhaps the parities involved —is how close the team and Neal might be when it comes to what both perceive his worth.
How much and for how long are the Knights willing to offer?
What might Neal demand?
"It's important to be comfortable, to come to the rink every day and enjoy playing hockey," Neal said. "It's a business, but sometimes guys get caught up too much in that and being in a (UFA) year and they forget to enjoy the game.
"I want to win. I've been part of winning teams and I wanted to bring that here, to be a leader for the young guys and contribute all I could. Winning is hard. You can't just pick a winner any more. It doesn't work that way. Who would have ever thought we'd be doing what we have this season?
"From the management to the coaching staff to the guys in the room, we have something very special here. My teammates are awesome. I love it here. I love it."
He will be 31 in September and is in the final season of a six-year deal that pays $5 million annually. This next contract is huge for him at this stage of his career.
The Knights recently kept center Jonathan Marchessault, three years younger than Neal, from reaching UFA status with a six-year, $30 million extension.
There are no salary cap issues in the near future for Vegas.
It has money to spend.
Whether the team ultimately envisions it a smart conclusion to do so with Neal isn't known, but given the team McPhee built in the expansion draft, he has more than earned a level of trust when it comes to the roster, no matter which way he decides to move on Neal.
It's not as simple as merely going for it and worrying about keeping him later, not if you're miles apart in what each views a fair deal.
Or is it?
"I don't negotiate in public, but if the trade deadline comes and goes, I will be shocked if James is on another team," Morris said. "No other team has called me and said they are close to acquiring James. I think it's full steam ahead for Vegas, and if we could agree to terms for him to (remain with the Knights) we would welcome that. He loves it there.
"George McPhee is an intelligent man. I don't know (owner) Bill Foley, but he obviously has a passion to win. His timetable of winning in 3-5 years has obviously changed now. This is not an irresponsible organization. You have to go for it when you have the chance, and James Neal and his play and leadership has been a huge part of what has happened there."
It has, and he is.
Whether that means he will be here for the long haul is anyone's guess.
For now, he just wins.
Contact columnist Ed Graney at egraney@reviewjournal.com or 702-383-4618. He can be heard on "The Press Box," ESPN Radio 100.9 FM and 1100 AM, from 11 a.m. to 2 p.m. Monday through Friday. Follow @edgraney on Twitter.