Dana White makes right call on Conor McGregor, but will UFC boss stick to his decision?
April 23, 2016 - 11:55 pm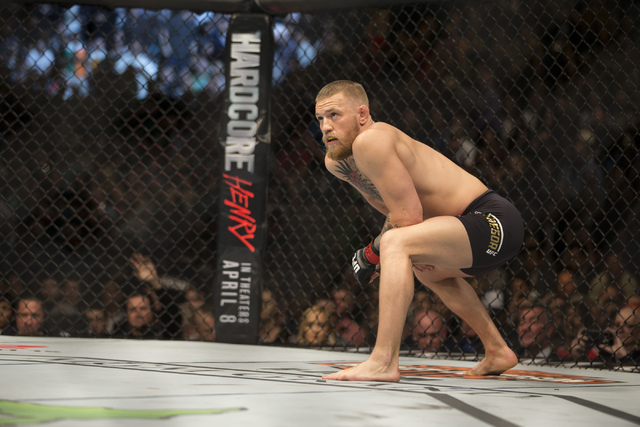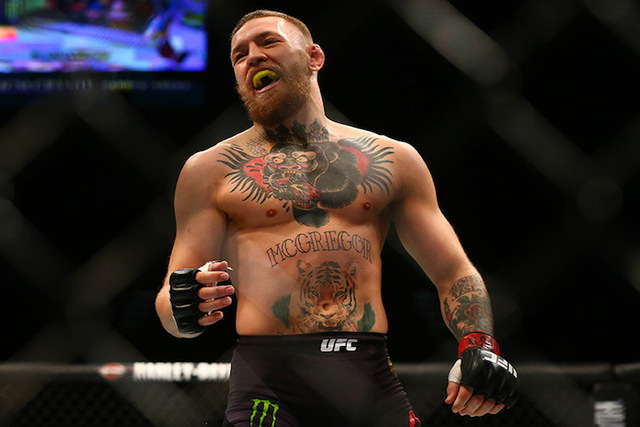 It might be the confusion and dizziness that resulted from chronicling a four-month UNLV basketball coaching search — did Marvin Menzies change his mind and bolt for Las Cruces on Saturday? — but something seems peculiar.
Take this: When it comes to Dana White removing Conor McGregor from UFC 200, I couldn't agree more with the president of the Ultimate Fighting Championship.
One. Hundred. Percent.
White made official again Friday what he had already stated, that McGregor's failure to attend the news conference in Las Vegas as part of promoting the July 9 event at T-Mobile Arena meant he wouldn't be placed opposite Nate Diaz in a main event.
Question is, will White stick to his decision?
He most always does.
It can't be easy, given McGregor's star power and the significance of a 200th show. It's a historic moment for the company, and what better way to stage your first event in Las Vegas' new arena than having your most popular and entertaining fighter headline the evening?
White hasn't built the UFC into a multibillion dollar enterprise by making bad business moves. He knows more than anyone else what sells, and McGregor's mouth and talent do in ways others can't. Those who would purchase tickets to UFC 200 and buy pay per views by the millions wouldn't care that McGregor skipped certain stops along a promotional tour, as long as they could watch him try to avenge his loss to Diaz at UFC 196 in March.
Don't believe it? Read the comments on McGregor's social media pages.
The guy has more fans than Ireland does pubs.
But that doesn't mean he shouldn't adhere to the company's policy that if you're going to be featured in the biggest and brightest and best ways, if you're going to earn the most money, you need to promote.
McGregor has done a ton for the UFC brand. More than most. But this isn't just another show. It's a weeklong event with championship fights on three consecutive nights. This is massive, and UFC had planned on building the entire celebration around a main event featuring McGregor.
It can't do that without his participation in every phase.
McGregor's contention that because cards he has led in recent years have earned the company hundreds of millions of dollars should in no way excuse his absence. Countless stars across professional sports — many far more accomplished and famous than McGregor — have followed those media obligations major events require without refusing to participate by suggesting that, something like the number of jerseys sold, should make them immune to this stuff.
It's not as if McGregor needs to nervously sit at a laptop 24 hours before a scheduled flight and hope like crazy he pushes the mouse fast enough to avoid the B boarding group. If anyone was going to be the recipient of a private plane for a tour that would have made three stops — Las Vegas, Stockton, California, and New York — and lasted perhaps a week, it was McGregor.
Yes, it's a really long trip from Iceland. He'd lose a few days of training.
But he already lost to Diaz. He knows the reasons and how best to correct them. That knowledge isn't disappearing more than two months before UFC 200 because he spends time shooting a commercial and conducting interviews.
Maybe he wants more money. Maybe he really does believe taking a second away from his focus on training would lead to another defeat. Maybe he can't tear himself away from the joy of hanging in a Nordic island nation staring at volcanic landscapes.
Many still think White changes course and brings McGregor back onto the card.
I can't see it. It would be very un-Dana of him, and yet he has been more pleasant in his public comments about McGregor than you'd expect when having pulled a main event fighter from such an enormous event.
But there is this: White is right. One hundred percent.
No one is the face of a sport forever, and a time will come when McGregor's is replaced with another. There is a reason the line stretches long for those interested in fighting at UFC 200 in his place. It's a chance at taking part in history.
It's too major a moment for the UFC not to believe White won't produce something memorable in the wake of bouncing McGregor, be it perhaps having Robbie Lawler fight Diaz or — how would this grab people? — marking UFC 200 as the return of Georges St.-Pierre to the octagon.
Could we see Daniel Cormier-Jon Jones II for the light heavyweight championship if the former is healthy and the latter can recover in time after returning to the UFC for the first time in more than a year Saturday at the MGM Grand Garden, winning a unanimous decision over Ovince Saint Preux at UFC 197?
Ronda Rousey? She seems more a fit to headline the company's first card in New York in November.
This is certain: UFC 200 has every chance to be an incredible week of fights.
One that, if White remains steadfast in his resolve, won't include Conor McGregor.
The only fault with that lies in a training gym on a Nordic island nation surrounded by volcanic landscapes.
Ed Graney can be reached at egraney@reviewjournal.com or 702-383-4618. He can be a heard on "Seat and Ed" on Fox Sports 1340 from 2 p.m. to 4 p.m. Monday through Friday. On Twitter: @edgraney.