Defensive intensity turns key to engine for Rebels
January 19, 2016 - 11:31 pm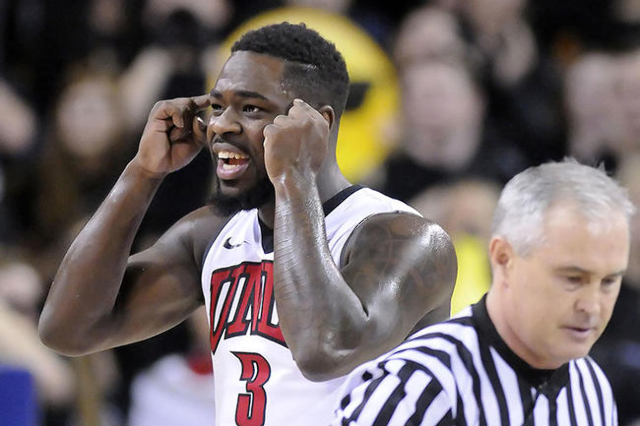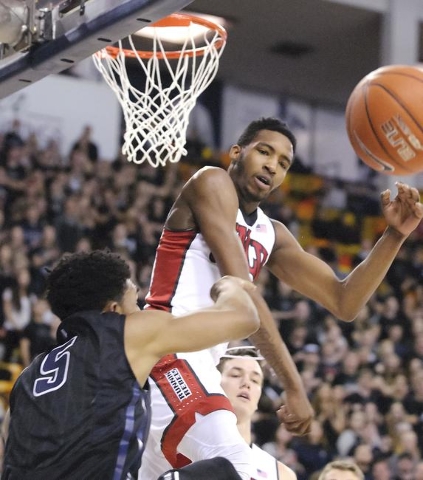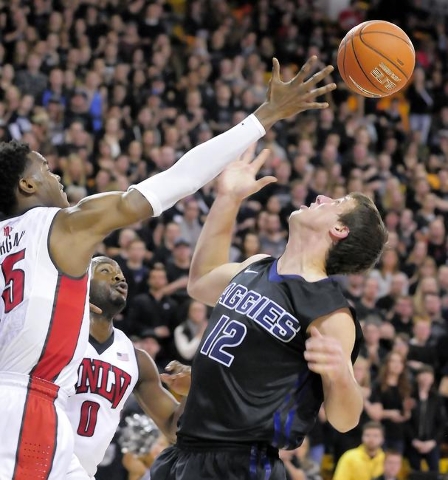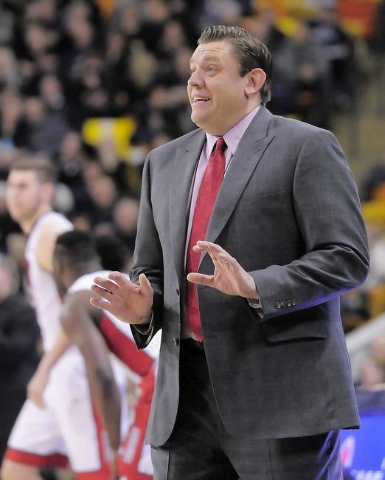 LOGAN, Utah — When people imagined how terrific things might be, when they closed their eyes and thought about how UNLV's basketball team could appear when the defense led to running, which led to easy baskets, which led to the sort of suffocating momentum that brings an opponent to its knees, they visualized these six minutes and 44 seconds.
They dreamed about it.
They were sure it existed within these Rebels.
They saw it Tuesday night at the Dee Glen Smith Spectrum, where UNLV remained perfect after three games under interim coach Todd Simon by defeating Utah State 80-68 before 9,394 and one of the better (albeit at times crass) Mountain West student sections.
It's no secret those first few four-minute segments after halftime haven't always been kind to the Rebels. It often has been more a struggle than anything else to execute and either maintain or increase a lead. It was maddening at times how things fell apart.
This time, the Rebels trailed 36-35 when play tipped off after intermission.
Not seven minutes later, UNLV led 56-38.
How does one manage a 21-2 run on the road not two weeks removed from blowing a five-point lead with less than a minute to play in a defeat at Colorado State and losing all of a 22-5 first-half advantage in falling at Wyoming?
You can rarely pull off such a feat without being stellar at the defensive end, which UNLV was. It was bigger, longer and far more athletic than the Aggies.
It just needed to be reminded of that fact.
"Halftime was an important moment for us," Simon said. "We've shown in the past that we come out a little flat. The first half wasn't our best effort. I didn't like how we were running. I didn't like the way we were executing. Our cuts weren't hard. There was a lot of stuff I didn't like. But, more importantly, I liked the way we responded to it. Guys started to figure out themselves. We bounced back.
"We started to run again."
They were able to run because of the defense they played, forcing turnovers on Utah State's first four possessions of the second half and finishing in a variety of ways at the other end.
Here are the eight baskets (combined with two free throws) UNLV scored during the stretch that ensured it would climb back to .500 at 3-3 in conference: Jumper, 3-pointer, dunk, layup, jumper, 3-pointer, 3-pointer, dunk.
Terrors in transition.
"We are a defend, rebound and run team," Simon said. "That's the identity of our program. The guys have that ingrained. That's who we are. Our pressure wasn't consistent enough in the first half. The second half, we came out a little angry, a little venom at the mouth, and picked up the pressure. That's how we're going to play. If we can get those little stretches where we get up and down and hit open 3s in transition and get stuff at the rim, we're real hard to stop."
He has them playing loose and yet not crazy. He has them believing they can be that team, the one people dreamed about watching, the defense-to-offense machine of that near-seven minute stretch.
This was a really impressive win. You always knew UNLV would play hard at home against New Mexico last week, because if you can't show effort the first game after your coach (Dave Rice) has been fired, you have no business being at this level. And as much as Air Force isn't near the team it has been in past seasons, UNLV beating the Falcons 100-64 was superb in the way of that's how good teams are supposed to handle inferior ones. No mercy.
But as limited as Utah State is inside, it still entered at 3-3 in conference and just scored 96 in winning at Colorado State on Saturday. It's still just barely dangerous enough that you have to play well to win here.
UNLV did, receiving the message from its coach at halftime and responding.
"We made a statement that we needed to get back to playing like us and how we are capable of playing," junior forward Ben Carter said. "That's what we did. We had a great run there to open (the second half), forcing tempo and picking up our defensive intensity and getting stops and capitalizing on them."
When people imagined how terrific things might be, when they closed their eyes and thought about how UNLV's basketball team could appear when the defense led to running, they visualized these six minutes and 44 seconds.
It can't be that way all the time, the game doesn't allow it, but when it is for the Rebels, it's something to watch.
Todd Simon has them playing loose but not crazy.
It has thus far, three games into things, made all the difference in mindset and execution, to say nothing for the perfect results.
Ed Graney can be reached at egraney@reviewjournal.com or 702-383-4618. He can be a heard on "Seat and Ed" on Fox Sports 1340 from 2 to 4 p.m. Monday through Friday. On Twitter: @edgraney
Check our GameDay page for full coverage of the UNLV-Utah State game.