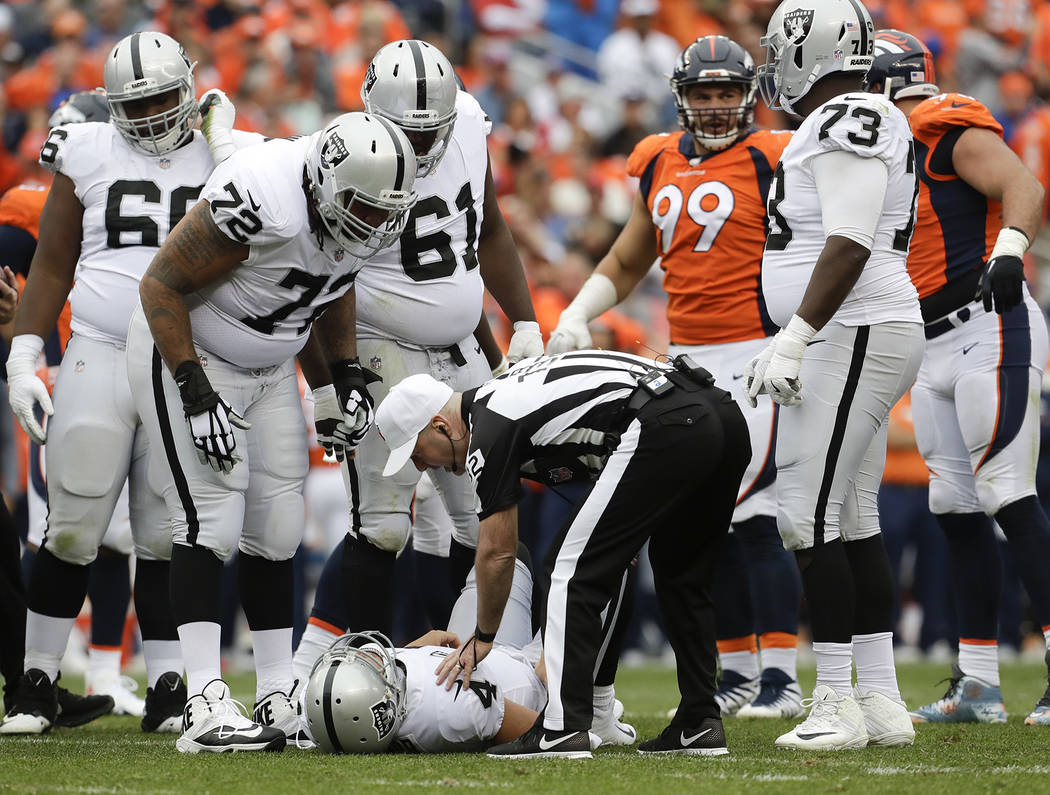 ALAMEDA, Calif. — There is this theory floating around the Raiders that one gigantic contract was offered to precipitate the signing of another, that owner Mark Davis awarded quarterback Derek Carr a nine-figure deal last offseason with the intention of eventually offering another to the man he wanted to coach him.
That the union of Carr to Jon Gruden, in the mind of the guy who is paying each an exorbitant amount of money, has been brewing for some time.
True or not, the theory became reality Tuesday.
Now, it's on Carr to keep up.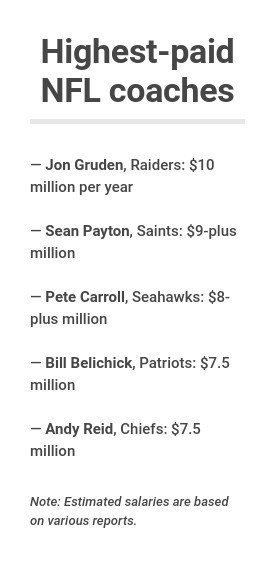 "Someone said I was insane," Gruden said as he was introduced at a news conference at the team's headquarters. "That's probably right."
He not only received a record contract of 10 years for $100 million to return to a silver and black franchise for which he obviously holds an impassioned attachment, but also inherited the best and most promising quarterback of his career as a head coach.
Which says something, given Gruden won a Super Bowl with Tampa Bay.
But while Brad Johnson owns a ring for that XXXVII triumph over the Raiders, and Rich Gannon was an MVP in losing to his former coach in that season's final game, neither quarterback at the time was as young or talented as Carr.
Jeff George. Donald Hollis. Wade Wilson. Jeff Garcia. Chris Simms. Brian Griese. Luke McCown.
Tim Rattay.
Bruce Gradkowski!
In 11 seasons as an NFL head coach and having counseled numerous quarterbacks, Gruden has never tutored the individual skill and promise he will find in Carr.
"He has great arm talent, he's athletic, he has natural leadership skills, he's young and in his prime," Gruden said. "He's been in a lot of different systems. There hasn't been a lot of continuity around him that way. He has huge upside. With the system we are going to put in place, it's going to demand a lot from him. That's what is going to unlock the greatness in him."
No one used the G-word in regard to Carr this season, when the Raiders were 6-10 and their $125 million leader regressed from the 2016 campaign that earned him such lifetime security.
How much an injury at Denver in early October — Carr suffered a transverse process fracture in his back — affected his play as the season wore on is unknown. But he wasn't right most weeks. He wasn't 100 percent.
His numbers from last season to this dipped in all categories, including a passer rating that went from 96.7 to 86.4. There were issues on the offensive line and wide receiver. The culture of a locker room suffered. Things weren't great internally.
Losing will do that.
But if Tuesday was about a clean slate for everyone, nobody will be more impacted by the arrival of Gruden than Carr, and how he responds to the insanity of which his new coach refers will go a long way in determining how fast the Raiders are again winning more games than not.
"I told Derek this is an unbelievable opportunity," said Gannon, who played under Gruden in Oakland from 1999-2001. "If he just takes advantage of it, there are so many great things in store.
"I don't know if anyone can match Jon's intensity. I don't know if that's possible. But what you have to do is put the work in and be prepared and have a passion for the game. I don't care how hard Derek has worked before, he's going to have to change his work habits to fit in."
There has been a video shared around the internet in recent days of when Carr met Gruden during the coach's television "QB Camp" before the 2014 draft. Gruden, as he has with so many soon-to-be drafted quarterbacks, watched tape of Carr during his college days and offered his thoughts.
"Your position playing style is completely different. I want you," Gruden told Carr on the ESPN show. "What do you have to say about that?"
Offered Carr: "I appreciate that. Let's go win some championships now."
Maybe this really was the plan all along from the guy who writes checks.
Maybe the stars just aligned and this is how things fell.
But there is no maybe about this: Jon Gruden just inherited the best quarterback of his career as a head coach. How Derek Carr responds could shape the Raiders for years to come as they prepare to arrive in Las Vegas in 2020.
Carr needs to get working.
Insanity waits on no one.
Contact columnist Ed Graney at egraney@reviewjournal.com or 702-383-4618. He can be heard on "The Press Box," ESPN Radio 100.9 FM and 1100 AM, from 11 a.m. to 2 p.m. Monday through Friday. Follow @edgraney on Twitter.