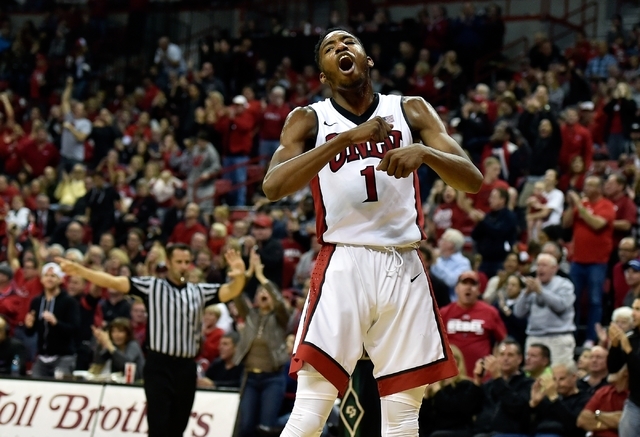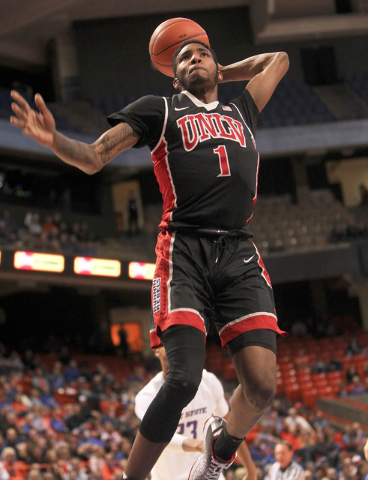 UNLV basketball doesn't need a reset button.
The Rebels need someone to perform selective memory erasure on them — just delete everything from the moment a ball was dribbled at this season's first practice.
Or, as one tweet stated Wednesday in regard to the program's recent issues: Lotta smoke coming out of that dumpster.
The latest negative mark to attach itself to the Rebels came via word that freshman forward Derrick Jones Jr. is academically ineligible for further competition because of his ACT score being canceled.
Jones was declared eligible in the fall by the NCAA to compete this season and has played in all 30 games, averaging 11.5 points while shooting 59 percent and creating his personal SportsCenter reel of highlight dunks.
But he is done now, perhaps for good at UNLV, unless the university and his Alabama-based attorney can somehow get the ruling overturned in time for Jones to play at San Diego State on Saturday and/or in the Mountain West Tournament here next week.
It has been a collection of such punches to the program's gut that has made this season far from the successful venture many predicted, some of it the fault of the administration, some of the fault of bad luck, some of it the fault of nobody.
The fire that rages on …
Player movement: Goodluck Okonoboh, a sophomore forward and four-star recruit from the Class of 2014 who averaged nearly 27 minutes as a freshman, announced in November he was transferring, his playing time having been reduced with the arrival of heralded center Stephen Zimmerman Jr.; Daquan Cook, a junior and as close to a true point guard as the roster owned and who played in 53 games the previous two seasons before sitting out last year with a knee injury, was suspended for the entire non-conference schedule following a DUI arrest and then dismissed from the program in early February.
Coaching upheaval: UNLV's administration made the unprecedented move of firing its head coach three games into a conference schedule when Dave Rice was shown the door, which created strife within the staff as Todd Simon was elevated to interim head coach over three peers with more experience. Whispers (well, more like screams) that certain boosters wanted Rice gone so that Simon would have a period of time to audition for the job didn't make things any easier inside the locker room.
Associate head coach Stacey Augmon has since made his desire to land the full-time job quite clear in stories by the Review-Journal and The New York Times.
Injuries: Junior forward Ben Carter, the team's leader in most every way, was lost for the season Jan. 30 with a torn ACL; Zimmerman has missed seven games with various injuries, including five in a row in league play with a sprained knee before returning Saturday against Wyoming; sophomore forward Dwayne Morgan has missed the last three games with an injured shoulder.
Uncertainty at the top: Tina Kunzer-Murphy is an athletic director whose contract expires at year's end; Len Jessup is a university president who reportedly will have final say on the next head coach, and yet it's unknown what sort of basketball knowledge he owns, other than having worked at schools like Indiana and Arizona, that suggests he can and will make the correct choice.
To that end, this sidebar: They didn't really fire Rice and create all the subsequent and needless drama to turn around and believe the best fit is an associate head coach at Arizona whose only head coaching experience is going 54-60 at the University of New Orleans, did they?
They aren't really considering that move, are they, meaning they would pass over several qualified head coaches with proven records and NCAA Tournament experience?
Say it isn't so.
Jones' test score: And now, this. Know there is more to it than statements from lawyers about racial bias in relation to the ACT, that while those representing Jones make some valid points about the suspect timing of his score being canceled and who/what was behind it, you could also wonder why a kid from Philadelphia chose to drive more than two hours to Baltimore to take the ACT at a site where several other tests by future Division I athletes were reportedly invalidated and how he connected with an attorney from Alabama whose company represents athletes in most major professional leagues, including an NBA in which Jones hopes to one day land.
Jones' attorney on Wednesday said he took the test in Baltimore while, "visiting family."
It all makes for just yet another punch to the gut of UNLV basketball this season.
Whatever happens in the next few weeks — beat San Diego State, lose to the Aztecs for an eighth straight time, get incredibly hot and make a serious run at the conference tournament, get bounced early from it — the need for some of that selective memory erasure stuff is more evident than ever.
This thing passed the reset button stage long ago.
Ed Graney can be reached at egraney@reviewjournal.com or 702-383-4618. He can be a heard on "Seat and Ed" on Fox Sports 1340 from 2 p.m. to 4 p.m. Monday through Friday. On Twitter: @edgraney