Domed stadium would help UNLV's bid to jump to Power 5 conference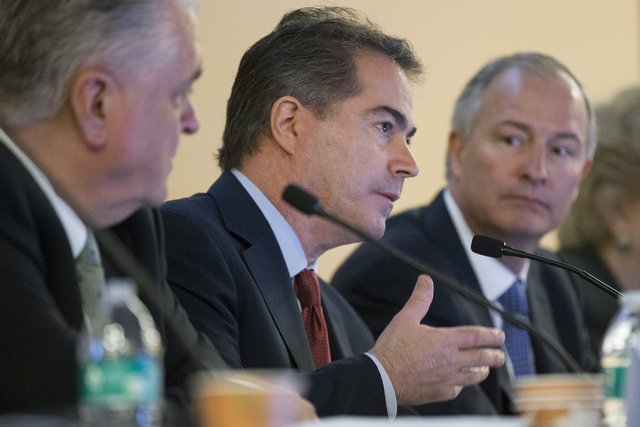 It was specifically mentioned once over the course of hours Thursday, as charts and numbers and percentages of public and private dollars again were bantered about in regard to a proposed 65,000-seat stadium that could bring an NFL team to Las Vegas.
In case you forgot which one, those wearing Raiders jerseys and sitting in the first few rows of the Southern Nevada Tourism Infrastructure Committee meeting offered a silver and black reminder.
The financial impact on what a stadium would mean to UNLV was discussed at different points of the gathering, but this remains a secondary and yet highly significant element: How big a part could a new stadium play in securing the Rebels' membership in a Power 5 conference?
How could it potentially save UNLV athletics?
Six years after turbulence that would rock the sturdiest of 747s upset conference alignment nationally, after some leagues expanded and others disintegrated and others did everything possible to merely survive on the withered vine of fiscal discrimination (hello, Mountain West), hope lives for some in non-Power leagues to one day be invited to the main table of riches.
Expansion isn't over.
Not by a multitude of dollar signs.
UNLV is one of those programs desiring such a jump, and yet the line of those chasing Power 5 status remains ultra-competitive. Reaching such a point for the Rebels might not be the long shot of their basketball team beating Duke, Kansas and Oregon over a few weeks come December, but it might be.
Might be even more of one.
The Pac-12 or Big 12 would be the only sensible landing spots for UNLV if the time should come when either league glanced seriously in the direction of the Rebels, but UNLV would first have to win an archaic but important battle.
That of perception vs. reality.
A few such issues to consider in this realm …
Perception: The current leadership of UNLV athletics is poor.
Reality: Think basketball coaching search.
It's true, and those at UNLV can deny it until their faces turn scarlet and gray, but the fiasco that was foolishly firing a head basketball coach in January and the three-month bizarre and clumsy search for his replacement that followed did the Rebels no favors when it comes to how they are viewed by those in power leagues.
It's not good right now.
Said one Power 5 associate commissioner this week: "Everywhere I went the past four months, people wondered, 'What in the world is going on at UNLV?'"
Perception: UNLV isn't academically strong enough to warrant a Power 5 invitation.
Reality: Hogwash.
Don't get me started on some of the presumed higher institutions of academic learning in the Pac-12 and Big 12.
Len Jessup shouldn't avoid deserved criticism for his part in the coaching search, but nobody can accuse UNLV's president of not doing his best to markedly increase the overall academic profile of the school as it continues what will be at least a decade-long pursuit of Tier One status.
The new medical school is scheduled to welcome its first students in 2017 and UNLV is far better in the areas of research and hard science and fine arts and humanities than the outside world gives it credit.
This isn't 20 years ago.
"I think we're making good progress on the academic front," Jessup said. "You have to understand, it takes time to make all the changes you need to make, in addition to performing athletically to finally find a way to a (Power 5 conference). It's a long-term proposition for us. But the medical school is huge in this way."
Perception: A new stadium would hasten the chances of UNLV entering a Power 5 league.
Reality: It certainly wouldn't hurt.
Understand this: Football rules everything. It shapes every decision in major college athletics. Every move is driven by attendance and television sets when it comes to the most important sport. A stadium such as the one Las Vegas Sands Corp. and Majestic Realty Co. are proposing would give the impression UNLV is finally serious about football.
"The stadium is the other missing ingredient for (Power 5 status) after the academics," Jessup said. "It would be a great way for us to leapfrog ahead athletically. And if you're able to one day run with the crowd in a Pac-12, you're perceived differently. You attract different kinds of faculty and staff. You draw more students nationally and internationally. It puts you in a different caliber academically and athletically."
It's still a long shot.
A really long one.
Others will argue their cases, from Houston to Cincinnati to Memphis to Brigham Young to Central Florida to San Diego State and on and on. Already, select regents in Nevada are studying if UNLV moving to a Power 5 conference merely to consistently fight an uphill battle of budgets would be worth the financial commitment. There are questions to be answered, issues to be scrutinized.
But when debating whether UNLV could ever know the reality of Power 5 status, ask yourself this: Six months ago, had someone told you it appears more than likely that Las Vegas will soon have a state-of-the-art stadium whose main tenant would be an NFL team, how would you have responded?
Thought so.
The Review-Journal is owned by the family of Las Vegas Sands Corp. Chairman and CEO Sheldon Adelson.
Ed Graney can be reached at egraney@reviewjournal.com or 702-383-4618. He can be a heard on "Seat and Ed" on Fox Sports 1340 from 2 to 4 p.m. Monday through Friday. On Twitter: @edgraney
RELATED
Committee hears financing details, timeline for domed stadium that could lure Raiders to Las Vegas