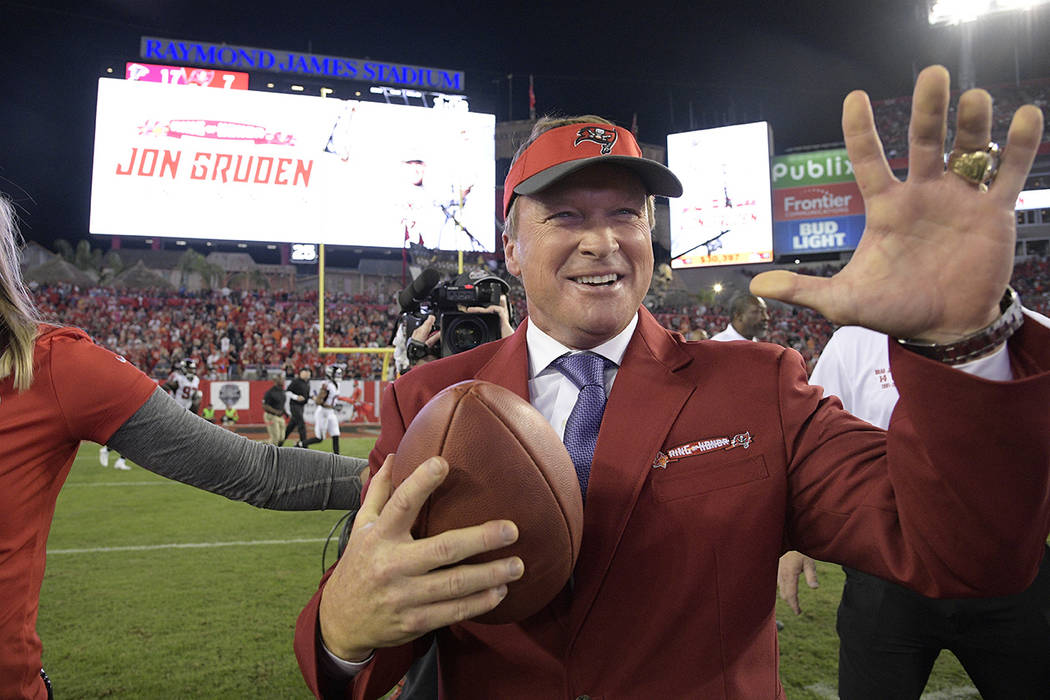 CARSON, Calif. — When it was all just a rumor, a stack of speculation taller than the Stratosphere Tower, this idea that the NFL would actually relocate to Southern Nevada, those descriptions of Raiders owner Mark Davis to the Las Vegas community hardly radiated with praise.
He was, accounts reported, the poorest of NFL owners, certainly not one with any formative level of juice when it came to swaying others in a room, just a guy who traveled hundreds of miles to get one of the world's worst haircuts and who many insisted some of his more powerful peers wanted out of their exclusive club.
A year later, here's my feeling on Davis: We should all be so inadequate.
The wheels continue turning as to what sort of team he intends on bringing to Las Vegas in 2020, his latest move to fire head coach Jack Del Rio following Sunday's regular-season finale loss to the Chargers at StubHub Center with reportedly every intention of replacing him with Jon Gruden.
It would take the 54-year old Gruden out of the television booth and back to the franchise he led to an AFC Championship game in 2000, the team he went 38-26 with over four seasons, before then beating the Raiders in Super Bowl XXXVII as head coach of Tampa Bay.
It's true Del Rio led the Raiders to their first playoff appearance in 14 years last season, was granted by Davis a four-year extension in February and as a former NFL player owned a strong sense of respect from most within the locker room.
He's not a bad head coach by any means.
"(Davis) told me he loved me and appreciated all I did to get this program going in the right direction, but that he felt the need to change," said Del Rio, dismissed after three seasons and a 25-23 record. "I told him how much I appreciated the opportunity he gave me. Very grateful. My childhood team.
"But it's a results business. I understand that. I do believe we have established a solid nucleus. Whoever comes in has a chance to take that nucleus and go to special places. I'll be pulling for them."
This is also true: If you can convince Gruden to put down his "Monday Night Football" microphone and again start tutoring a specific roster of NFL quarterbacks instead of several college prospects at the position for an annual made-for-television draft preview, you make this move with zero hesitation.
You make it every day and twice on Sunday.
Gruden could be a lock
While reports continue to suggest Gruden will indeed soon be introduced as the Raiders coach — claims that only intensified when Davis fired Del Rio just minutes after the team's 30-10 defeat that concluded a 6-10 season — this is hardly a new storyline when it comes to the guy who last coached in 2008.
There hasn't been an offseason since Gruden embraced his role as an analyst where his name wasn't mentioned for college and NFL openings. It somehow always creeps into headlines, and I don't believe for a second he doesn't enjoy such flattery.
But this time, the Raiders might actually turn conjecture about Gruden's future into fact.
It might be Davis and it might be team president Marc Badain and it might be a host of others who aren't as publicly celebrated and it might be all of that and more, but this we know: The team bargained its way into landing a $1.9 billion NFL stadium in Las Vegas, of which $750 million will come from tax-exempt bonds; it has also reportedly convinced the city of Henderson to sell a 55-acre parcel of land for a practice facility at half its $12 million value.
Translation: It's probably not the best time to bet against Davis landing Gruden with an offer that could include an ownership stake in the team, the idea of inheriting a young quarterback in Derek Carr of whom Gruden has often spoke highly and the opportunity to eventually lead the Raiders into that fancy new Las Vegas stadium.
"I know (Gruden)," Carr said. "I've known him for a while. But the (Del Rio firing) is still pretty fresh."
It won't seem that way over the next several days, when you can bet the Gruden-to-Raiders banter will only get louder.
You figure if Mark Davis is as inadequate as everyone insisted a year ago, the deal might already be done and Chucky is returning to a silver and black sideline many believe he never really wanted to leave.
Contact columnist Ed Graney at egraney@reviewjournal.com or 702-383-4618. He can be heard on "The Press Box," ESPN Radio 100.9 FM and 1100 AM, from 11 a.m. to 2 p.m. Monday through Friday. Follow @edgraney on Twitter.