Doug Martin hopes to write great comeback story with Raiders
Updated June 13, 2018 - 9:25 pm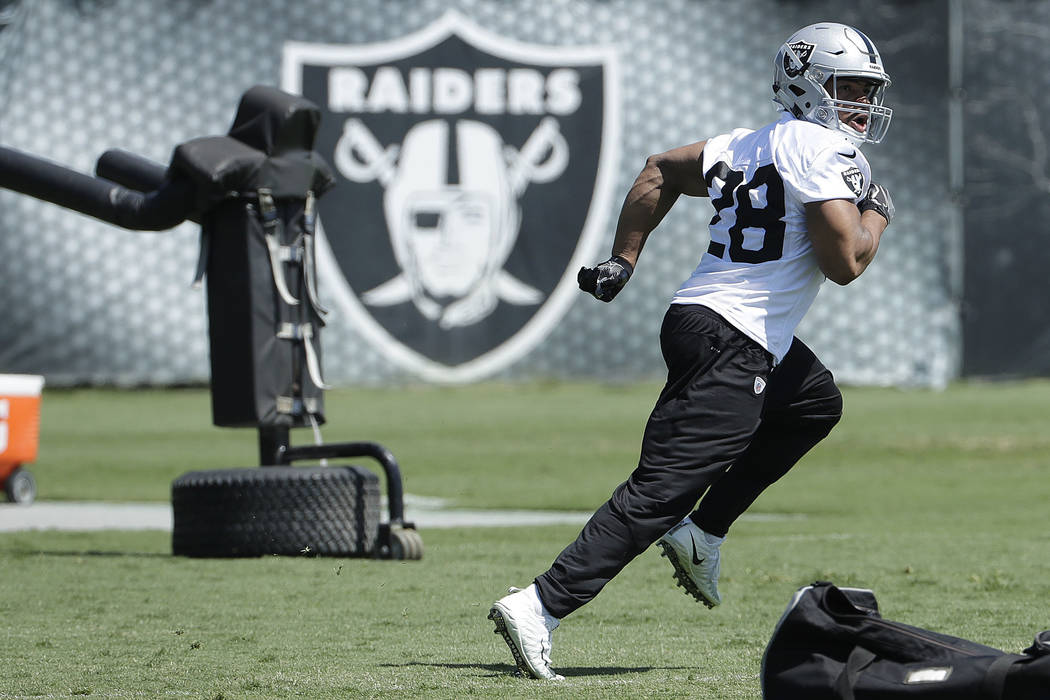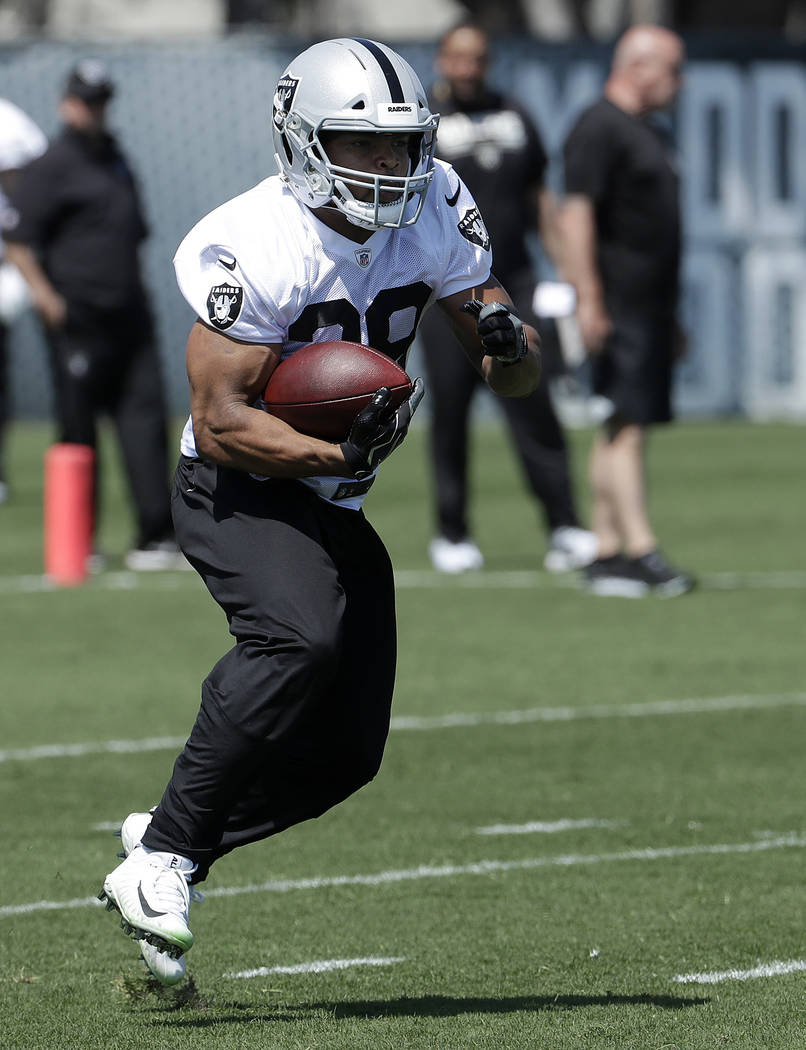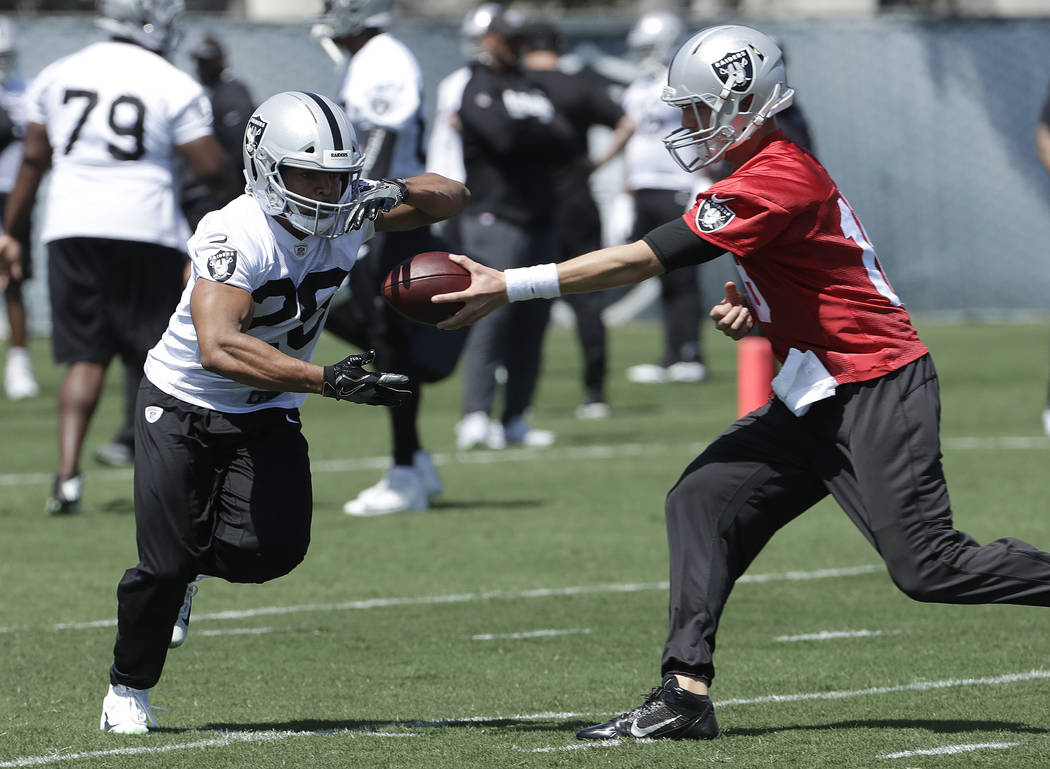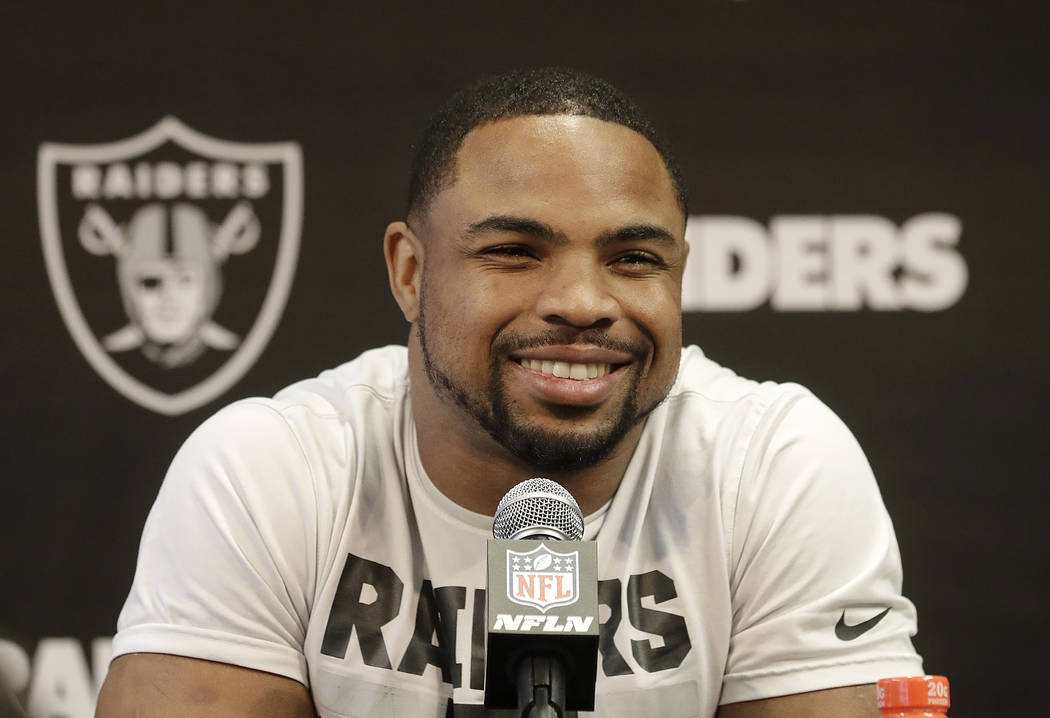 ALAMEDA, Calif. — Is there any story as captivating as one when a main character fails while pursuing his dreams and then is offered a second chance to absolve such disappointment?
The comeback remains an exciting tool.
Jon Gruden is writing such tales in his return to coaching the Raiders, betting those offered another opportunity will work even harder.
He is betting big-time on a player such as Doug Martin.
I hear the name and immediately think back a few years, when it was time for our annual Fantasy Football League draft at our favorite dining spot and you would have thought earning the No. 1 pick and a chance to select Martin was either comparable to spending the early 2000s with Marshall Faulk and LaDainian Tomlinson as your running backs or scoring a free order of smoked wings.
Yeah. We never got the wings, and things sort of went awry for Martin.
He is among several players the Raiders signed to one-year contracts, whether it's hoping previous magic returns to certain games or simply inserting an experienced body at a position of need.
Martin falls under the magic part.
The 29-year-old running back has twice in a six-year NFL career come within yards of 1,500 in a season, drafted by Tampa Bay in the first round out of Boise State, a two-time Pro Bowl player born in Oakland, California, and raised in Stockton, now playing for the team he grew up cheering.
But never say a career's trajectory can't change in an instant.
Or, well, by testing positive for drugs.
Martin was all set for what the Buccaneers thought would be a stellar 2016 season, having signed a five-year, $35.75 million extension. But then December arrived and he was suspended four games for violating the league's substance abuse policy, eventually entering a treatment facility for Adderall and forfeiting $15 million in guaranteed money.
The suspension carried into last season, when Martin played in 11 games and rushed for a career-low 406 yards with three touchdowns.
Tampa Bay released him in February.
That second chance came a month later.
"It means everything to me," Martin said. "I'm very blessed and grateful for coach Gruden and the Raiders to take me and give me the opportunity.
"The past couple of years, I just got in my own way. Just not focusing on the right things. If you read the news, you already know what happened, but I'm a lot better now. I can't wait to get the season going."
He will get every chance to make an impact.
Wobbly best describes the team's run game until proven otherwise, a unit again led by Marshawn Lynch, who was as much an offensive threat as the team had in the second half last season, when he rushed for 625 yards and five scores.
He's also 32.
Overtaking Lynch?
Martin has taken the No. 2 reps during a three-day mandatory minicamp that ends Thursday, and the idea that he could eventually overtake Lynch for the top spot certainly isn't implausible.
Injuries also have slowed Martin, a power back who hasn't finished with a 100-plus-yards game in two years but who ranked second in the NFL in rushing yards to Adrian Peterson in 2015.
That's the guy Gruden still believes exists within a 5-foot-9-inch frame, the guy his new teammates realize could make all the difference in the world at a position that needs to produce if wins are to come.
"Obviously, with running backs, you're going to see the most out of them when the pads come on," quarterback Derek Carr said. "But everything we've seen of Doug is awesome. You see why he's an All-Pro. You see why he's a 1,500-yard back. His work ethic is unbelievable."
Here's one part folks might have forgotten about Gruden's offense: He uses multiple backs, to the point that only twice under him has one player topped 1,000 yards in a season, while few coaches call for as many throws to running backs. In eight of his 11 seasons as a head coach, a back has caught at least 40 passes.
It means the player who has come home to play for his childhood team, competing with another in Lynch who came home to play for his childhood team, will be given every chance.
"My approach is just basically that I'm a rookie again," Martin said. "I have to prove to the team, the players, the coaches, that I can be useful. Just act like a rookie and go out and play — play the game that I love."
You can't beat a great comeback story.
Now all Martin has to do is provide the finish.
Contact columnist Ed Graney at egraney@reviewjournal.com or 702-383-4618. He can be heard on "The Press Box," ESPN Radio 100.9 FM and 1100 AM, from 11 a.m. to 2 p.m. Monday through Friday. Follow @edgraney on Twitter.
Martin's career stats
Year yards TDs
2012 1,454 11
2013 456 1
2014 494 2
2015 1,402 6
2016 421 3
2017 406 3