Ducks may be afterthought, but history suggests otherwise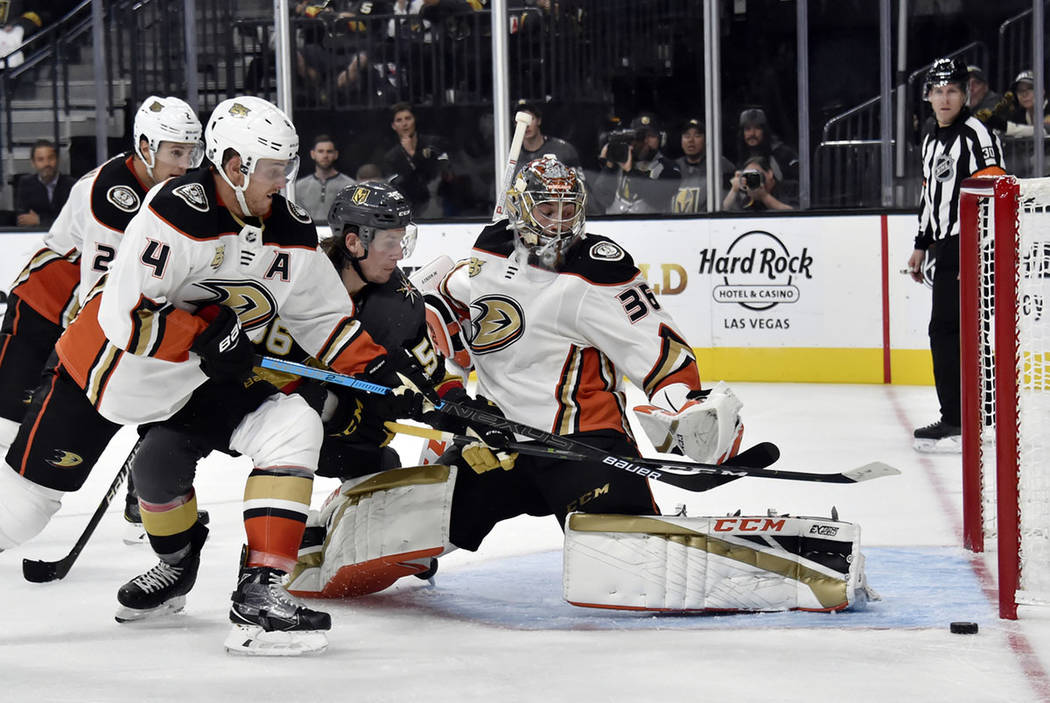 They were an afterthought in most preseason forecasts, not the team that traded for a generational player, not the team that went from expansion draft to a Stanley Cup Final, not the team with Drew Doughty sputtering whatever nonsense Drew Doughty offers in his next sound bite, not the last-place team that supposedly improved itself.
You're never really sure what to make of the Anaheim Ducks.
It's a wonder they were once owned by Disney, because you would rarely compare them to the exhilarating twists and turns of Space Mountain.
I suppose winning a lot has had to suffice.
Others might have been picked atop the Pacific Division in predicting how the season might play out, but recent history suggests Anaheim will more than have its say about who sits atop the standings at season's end.
Which makes a 3-1 victory by the Golden Knights on Saturday night all the more impressive. Yes, even this early in a schedule.
Vegas before an announced gathering of 18,375 at T-Mobile Arena played by far its best game of the young season, outshooting the Ducks 45-18 and looking strikingly similar to the Western Conference champions of a year ago.
The Knights were good.
I mean, really good. I mean running four lines and breaking out and applying pressure from the outset and getting pucks on net.
This was Vegas of six months ago.
Anaheim began the season 5-1-1 despite, like Vegas, playing without a handful of leading names. Key injuries haven't just touched the Knights in the Pacific. Others are down as well.
But whoever said you should learn from competitors and yet avoid copying them never ran a professional sports franchise, because if it's one thing those in this arena are expertly proficient at, it's duplicating what makes for the best teams.
And in this time of the NHL, that's speed.
When the Ducks won a Stanley Cup in 2007, much as the Kings when capturing titles in 2012 and 2014, the norm was big, heavy teams. Anaheim could skate some back then, but its forecheck reigned supreme.
Guys were less complex than now, more the common Joe. But then the Penguins won consecutive Cups in 2016 and '17 and a shift arrived to the game, players becoming leaner, stronger, more skilled.
The Ducks, who won five straight Pacific titles before the Knights grabbed the crown last season, are trying their best to become part of that style.
Which means they are younger and faster.
Fast means dangerous
"They have been good for a long time, but I think we made a statement last year with how we played and how well it worked on the ice," said Knights defenseman Shea Theodore, who was drafted by Anaheim with the 26th overall pick in 2013 and played a total of 73 games with the Ducks. "A lot of teams around the league took notice and are now trying to follow suit.
"It's not so easy just to change (overnight). A lot of guys are locked up or restricted. So when you find a guy who can fit the style you want, you have to do what you can to get him. Teams are faster now. They come in and you haven't seen them for a while and it takes you aback a little to start. They're a little more dangerous now."
Vegas was the dangerous team Saturday, and again the faster one. Whatever speed the Ducks might have gained since being swept by San Jose in the playoffs last year was neutralized by a Knights side that was in top form.
But while the Sharks landed the league's best defenseman in Erik Karlsson and Vegas exchanged some important names for others and, heck, even Arizona was thought to have gotten better (ouch), the team with the second-longest current playoff streak next to the Penguins was sort of forgotten in the minds of those evaluating the division.
Which, given the Ducks have managed at least 101 points in each of the last five seasons, was fairly stunning.
"They're a good team, real fast, great goaltending, have had a lot of injuries and yet doesn't make excuses," said Vegas coach Gerard Gallant. "We had to play our game — fast and on the forecheck. I liked everything. I liked our whole game. It was definitely our best 60 minutes of the season so far."
The Knights were good. I mean, really good.
They had to be. Anaheim is a pretty darn good afterthought.
More Golden Knights: Follow all of our Golden Knights coverage online at reviewjournal.com/GoldenKnights and @HockeyinVegas on Twitter.
Contact columnist Ed Graney at egraney@reviewjournal.com or 702-383-4618. He can be heard on "The Press Box," ESPN Radio 100.9 FM and 1100 AM, from 7 a.m. to 10 a.m. Monday through Friday. Follow @edgraney on Twitter.