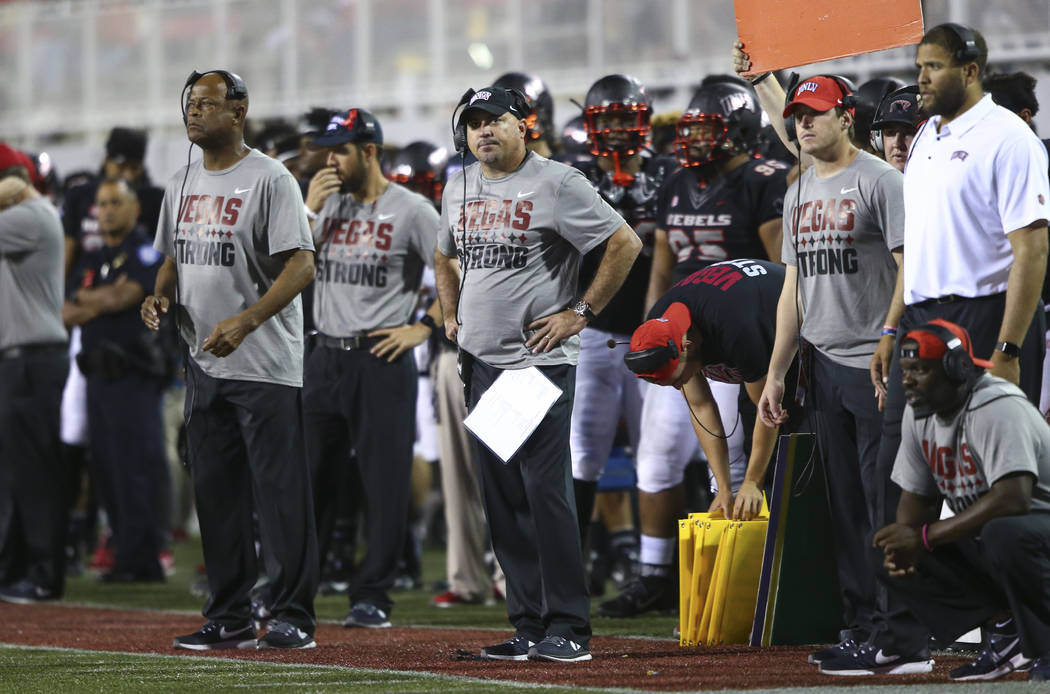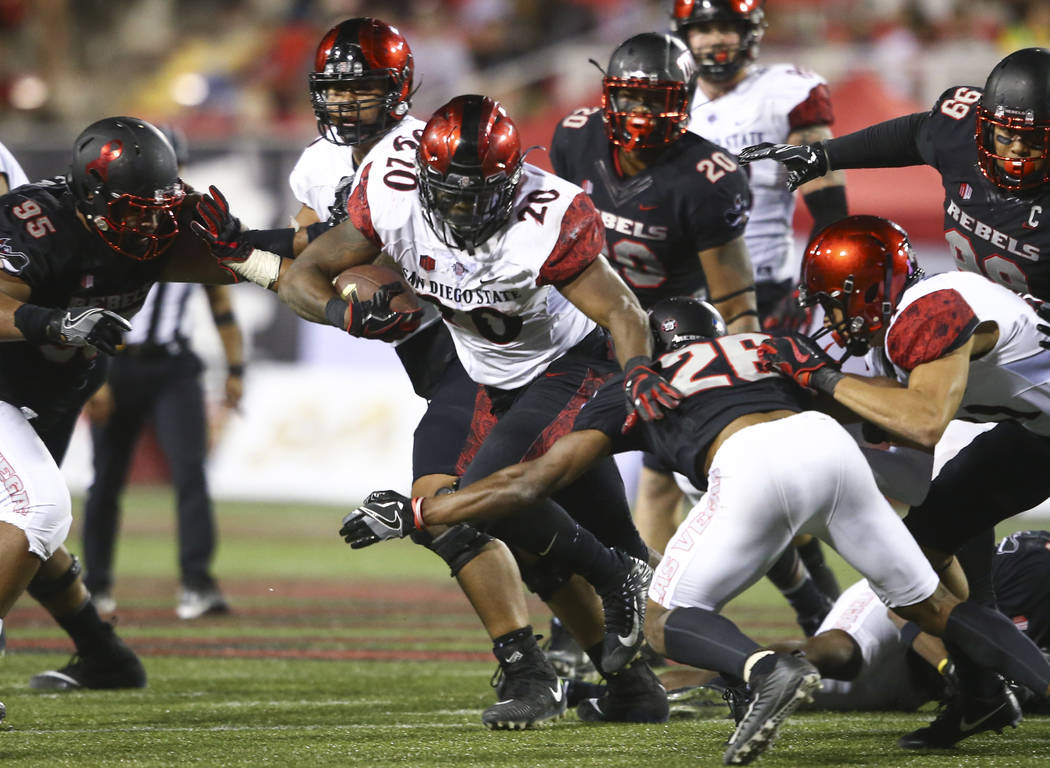 The pregame ceremony was as poignant as forecast, a special remembrance that brought together heroes of all walks of Las Vegas life.
In honoring those killed and injured in the shooting massacre, UNLV on Saturday night played the role of champion.
Then its football team went out and saw what one looks looks like on the field.
It's a slow and steady and incredibly frustrating climb when it comes to the Rebels trying to match and compete with San Diego State, a two-time defending Mountain West champion that is ranked 19th and might be the best Group of Five team this season.
The Aztecs were certainly good enough to soundly beat UNLV 41-10 before 19,770 at Sam Boyd Stadium, where what has been a common difference between the programs lately again proved significant in the final result.
San Diego State is just better up front on both sides, is all.
It remains a far more physical program.
It's also 27-3 in its past 30 games.
"(San Diego State coach Rocky Long) has a program there and expectations in place," UNLV coach Tony Sanchez said. "Those guys expect to win, and we really want to win. We need to change our expectations around here."
There were signs the Rebels might have narrowed the gap with San Diego State in terms of toughness, but nothing shown Saturday suggests that's the case. As much as UNLV has offered a consistent run game the past two seasons, it still can't stop others from doing so. It really can't stop someone as good as San Diego State from doing so.
Heck, the Rebels couldn't even run, and they've run on most everyone recently.
They entered averaging 305.5 yards rushing, which ranked sixth nationally.
They managed 106 on 31 carries.
Lexington Thomas had averaged 142.8 yards rushing through four games for UNLV.
He finished with 54 on 14 carries.
You're not going to beat Mountain West bottom feeders with that output on the ground, never mind its best team.
They seem to have more of a surplus of linemen and running backs in San Diego nowadays than they do surf and sand, or perhaps the Aztecs are just better at recruiting those positions than everyone else in the conference.
Whatever the reason, the Aztecs lost four starting offensive linemen and the all-time leading rusher in NCAA history off last year's 11-win team and still line up and methodically grind away opponents.
Rashaad Penny is the country's second-leading rusher and only added to that standing with 170 yards on 27 carries, his team totaling 302 on 46 rushes.
More than any other Aztec, it was the senior Penny this past week taking the lead on sending thoughts and prayers to Las Vegas in the wake of tragedy.
"I'm sorry for the city," Penny told ESPN2 after Saturday's game while wearing VEGAS STRONG eye black. "It hurts what they're going through. They came out and played an emotional game. I felt the emotions every play. We're so sorry for what happened and send our blessings out to them."
The game just had a strange vibe to it, which was expected given what the city has endured. It became pretty apparent early on that San Diego State was again much better, but it was going to take something profoundly unique for many to totally focus on football following the opening ceremony.
What has been an emotionally draining week across Nevada was again brought to life by the presence of first responders, of police and fire and medical staff, of survivors, of a 100-yard American flag unfurled for the national anthem.
Of wonderful renditions of "God Bless America" and "The Star-Spangled Banner."
Of a halftime show highlighted by the song "Proud to be an American."
"A lot of people are dealing with a lot of stuff right now, but you still have to be mature and go play a football game," Sanchez said. "Obviously, San Diego State is a good team, but we had plenty of opportunities. We were flat in the second half. I didn't see much emotion or energy.
"Keep working, keep recruiting, keep playing them. They were just tougher and more physical than we were on both sides of the ball. It just shows we have a lot of work to do."
It just shows nothing has changed between the program that expects to win and the one that really wants to.
Contact columnist Ed Graney at egraney@reviewjournal.com or 702-383-4618. He can be heard on "The Press Box," ESPN Radio 100.9 FM and 1100 AM, from 11 a.m. to 2 p.m. Monday through Friday. Follow @edgraney on Twitter.