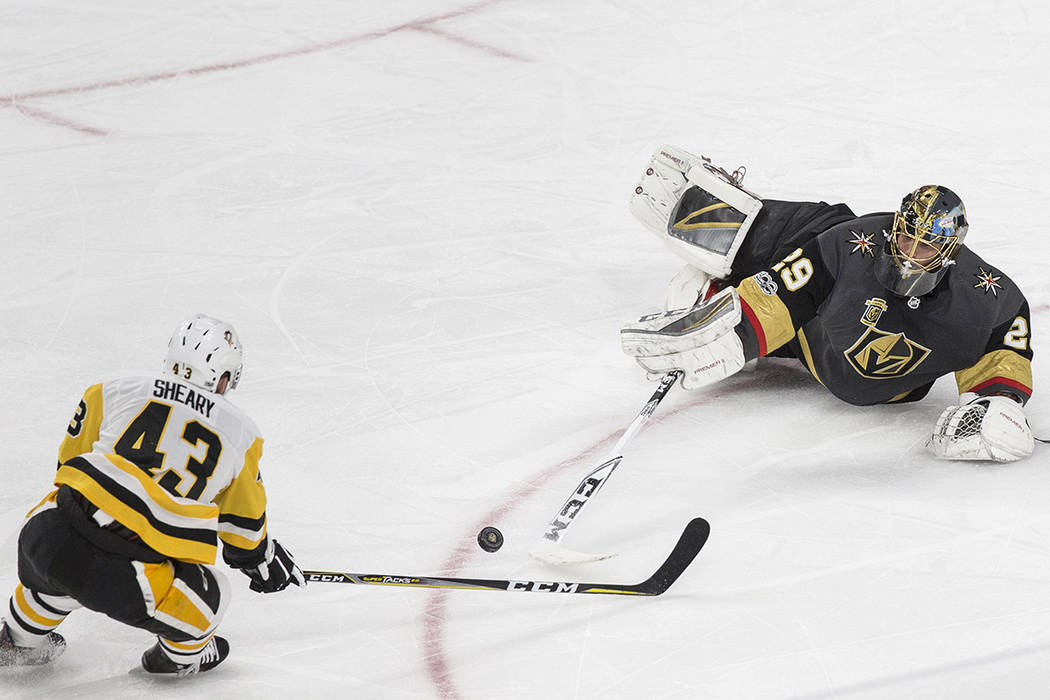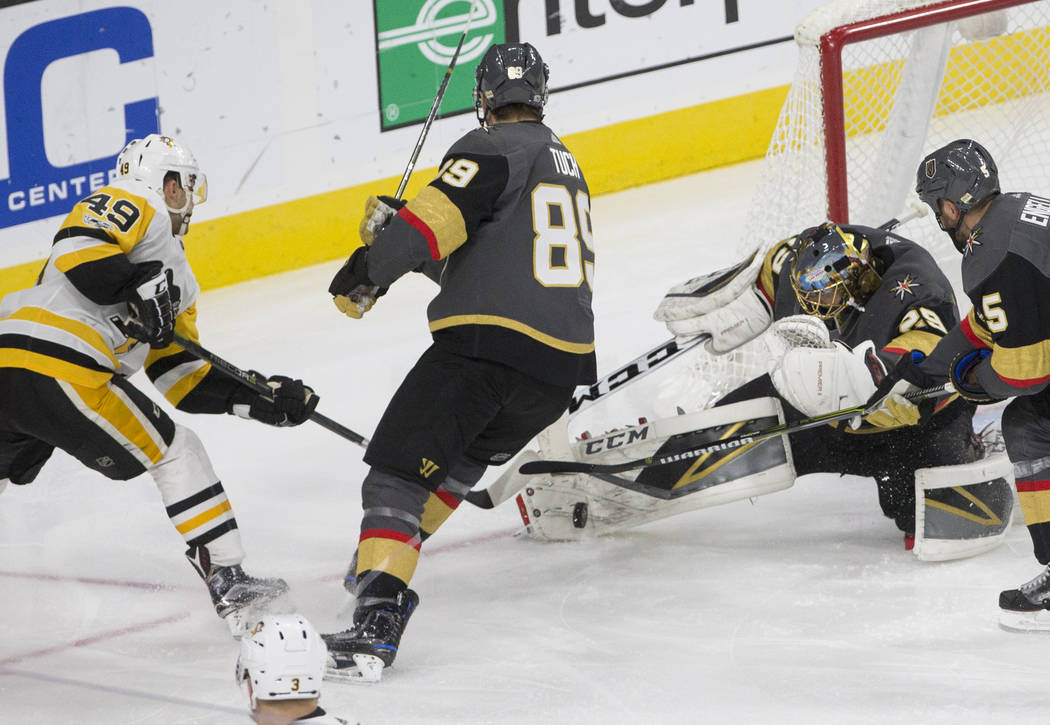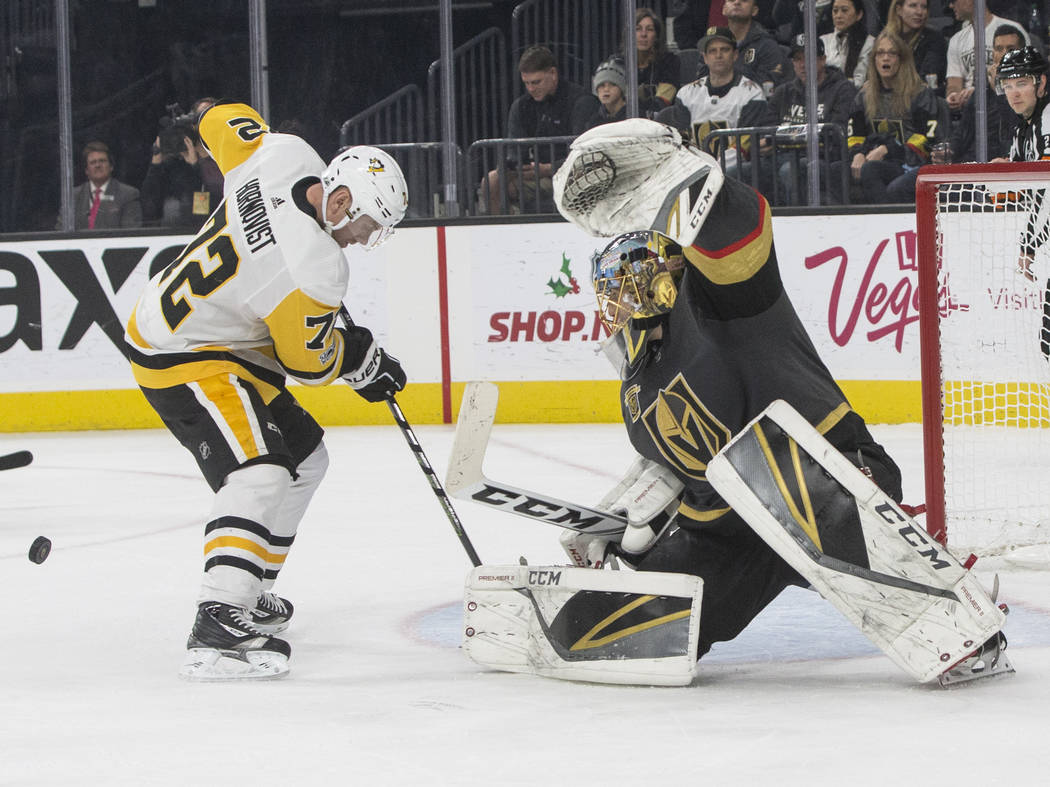 It was different, but not exactly in the way Joe Montana once wore a Chiefs jersey or Michael Jordan once shot jumpers for the Wizards or Johnny Unitas once played football for the Chargers.
Not that anyone on the Pittsburgh Penguins would compare Marc-Andre Fleury to frying an egg too long.
Those folks with the Baltimore Colts were a little nuts back in the day.
It was different in the way that when the best player at his position in a franchise's history meets his former team for the first time while a member of another, emotions seem to rise far beyond the boards and glass of a hockey rink.
Fleury would play that role Thursday night when the Golden Knights welcomed the two-time defending Stanley Cup champion Penguins and seemingly most folks in this and neighboring states who own Pittsburgh sweaters to T-Mobile Arena, where Vegas rode the inspired play of their goalie to a 2-1 victory before a sellout crowd of 18,029.
"It was pretty good," Fleury said. "A bit relieving. I've been thinking about this game for a little bit … finally over with and we got the win. It was good. To end up with two points is big. I think all game — I could see them coming down, guys I used to see all the time. A little weird. Just tried to relax.
"I had no clue what (to expect). I've played against guys I've played with before, but just one guy here and there. Not like almost a full team. It was different. I was actually quiet. I didn't (talk) much at all, and I don't know why. I usually yell. I don't know. Just quiet."
You could tell he was amped for the game when, early in the first period, he skated to the blue line, dove and poked the puck away from a rushing Conor Sheary, a move I'm guessing speaks more to Fleury's athleticism than anything talked about in the goalie room when it comes to strategy.
It was appropriate also that Matt Murray returned to Pittsburgh's lineup following a six-game absence with a lower-body injury, the goalie who replaced his mentor Fleury as starter with the Penguins, deeming the team's all-time leader in wins and shutouts expendable for the Knights to select in the expansion draft.
There undoubtedly will be an even more intense level of emotion Feb. 6, when Fleury and the Knights visit Pittsburgh, when he returns to the place he was part of three Stanley Cup championship teams, the place he knew as an NHL home since he was the No. 1 overall draft pick in 2003.
As for his first taste of trying to stop the likes of Sidney Crosby and Evgeni Malkin and Phil Kessel, he was hardly so caught up in the moment that it affected his play. Fleury denied all but one of Pittsburgh's 25 shots, adding a few of those acrobatic saves his reflexes made famous over so many years.
It was an even game with terrific goaltending from both sides that allowed the Knights to smash the NHL record of an expansion team fastest to 20 wins, which Vegas has now accomplished in just 31 games.
It was electric for all the right reasons.
"It's about the end of the year for me, seriously," Knights coach Gerard Gallant said. "We don't get up to play every night the way we did tonight. But the guys want respect, and that's the way you get it — by beating good hockey teams."
They beat the NHL's best and that includes any team with more points this season, because as much as anything, the Penguins are very much like the Warriors of the NBA, where you know what you get in the playoffs is a far different level from a December evening.
Even then, they looked pretty darn good.
But this is why it was so different Thursday:
In 2014-15, Murray was named Rookie of the Year in the American Hockey League for the Wilkes-Barre/Scranton Penguins, where he set a league record for the longest shutout streak: 304 minutes, 11 seconds.
One day shortly after season's end, his received a text from a person he had no relationship with, his idol, the goalie he had admired for years from afar.
"Before I had ever made the team in Pittsburgh, never really talked to him, and he had taken the time to find my number and tell me congrats on a great season and that he would see me in training camp the next year," Murray said. "He was my mentor … I just feel so lucky to have studied and played under him for a couple years."
This is why it was so different: That within the Penguins locker room, you could find countless similar stories about Marc-Andre Fleury, ones of a treasured teammate and champion now wearing a different jersey, of a close friend crouching in the crease of an opposing net, and, mostly, the emotion that comes from it.
Contact columnist Ed Graney at egraney@reviewjournal.com or 702-383-4618. He can be heard on "The Press Box," ESPN Radio 100.9 FM and 1100 AM, from 11 a.m. to 2 p.m. Monday through Friday. Follow @edgraney on Twitter.