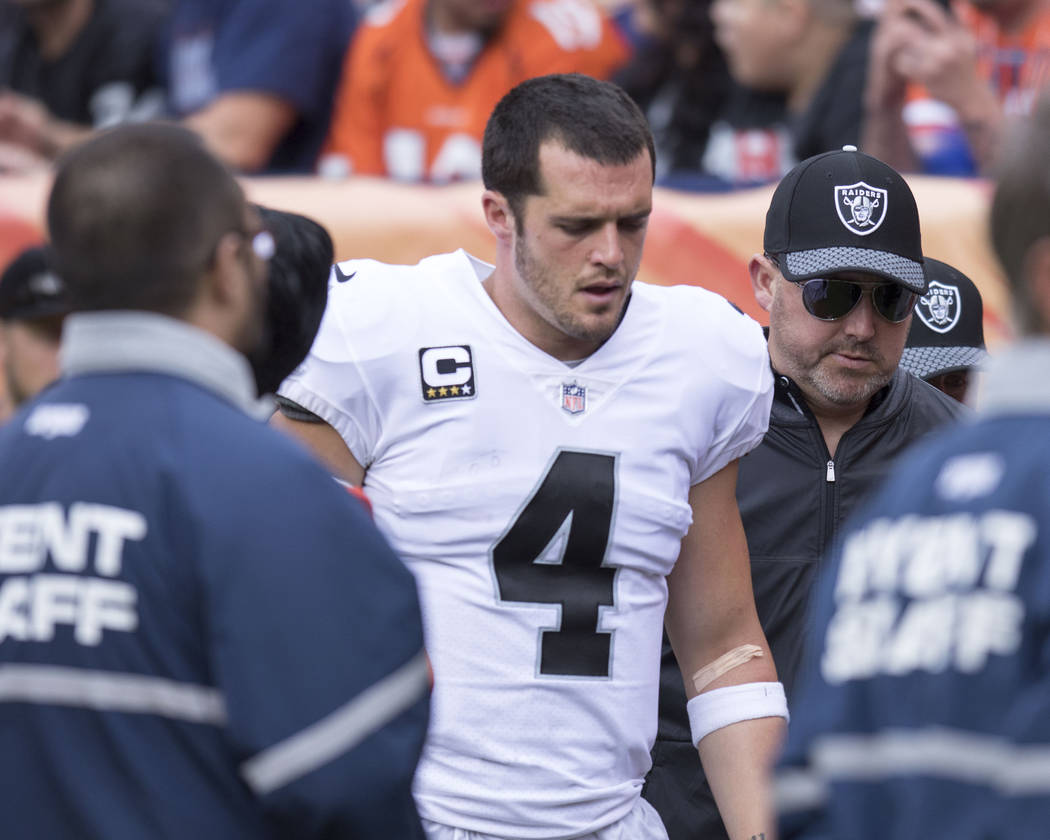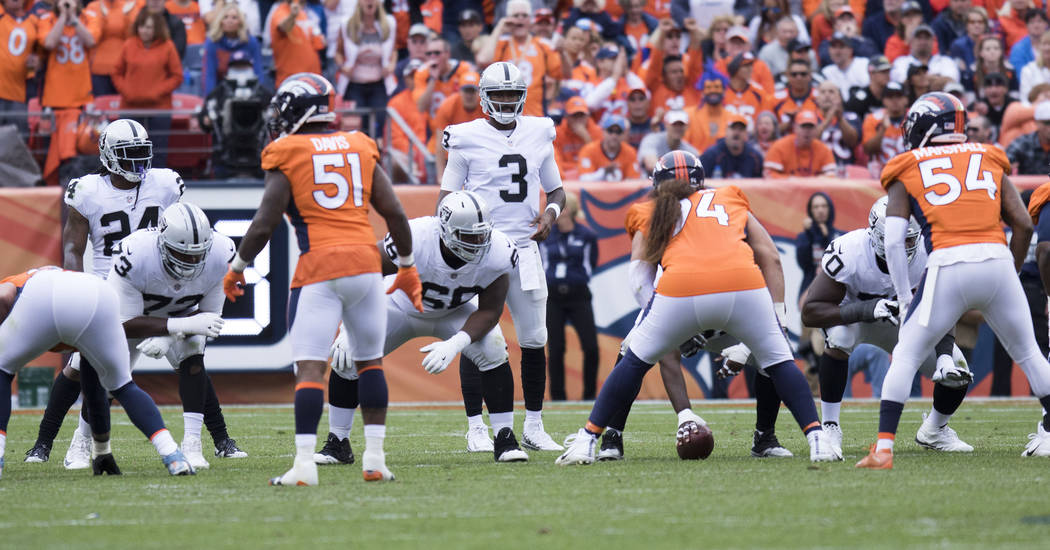 DENVER — Long before the $125 million quarterback took off running and was blasted to the point his head twisted and a severe pain shot up his lower back, issues were obvious.
They didn't just appear out of the thin mountain air at Sports Authority Field on Sunday.
Moving the ball right now is a Mile High problem for the Raiders.
The collected sigh you heard in and around the visitor's locker room was a direct reflection of what occurred with Derek Carr last season, so even in a 16-10 loss to the Broncos, the Raiders discovered some semblance of positive news.
The back injury suffered by Carr with just over five minutes remaining in the third quarter doesn't appear serious, unlike the broken fibula that cost the team a shot at winning the AFC West and finding any success in a wild-card playoff game last year.
But even before Carr was injured and replaced by fifth-year pro EJ Manuel, the anemic offense that reared its ineffective self in a loss at Washington last week was again struggling like a novice hiker in these parts trying to make that 16-mile trek to Lost Falls.
For two weeks now, the Raiders haven't run at all, haven't blocked at all, keep dropping passes and can't covert to continue drives.
They haven't done those things a lot of folks are being paid a lot of money to do.
"If you hold people to 16 (points), you should be able to scratch off a win," Raiders coach Jack Del Rio said. "I'm a little disappointed, but I understand this league. After one quarter of (the season), we're three out of four on the road and 2-2. That's what we have earned.
"I can't sit here and tell you who or what the biggest culprit is, so I will take the responsibility. Just put it on me and say the coach says we are going to get it fixed."
The record might not be surprising given life on the NFL road isn't an easy task for anyone, but how it has been delivered is.
Any and every preseason storyline about the Raiders pretty much went along these lines: The team will go only as far as a questionable defense takes it, because the offense is as good as the league knows.
That explosive side rushed for 24 yards Sunday.
Total.
It's now 2-for-23 on third down the last two weeks.
Carr combined to throw for just 20 yards in first quarters at Washington and Denver.
Amari Cooper, who had two catches for 9 yards Sunday, has an NFL-leading seven drops through four games.
Marshawn Lynch in two defeats: 15 carries, 30 yards.
O-line is struggling
"I'm pissed," left tackle Donald Penn said. "We have to get things fixed. It just sucks, man. Losing two in a row. You're going to ask me why, but I can't sum it up for you right now. We have to figure out a way to get stuff going. We're not doing our jobs. I'm concerned. The defense is playing their butts off. Hats off to them, but we've got to step up. Woulda-shoulda-coulda gets get you an 'L.' That's what we got."
It's true Denver is one of the league's best defenses and the Raiders were without wide receiver Michael Crabtree, out with a chest injury suffered against the Redskins. The Broncos are holding opposing No. 1 running backs to 1.9 yards per carry. Nobody has run against them.
But the hype about a Raiders offensive line that many believe ranks second to Dallas in the NFL has absolutely been tempered. Everyone can play better on offense, but the things that need fixing better begin with the biggest bodies.
A key moment Sunday: Trailing 10-0 from the Denver 31 with 9:05 remaining in the second quarter, the Raiders went on fourth-and-1 instead of attempting a Giorgio Tavecchio field goal.
Lynch ran straight behind that vaunted line.
No gain. No points.
There is also this: Carr has been sacked 10 times this season, six in the last two weeks.
He went down 16 times all last year.
If there is a recipe for improvement, it might be found in the fact the Raiders now return home, where they will play three games (against Baltimore, the Chargers and Kansas City) over an 11-day span.
It's not yet panic time, but chasing in the NFL can get dicey when teams like the Chiefs and Broncos look as good as they have early on.
"We just need to keep going," Carr said. "We aren't going to stress out or anything like that. The little details are lacking for us right now. We are just little details away from making big, big plays. We're really close, but we have a lot of work to do."
It's sort of how the exhausted hiker feels on mile 9 en route to Lost Falls.
More Raiders: Follow all of our Raiders coverage online at reviewjournal.com/Raiders and @NFLinVegas on Twitter.
Contact columnist Ed Graney at egraney@reviewjournal.com or 702-383-4618. He can be heard on "The Press Box," ESPN Radio 100.9 FM and 1100 AM from 11 a.m. to 2 p.m. Monday through Friday. Follow @edgraney on Twitter.
Raiders offense at Denver
— Total yards: 254
— Rushing yards: 24
— Third-down conversion: 2-of-12
— First downs: 11
Related
Derek Carr gives Raiders injury scare in 16-10 loss to Broncos
Raiders QB Derek Carr exits game after taking knee to back against Broncos
Vegas Nation: Raiders lose second straight game
Vegas Nation Social Sound Off: Raiders lose to the Denver Broncos