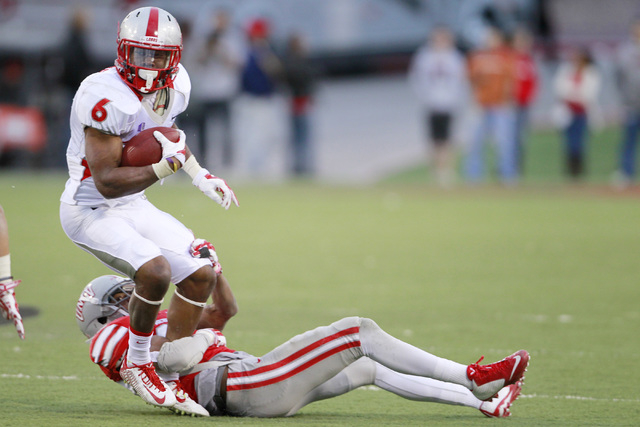 Bob Davie was named football coach at New Mexico in November 2011, inheriting a program that had lost 11 games in each of the previous three seasons. The Lobos were God-awful.
Davie knew he needed a hook, a niche, something that would help offset the obvious advantage opponents owned in talent while allowing New Mexico a fighting chance to become competitive.
He installed the triple-option offense, your basic mind-splitting migraine for defensive coordinators.
Davie gave the Lobos an identity.
Which begs a question: Does UNLV have one, and if so, what in the world is it besides losing?
New Mexico and an offense that doesn't even pretend it wants to throw the ball made official on Saturday what anyone with eyes has known for a month, that the Rebels will not follow their first bowl appearance in 13 years with another.
In a battle of Mountain West bottom-feeders, the Lobos beat UNLV 31-28 before an announced gathering of 13,419 at Sam Boyd Stadium, sending the Rebels to a seventh loss in nine games and fifth-year coach Bobby Hauck to answering more questions about another defeat and the state of his program.
"In general, I think our identity is that we're tough and disciplined and do things the right way on and off the field and play football the way it's supposed to be played," Hauck said. "Our identity is that we want to win football games and produce guys that are going to be great at whatever is next for them.
"I hope that every guy who walks out the door says he is better off for having played here. As for football, I think we're a hard-nosed team that finds ways to move chains and grind out wins. That's what we have to be. Grind it out and find ways to outscore the opponent somehow."
It's a nice theory.
It just hasn't been the case much over the past five seasons.
Not the football part, anyway.
This isn't a vote for the triple-option. Hardly. New Mexico is 10-23 overall under Davie and 3-17 in conference.
The Lobos are much like UNLV in that they can't stop a nose bleed defensively. New Mexico isn't one to pattern yourself after when searching for football success.
But it's difficult to view UNLV as tough as Hauck proclaims when it hasn't over five seasons consistently run the ball or stopped the run.
It's difficult to prove you're disciplined when you have 10 penalties for 69 yards against the likes of New Mexico, six of the infractions being false starts.
UNLV is 15-45 under Hauck, and I suppose most of the wins have been the sort of grind-it-out results of which he speaks.
But whether it was the pro-style offense Hauck brought to UNLV or the spread attack he installed under a new offensive coordinator last season, the only identity these Rebels have had when moving the ball is that of inconsistency.
The only identity they've had defensively is allowing huge chunks of yards and points weekly.
"It's frustrating," senior safety Mike Horsey said. "It has kind of been the story … almost there but can't find a way to finish. Almost isn't good enough, and our record speaks for that.
"It's difficult. You want to stay positive. You don't want to point fingers. You don't want to criticize each other. Just do your best to stay positive."
Here is the most basic, honest, fair sense of identity by which you can describe UNLV: It just isn't good enough at anything to win at this level on a regular basis.
It doesn't coach well enough, doesn't execute well enough, doesn't adjust well enough, doesn't draw fans well enough, doesn't finish well enough. It follows a good play with two bad ones. It's like Jose Canseco cleaning a gun, shooting itself over and over during games.
Bob Davie gave New Mexico a football identity in 2011 so that the Lobos wouldn't be obliterated weekly, and yet his program still isn't thought of much at all across the national landscape.
It, like UNLV, merely exists.
Bobby Hauck believes he gave the Rebels an identity since arriving in December 2009, but how he defines it and what results have shown couldn't be more opposite.
UNLV trotted out a junior walk-on kicker named Brian McIntyre on Saturday with one second remaining to attempt a 55-yard field goal that would have tied the score.
McIntyre, who isn't listed on the official roster and who those in the press box who cover the team on a daily basis had never heard of, gave it a good effort but came up short.
It's pretty much how you would think a game between bottom-feeders might end.
"I thought it was good," UNLV wide receiver Anthony Williams said. "Like a dagger through my heart."
Now there is an identity UNLV and its fans can relate to.
Las Vegas Review-Journal sports columnist Ed Graney can be reached at egraney@reviewjournal.com or 702-383-4618. He can be heard from 11 a.m. to 2 p.m. Monday through Friday on "Gridlock," ESPN 1100 and 98.9 FM. Follow him on Twitter: @edgraney.