Excellence alone won't turn Barao into superstar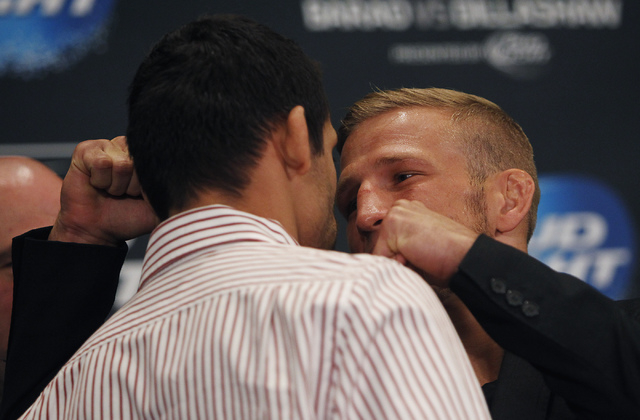 Dana White has heard it all.
Or, as the Ultimate Fighting Championship president tells you, every stupid thing.
The kid isn't good looking enough. He doesn't speak English. He fights at a weight division that hardly stirs the hunger of those purchasing tickets and pay-per-view packages.
"Listen," White said. "If you're showing up to see a handsome guy speak on Saturday night, you're coming to the wrong (bleeping) show."
OK then.
The most impressive of UFC champions, a guy who hasn't lost in nearly 10 years, who has won 32 consecutive fights, who finishes better than LeBron James in the open court, who is a betting favorite in the realm of Floyd Mayweather Jr., is someone the mainstream enthusiast would fail miserably at picking out of a lineup.
But there is no debating the greatness of Renan Barao.
There is no questioning his dominance.
His is an incredibly imposing resume that will be on the line again tonight, when Barao opposes T.J. Dillashaw in a main event bantamweight fight of UFC 173 at the MGM Grand Garden.
Barao is a minus-800 favorite who doesn't arouse interest of the casual fan for many of the reasons White mocks. There have been few, if any, better champions in UFC history than Barao, and yet women's bantamweight queen Ronda Rousey sells more pay per views walking across the street.
It's more disconnect than anything with Barao, and to suggest the fact he doesn't speak English isn't a hindrance in marketing such an accomplished fighter is a narrow-minded stance.
It would be nice if fans financially supported fighters strictly for their talent inside a ring or Octagon, but the history of combat sports is littered with examples of champions not relating with those outside them for reasons other than skill.
"The language barrier always has something to do with it," said light heavyweight contender and Fox Sports 1 contributor Daniel Cormier, who engages Dan Henderson on tonight's card. "(Barao) is a smaller guy, and as a culture, human beings like to see the big guy because he can knock you out. Crazy thing is, Barao can knock you out.
"It's like he comes into our lives to fight and then disappears back to his home in Brazil. I bet he's a huge star over there. The (attention) will happen in time for him. The guy has won 32 straight fights. Are you kidding me? That's absolutely nuts. And I bet when he started out, not making much money, he took fights where he wasn't 100 percent healthy and still won them all. He's amazing."
The money part is another topic that surrounds Barao, who has complained in the past about not being paid to the level of other UFC champions and even fighters (namely ultra-popular bantamweight Urijah Faber) he has beaten twice.
White's take: He loves Barao the fighter. Thinks he's a killer. Gushes over his percentage of finishes.
But in White's world, it's simple mathematics: Those who make the most money are the ones who sell fights.
"Who is paid enough in the UFC right now other than me?" White said. "Mind your own (bleeping) business. Worry about what you're making every day. Renan Barao is doing just fine. On one hand, I have people saying he's not handsome enough, he doesn't speak English, he's in a lighter weight class, he isn't paid enough. Which one is it? If he's not a star as (many believe), why should we pay him more? If he is a star, he will make what he's supposed to make.
"It's pretty simple: The guys who bring in the (most money) get paid and paid very well."
This, then, is what the 27-year-old Barao is left with for now: In his past three fights, he has earned stoppage victories against the Nos. 3, 5 and 1 contenders in his weight class. He is as close to unbeatable as there is, having never been taken down in the UFC. Of his 32 wins, 22 have been finishes.
He last lost in April 2005, the same year Tom Cruise jumped on Oprah's couch and Hurricane Katrina hit New Orleans.
Tonight, he opposes the No. 4 contender in Dillashaw. The odds alone suggest Barao's streak isn't in jeopardy.
"I have a long ways to go," he said this week via translator. "I believe in time I will be more recognized by (fans). I am a human being, so anything can happen in a fight. I work hard. I train hard. Anything can happen, but I intend on keeping my belt for a long time."
It has already been a long time, a ridiculously long time that has produced a ridiculously impressive record.
In any language.
Las Vegas Review-Journal sports columnist Ed Graney can be reached at egraney@reviewjournal.com or 702-383-4618. He can be heard from 11 a.m. to 2 p.m. Monday through Friday on "Gridlock," ESPN 1100 and 98.9 FM. Follow him on Twitter: @edgraney.