Famed tailgate madness a way of life for Buffalo Bills fans
October 28, 2017 - 6:25 pm
Updated October 29, 2017 - 10:45 am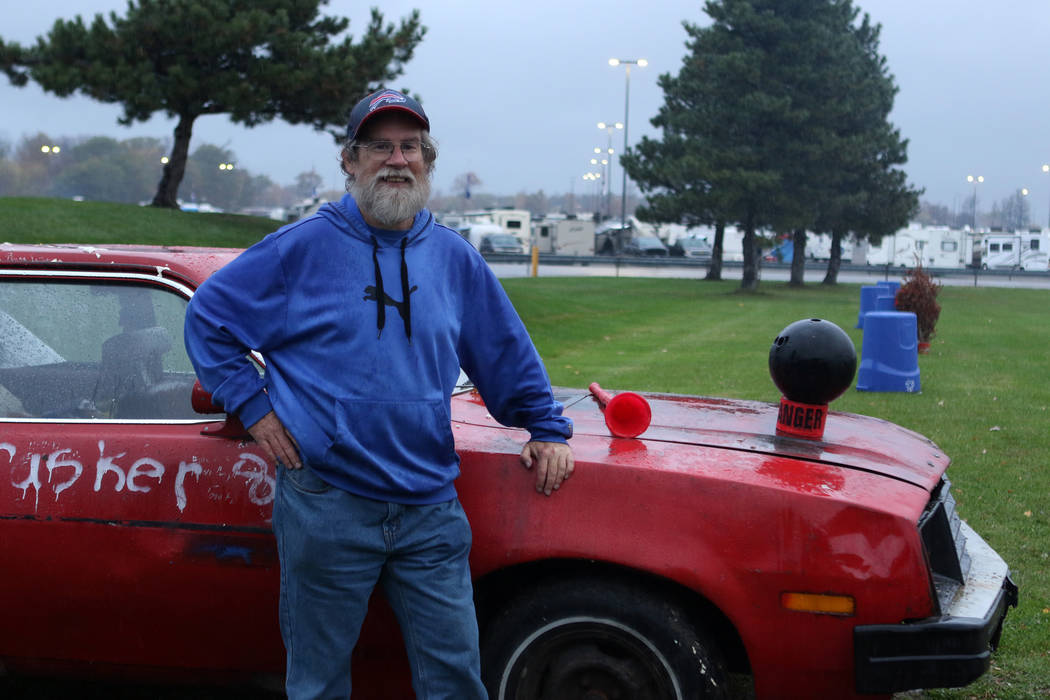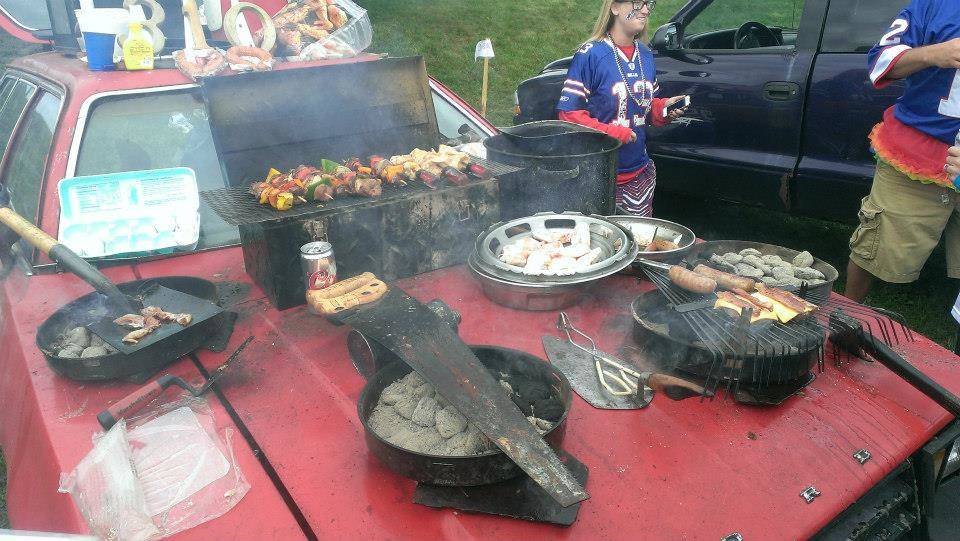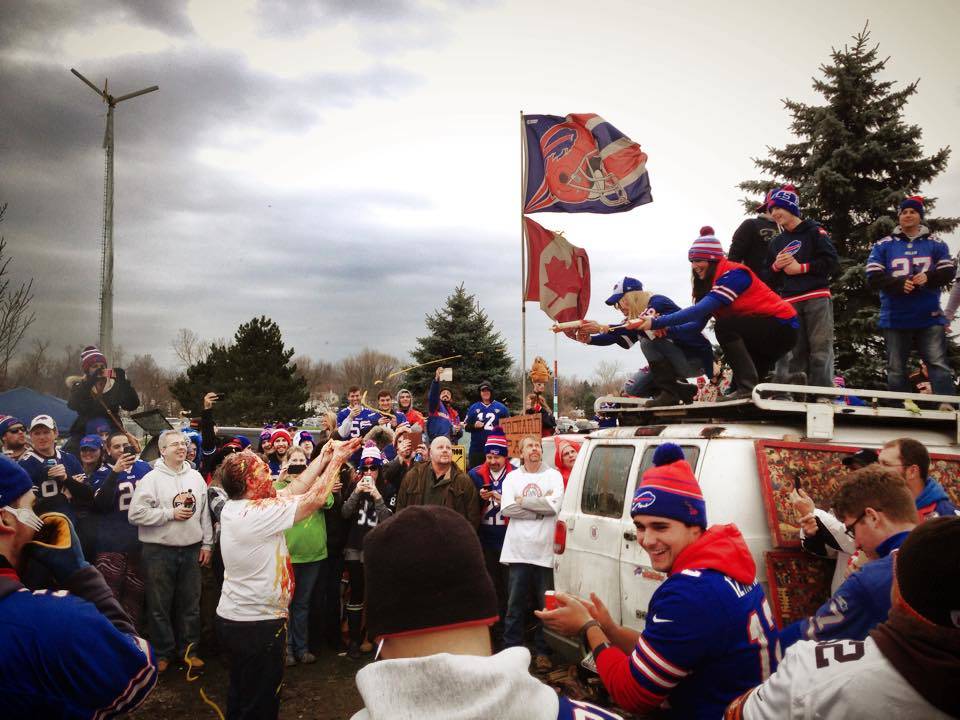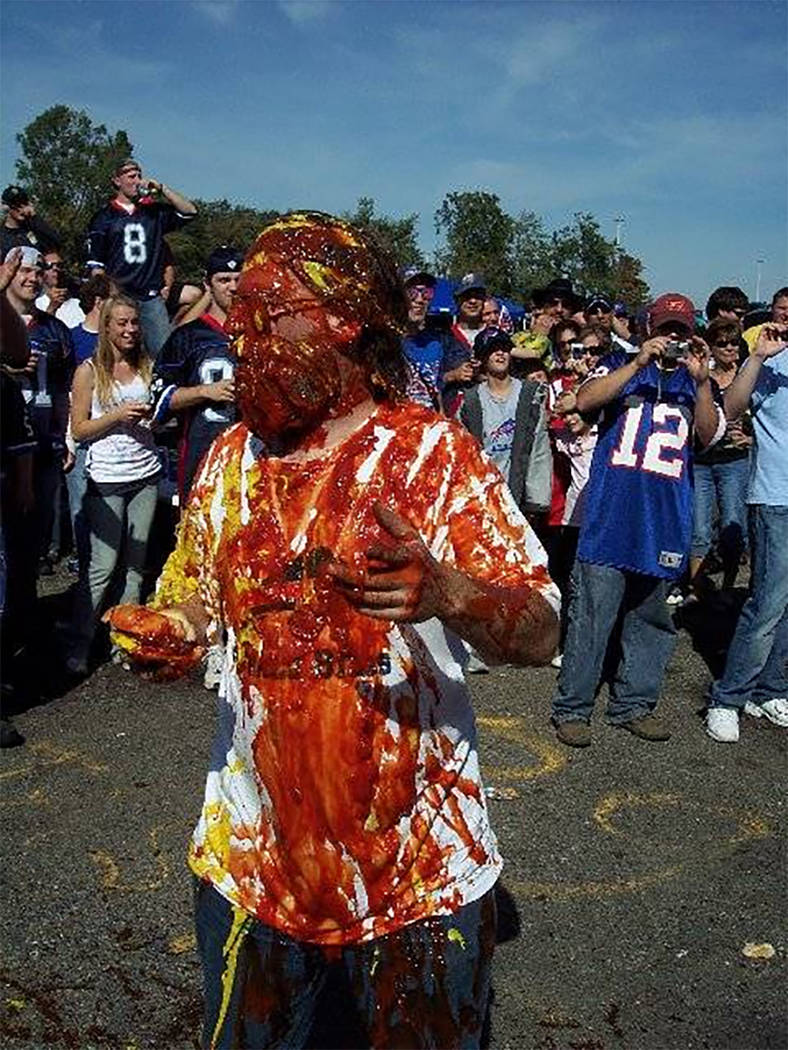 ORCHARD PARK, N.Y. — The toilet in the back seat of the red Pinto isn't for what you might assume, because in this unconventional slice of football fanaticism along the shores of Lake Erie, well, dammit, a man needs somewhere to safely store his Labatt Blue long necks.
It's simply Blue or Blue Light around here.
They're not very formal when it comes to the beverage of choice for those 10 and older.
This is the place folks like to say is a drinking town with a sports problem, where purposefully setting your friends on fire isn't as much criminal act as communal endorsement of a long-standing love affair with all things Buffalo Bills.
You can see it across the way, a mausoleum of heartache and inadequacy defined by decades of unfulfilled dreams, rising from the soon-to-again be frozen earth and calling its maniacally committed fan base for another Sunday gathering.
But before they enter — more like stumble — into what is now known as New Era Field, the most outrageous and devoted and inebriated of NFL tailgaters relive a pregame tradition that spans decades and is incomparable in its nuttiness and now, in some cases, hazardous behavior.
In what is the next critical step for a side hoping to work itself out of a forgettable start to the season andback into legitimate talk of playoff contenders, the Raiders meet a Bills team that has won four of its first six games.
The successful beginning is not lost on those whose endearment to the Bills and hatred of Tom Brady knows no limits, those wild and crazy folks in the Hammer Lot and adjacent spaces outside the stadium that produce the weekly madness.
Or do you consider having a crowd douse every inch of your being with ketchup and mustard until you resemble a human condiment machine normal behavior?
The Red Pinto
His name is Ken Johnson and yet he is known as Ron, courtesy of a misprint in a story written about a tailgate party he began in the late 1980s.
He bought the Pinto a few years earlier for $300 from a guy who was looking to dump it and its 106,000 miles, and at first thought it merely would be a prudent means of transportation from his home to the stadium.
Now, he cooks cheeseburgers on its hood and uses that latrine in the back as a cooler.
"There is never a one-line answer for any of this," Johnson said. "It really all just started out as some shenanigans among a few of us and has grown more and more. I've known some of the same people for 30 years. We started out with a few and now have hundreds. They are my closest friends."
He hasn't missed a Bills game — home or away — since 1994.
Sunday will mark 380 straight.
"It takes a slightly above average income and a very tolerant wife," said Johnson, a 60-year-old software developer from Rochester, New York, married 37 years. "And telling your three kids that if they choose to get married during football season, there is a 50-50 chance I won't be there."
He started with one wooden grill and charcoal placed on the car's hood. He now cooks bacon on the trunk and whips up pancakes and omelets and chicken wings on a shovel. The grilled cheese sandwiches are made on a rake, the stir-fry on a hubcap, the baked potatoes in an old medicine cabinet, the shish-kebab on a Craftsman toolbox, and there is an office filing cabinet in which he creates different types of pizza.
In 1990, the shot glass he and friends used (countless) times to combat the ungodly frigid temperatures with some good ol' whiskey broke.
Which is why, ever since, they have been tossing them back from a bowling ball.
They're good people.
And completely out of their minds.
"I'm not sure any of us ever thought this stuff was crazy," said Joanie DeKoker, a Buffalo native now retired who will attend her 115th straight game, home and away, Sunday. "There is a bond between this community and team like no other. We're all family. We've always been great tailgaters. I think the thing that pretty much still drives all of us is the idea of winning a Super Bowl."
If it's true families are about love overcoming emotional torture, you can safely place Bills fans among those in sports afflicted with the highest degree of suffering.
Buffalo hasn't made the playoffs since 1999, and who can forget the four straight Super Bowl losses from 1990 to 1993, when the misery began against the Giants with Scott Norwood's miss from Wide Right and then three more defeats by an average score of 39-18.
So as seasons pass and prayers of more rosters with names like Kelly and Thomas and Smith and Reed go unanswered, those who cherish the Bills try to temper their cravings for a Lombardi Trophy by celebrating before kickoff like no other fan base.
The clock strikes 11:30 a.m. each Sunday of home games, and Pinto Ron stands in his white T-shirt and jeans, allowing anyone with a ketchup or mustard bottle to turn him into an appalling muck of red and yellow sauce.
"Just more shenanigans that started out with my brother squirting some ketchup on my burger from a few feet away," Johnson said. "A few years later, it had graduated to height and distance tests, and some would get on my arm.
"Around the early 2000s, I said, 'What the heck, have at it,' and now we have 64-ounce bottles of ketchup and mustard people use on me.
"We have a five-gallon jug of water that I clean up with, but at least we're able to heat it in the winter when it's 30 below."
You might think him the truly unbalanced one, but then you glance across the street, where another famous gathering begins its Sunday ritual.
The tables are ready and a match soon will be struck.
Welcome to the Bills Mafia.
The Dons of Fire
Some background: It was organized via Twitter in 2010, a new generation of fans who combined social media and tailgating to create the wackiest — senseless? — ways in which to draw attention far beyond the usual weekly display of public drunkenness and nudity and your average carnal relations between cars in the parking lot.
In defense of those having sex, it appears most at least have the decency to engage only after Bills victories and not losses.
Videos streaming across such platforms as Barstool Sports and Deadspin, however, are what has shined a curious and for some worrisome light on the actions of younger folks.
Specifically, fans hurling themselves off trucks onto burning tables, an antic that saw one young man catch fire last week.
His friends did what any self-respecting and severely impaired Bills fans would, pouring beer on him in hopes of extinguishing the blaze, but then watched as the alcohol inflamed his jeans and Sammy Watkins jersey even more.
They then cheered when the guy stopped, dropped and rolled his way out of any permanent damage.
"Most all of that is staged in hopes of getting it picked up across the internet," Johnson said. "It's a bunch of kids with 'Look what I can do.' It's not very spontaneous stuff."
Not like cooking a pizza in a filing cabinet.
Buffalo was never the same after Bethlehem Steel cut 10,000 jobs in the early 1980s, eventually closing its fourth-largest plant. The surrounding area became a much smaller place, as tens of thousands migrated to jobs elsewhere.
But nothing, not decades of prosperity disintegrating into the smoky air of a steel mill or the now long and painful playoff drought of their beloved Bills, can wipe the smiles from those gathered round a old red car in the Hammer Lot.
"I never intended to do all this," Pinto Ron said. "And yet here we are, all growing old loving our team.
"That's all this is about."
Well, that and bowling ball shots.
Contact columnist Ed Graney at egraney@reviewjournal.com or 702-383-4618. He can be heard on "The Press Box," ESPN Radio 100.9 FM and 1100 AM, from 11 a.m. to 2 p.m. Monday through Friday. Follow @edgraney on Twitter.
Raiders at Bills
When: 10 a.m. Sunday
Where: New Era Field, Orchard Park, N.Y.
TV/Radio: KLAS-8; KDWN-AM (720), KCYE-FM (102.7)
Line: Bills -2; total 46